Quality is probably not one of the first things that come to mind when thinking of 99 Cent Only Stores (NYSE:NDN), but when we evaluate their stock it is impossible to deny that the company is improving fundamentally through strong management initiatives. In 2008, the company undertook a new strategy called its "Profit Improvement Plan" and the new course of action is really starting to show results. The company has focused on improving pricing, merchandising, and reducing costs. Back in fiscal 2008, the company was able to eke out annual profit of 5 cents per share, but it is in a far stronger position nowadays beating estimate for the last four quarters. They appear poised to cruise into the close of the fiscal year with EPS of around $.77 per share in fiscal 2010 which just ended in March but has not yet been reported.
Top-line growth has steadily improved by the low to mid single digits, and same store sales improved by 3.1% in the last quarter. However, what is more impressive is how the company's efforts have boosted profitability at a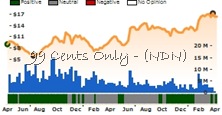 quicker rate. Gross margin improved by 240 basis points in the last quarter to 43.1% thanks to strict cost controls. The sales growth combined with getting more profit from each dollar of sales enabled the company to beat analysts' estimates by 40% in 3Q2010. They have a strong balance sheet with zero long term debt, and they have padded their cash on hand by 62% over the last year, now totaling $2.47 per share.
Of course, the improved performance of NDN has not been lost on the market as the shares have returned 66% over the past twelve months, but we think it is not too late for value investors. For example, the market has historically been willing to pay 14.7x to 29.8x times cash earnings per share, but at current levels is it only trading at 14.3x. Also, current price-to-sales of .83x is near the low end of the historically normal range of .71x to 1.4x. The stock trades at just below 2x book value, which is lower than the average of its peers. We currently have an Undervalued stance on 99 Cent Only Stores. Based on current fundamentals, our methodology suggests NDN could reasonably trade in the $16 to $21 price range, but anything above that would make us consider a downgrade.
One argument against 99 Cent Only Stores is that they will perform poorly in an improving economy; however, that conventional wisdom has been challenged recently. Discount stores have caught the eye of a few analysts lately, such as Wells Fargo (NYSE:WFC) upgrading NDN's larger competitor Dollar General (NYSE:DG) yesterday; their analysis rejects the notion that dollar stores are countercyclical. WFC's analysis on DG shows little evidence that discounters are hurt by an overall economic strengthening. As for 99 Cent Only Stores, most analysts remain bullish on NDN as the economy improves and at least one analyst has upped their earnings targets recently. According to Thomson/First Call, five analysts are currently bullish and only one is bearish. We will not argue with the idea that higher-end retailers will get a greater benefit from economic improvement than will NDN, but the countercyclical nature of discount stores is being challenged by the analyst community.
While NDN has seen quite a bit of price appreciation of late, our methodology sees further potential for this stock. Management's efforts to constrain costs have shown positive results in the last few quarters, and we expect continued earnings gains from their ongoing strategy in spite of the direction of the economy.