By David Urani
The November Case-Shiller home price index showed a mixed result, as seasonally adjusted prices were up 0.9% month to month, (beating the 0.8% consensus) while non-adjusted prices were down 0.1% (missing the +0.2% consensus). With regards to the non-adjusted number, it's one that's perhaps understandable given there had been some recent mortgage rate volatility (the index is a three-month moving average) as it headed towards winter. Nevertheless, the year over year gain in the index ticked higher, to 13.7% from 13.6%.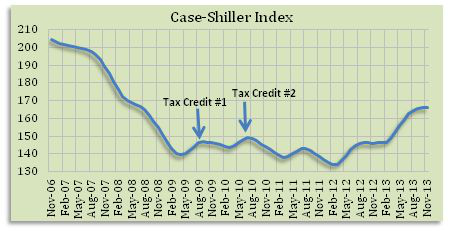 Homebuilder stocks are having a great day, with the Dow Jones US Home Construction Index ($DJUSHB) up more than 5% as of this afternoon. That move is being spurred not so much by the Case-Shiller result, but by D.R. Horton (NYSE:DHI) which reported a strong quarterly result and is trading up more than 9%:
Beat by $0.07 on the bottom line.
33% increase in revenue to $1.64 billion versus the consensus estimate of $1.47 billion.
Home closings were up 19%, along with a 10% average price increase per home to $275,600.
Likewise, gross margin was up to 22.3% from 18.8% a year ago, and from 21.9% in the previous quarter.
New orders up 4% in units and up 15% in dollar value.
Backlog up 5% in units and 20% in dollar value.
These are great figures across the board, although we do concede it's a deceleration from the 40% sales increase and 33% backlog value increase in the previous quarter. But the gist is that the market has been bracing for a difficult fourth quarter in housing and DHI suggests otherwise. Not only that, but D.R. Horton has been positioning itself well in terms of building up inventory to take advantage of home sales where smaller competitors perhaps don't have the resources, and in selling higher-value product to add to the volume increases.
Of course, this was a winter quarter, which is typically the slowest, and over the next few months home sales will ramp up into the spring selling season. But DHI was optimistic about that as well, noting some early activity so far in January which may be a sign the spring is set up to be very good this year. DHI hit its highest price since July and the Dow Jones US Home Construction Index is back to retesting its highest point since June.