Introduction

Recently, I discussed a few dividend growth stocks from the United Kingdom. In the first article, I found Admiral Insurance, BAE Systems (OTCPK:BAESY) and BSkyB (OTCQX:BSYBF) worthy of due diligence while in the second article, I found Ensco (NYSE:ESV) and Imperial Tobacco (ITYBF) worthy of a dividend focused portfolio. In this article, I use the same dividend-focused screen to identify seven more stocks from the UK that would interest value-focused dividend growth investor. Note that the UK does not withhold tax on dividends for US residents. This means that stocks from the UK are almost similar to an American company when it comes to taxation on dividends making them suitable for retirement accounts unlike most other foreign stocks.
The dividend yield in the table below is based upon dividends paid out in the most recent financial year. The forward expected yield would most likely be higher as most of these are dividend growth stocks. These are all large companies and shouldn't be considered as risky penny stocks even though a few of them trade on the OTC market. These companies choose not to deal with the regulatory processes and costs involved with listing on the NYSE and NASDAQ exchanges.
Stock

ADR Ratio

EPS

Price

(NYSEARCA:USD)

Div Amt

(USD)

Yield

(USD)

10yr Div Growth

5yr Div Growth

1yr Div Growth

Payout Ratio

InterContinental Hotel

1

1.415

33.34

.64

1.92%

11.41%

9.48%

16.36%

45.23%

National Grid

1

0.409

64.9

3.17

4.88%

8.59%

1.23%

5.64%

72.81%

SSE

1

1.18

21.79

1.32

6.07%

9.18%

5.31%

5.12%

71.36%

Royal Dutch Shell

1

8.64

74.55

3.60

4.83%

n/a

2.38%

4.65%

41.67%

Tesco PLC

3

0.36

16.27

0.73

4.49%

9.06%

6.25%

0.00%

41.03%

Unilever

1

2.29

40.52

1.47

3.63%

18.04%

10.30%

15.44%

60.76%

Vodafone

1

2.38

38.04

1.55

4.08%

18.99%

0.82%

6.67%

65.11%
InterContinental Hotel Group (NYSE:IHG)
InterContinental Hotel Group is one of the world's leading hotel companies and has over 4600 hotels and nearly 676,000 rooms internationally. The group has operations in nearly 100 countries and territories around the world. The company's biggest brands are InterContinental, Crowne Plaza, Holiday Inn, Holiday Inn Express, Hotel Indigo, Staybridge Suites and Candlewood Suites. IHG runs hotels in three ways: franchised, managed and owned. However, it owns only 10 hotels which is less than 1% of their entire portfolio and most of their hotels are operated under a franchise agreement. The company get a bulk of the operating profits from the Americas though it has significant operations in Europe and is increasing presence in Greater China as well.
The company has managed to grow revenue and profits over the last few years and delivered attractive dividend growth as well. The group has managed to increase revenue per available room faster than the industry average. The current yield is only 2% but the most recent dividend increase was 16% while the growth over the longer 10-year period has been 11%. The stock is trading at multi-year high and it may be prudent to wait for a better entry price. Its biggest competitor, Marriott (NYSE:MAR), has also done very well and is growing at a healthy pace.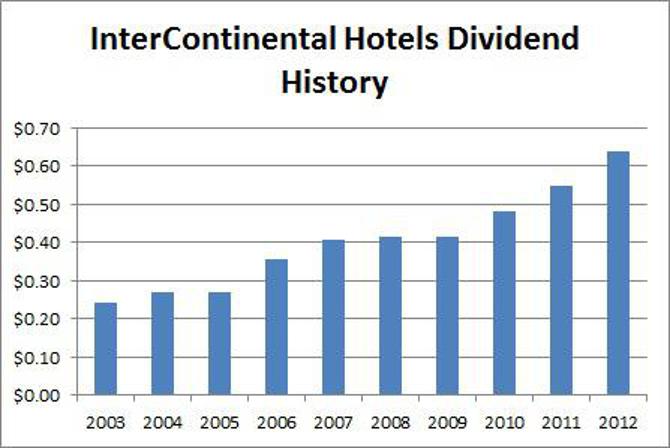 National Grid (NYSE:NGG)
National Grid is an electricity and gas utility based out of the UK with operations in the UK and Northeastern US. It owns and operates transmission networks in England, Wales, Scotland, Massachusetts, New Hampshire, Rhode Island and Vermont. NGG also supplies and generates electricity in the US, but not in the UK. National Grid is also the sole owner and operator of the gas transmission infrastructure in Great Britain. In the US, it has a minor interest in two interstate transmission pipelines and additionally has gas distribution networks in New York, Massachusetts and Rhode Island. Finally, NGG also owns and operates LNG storage and vaporization facilities in the US.
National Grid does not have a stellar dividend growth history like some of the big utilities in the US, but it does have a good yield close to 5% that should grow in mid single digits for the next few years. The company is reasonably diversified with interests in both electricity and gas and in the US and the UK that should make them pretty resilient to the typical cyclical economy.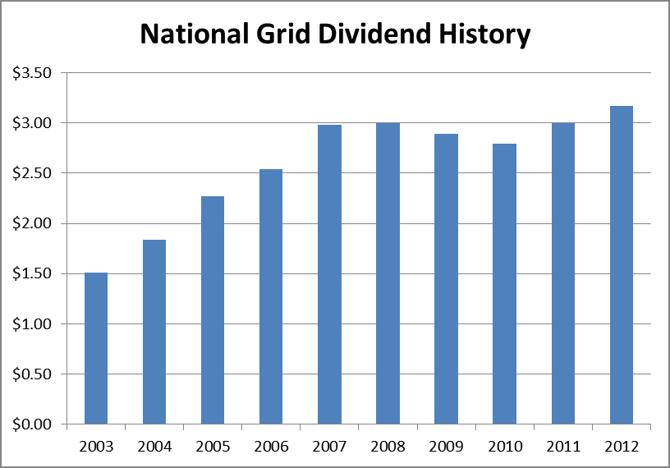 SSE (OTCPK:SSEZY)
SSE is another British electric utility that was earlier known as Scottish and Southern Energy PLC. SSE is the second largest energy supplier in the UK and delivers power to about 3.7 million homes, offices and businesses. SSE also operates the region's fourth largest telecom network and the second largest mechanical and electrical contracting business. The company has 13,000 MW of capacity for generating electricity in power stations, hydro-electric schemes and wind farms. It is Britain's largest generator from renewal sources.
The company has a solid dividend growth history with a 10-year CAGR of 9% that has slowed down to 5% over the last 5 years. I expect similar 5% growth in dividend in coming years that makes the current yield of 6% very attractive. I have placed a limit buy order at $20.50 and intend to buy more if the stock falls any further. The yield is better than some of the best utilities in the US like Consolidated Edison (NYSE:ED), American Electric Power (NYSE:AEP), Atmos Energy (NYSE:ATO) and Laclede Group (LG).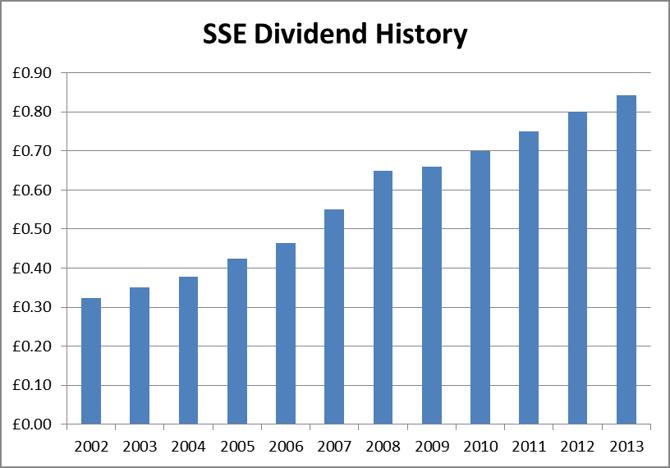 Royal Dutch Shell (NYSE:RDS.B)
Royal Dutch Shell is the second largest energy company in the world and one of the six oil and gas super majors. It is vertically integrated and operates all the way from exploration and production to refining to distribution to marketing. Shell also has petrochemical manufacturing, renewable energy and deals in trading. The current Shell group was formed with the merger of Royal Dutch Petroleum of Netherlands and Shell Transport & Trading of the UK. This was a complex merger similar to that of BHP and Billiton and resulted in a dual listing structure.
ADR of the Dutch entity are listed on the NYSE under the symbol RDS.A while those of the UK entity trade under the symbol RDS.B. There are different with respect to voting rights but the biggest difference for dividend investors is that there is no withholding tax on RDS.B shares while Netherlands withholds taxes paid on RDS.A shares. The company does have a scrip dividend program that allows investors to receive shares instead of cash which can help avoid the Dutch withholding tax.
Shell is widely followed in the investing community including here at Seeking Alpha with some great commentary available in past articles. The company has paid a rather stable dividend over the last few years with a paltry growth of 2.4% over the last 5 years. The company recently issued a revenue and profit warning though the share price did not react much. I do not expect the dividends to grow any faster in light of the warning. The current yield is 4.83%, which is more than that from ExxonMobil (NYSE:XOM) which yields 2.7% and Chevron (NYSE:CVX) which pays 3.4%. I am personally not enticed by Shell and would rather look at its European neighbors like Statoil (STO) which yields 4.7%, BP (NYSE:BP) at 4.8% and Total SA (NYSE:TOT) at 5.5%.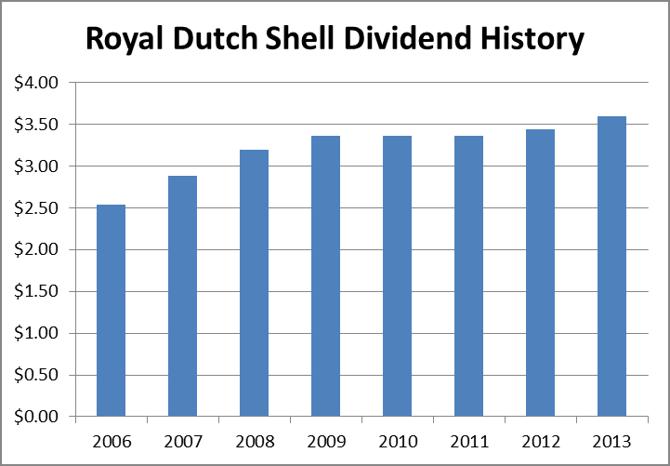 Tesco (OTCPK:TSCDY)
Tesco is a multinational grocery and general merchandise retailer headquartered in England. It is the second-largest retailer in the world measured by profits, second to only Wal-Mart (NYSE:WMT). In terms of revenue, it comes in third position behind Wal-Mart and the French giant Carrefour (OTCPK:CRRFY). It is the market leader in the UK and operates in 13 more countries. Tesco started as a grocer in the early 20th century and operated primarily in the UK until the early 1990s. It saw rapid growth from mid-90s to 2010 when it added more than 2000 stores in a fifteen year span. In the US, Tesco operated the Fresh & Easy chain of convenience stores on the West Coast but sold the stores last year to a private equity firm after losing money for years.
Tesco had a decent dividend growth history till last year with a 9% CAGR over 10-years and a 6% over 5-years but then it left the dividend unchanged in the latest financial year. Revenue and profit growth has stalled at Tesco and the company is trying to reinvent itself as it struggles to maintain market share in the UK and find its footing in emerging markets. Warren Buffett has been an investor in the company for a few years, though he reduced the stake after disappointing results late last year. I think it is worth watching the company for another couple of quarters to see if the management can steer the giant towards increased profitability. I would like to see at least a 4-5% increase in dividend payments and a yield closer to 4.5% before starting a position.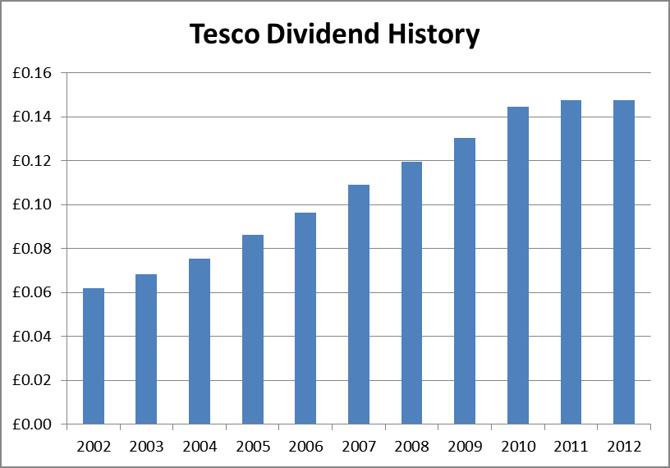 Unilever (NYSE:UL)
Unilever is an Anglo-Dutch consumer goods giant that sells foods, beverages and personal care products. It is the third largest consumer goods company by revenue after Procter & Gamble (NYSE:PG) and Nestle (OTCPK:NSRGY). It is one of the oldest multinational companies and was formed with the merger of British soapmaker Lever Brothers and Dutch margarine producer Margarine Unie in 1927. Its biggest brands include Dove, Hellmann's, Jif, Knorr, Lipton, Lux, Ragu, Rexona, Surf and Sunsilk. The company also owns Breyers, Klondike, Wall's and Ben & Jerry's ice creams and is world's largest ice cream company. It also sells Slim Fast to help you after consuming all of that ice cream.
Unilever pays dividend quarterly unlike most British companies that typically pay an interim dividend and then a final dividend. There was a large jump in dividends paid out during 2006 when Unilever switched from two dividends in a year to quarterly payments. The current yield is 3.7% which is higher than that of P&G. I expect the dividend growth rate for the two companies to be similar in future at about 8-10%. However, I feel that Unilever has better penetration in emerging markets than P&G, and as such would prefer to invest in Unilever if it comes down to $34-35 level.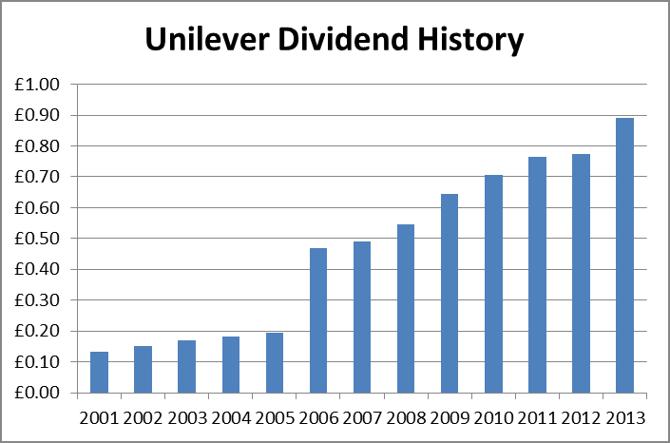 Vodafone (NASDAQ:VOD)
Vodafone is one of the world's largest telecom companies. Headquartered in London, it has more than 450 million customers putting it only behind China Mobile and Airtel India in number of subscribers. The company has a significant presence in Europe, the Middle East, Africa and Asia Pacific. The company provides a full range of telecom solutions, obviously including voice and data services such as 3G and 4G/LTE. The company recently agreed to sell its stake in Verizon Wireless to Verizon Communications (NYSE:VZ) for close to $130 billion. The company is well covered by other Seeking Alpha contributors who have explained the investment thesis way better than I can.
The company has paid increasing dividends in the last few years and has a stable yield of approximately 4% right now. This is expected to change in near future as the deal with Verizon closes this year. It remains to be seen what will happen to Vodafone in the coming couple of years. Recently, AT&T (NYSE:T) denied any plans to acquire a stake in Vodafone. I used to own VOD but sold my position recently. I plan to continue watching and will make future decisions after Vodafone discloses plans for the large sum of money from Verizon expected this year.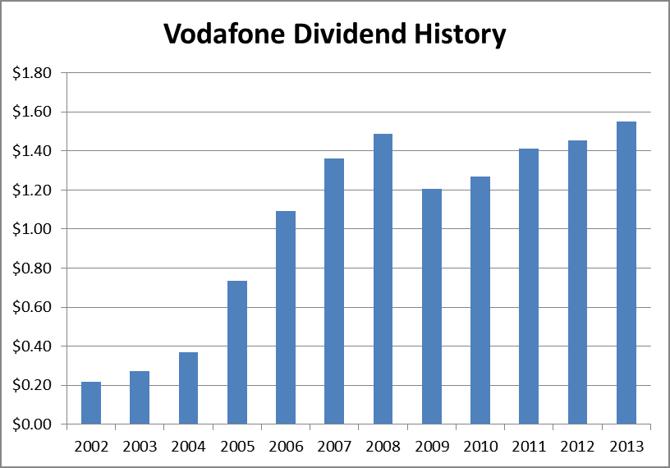 Concluding Remarks
In this article I introduced a few more dividend stocks from the UK and discussed their growth prospects. Personally, I am looking forward to investing in SSE and Unilever on signs of market weakness. I also plan to continue watching Vodafone and reevaluate after the deal with Verizon is completed later this year.
Disclosure: I have no positions in any stocks mentioned, but may initiate a long position in SSE, UL, VOD over the next 72 hours. I wrote this article myself, and it expresses my own opinions. I am not receiving compensation for it (other than from Seeking Alpha). I have no business relationship with any company whose stock is mentioned in this article.