While we did not expect to issue another follow-up on Stereotaxis (NASDAQ:STXS) this soon, the interview "New Advances in Robotic Navigation" with Dr. William Spear held such applicable commentary around what we had hypothesized in our prior articles we thought it made sense to provide this update. Additionally given we found this article versus reading a press release about it provides further evidence of how the Company continues to drastically differ from its robotic peers when it comes to press releases which will discuss later.
Dr. Spear has used the Niobe robotic system for many years, and he is familiar with both the old Niobe II version and the improved Niobe ES / Epoch system. His experience with robotic ablation procedures is noteworthy as he has performed close to 600 robotic ablations to date.
Here are some quick excerpts from the interview with Dr. Spear around the new Niobe ES / Epoch system along with Vdrive:
Re: Epoch platform…"It's absolutely a game changer in regard to the way you approach complex ablation".
"Where Stereotaxis robotic technology really excels is in the area of complex arrhythmias...I really think it gives you an advantage over a manual approach".
"There are great benefits in utilizing robotic technology for the treatment of atrial fibrillation (AF) and ventricular tachycardia (VT)"
"Our safety record is probably one of the best in the country because we've utilized Stereotaxis, and this has helped to drive future referrals to our program. Secondly, our outcomes are excellent as well, so this has driven further referrals to the program and helped things grow tremendously."
"In regard to patient care and outcome, there's really no argument on whether catheter ablation with a Stereotaxis system is safer than a manual ablation - we see much smaller perforation rates with the remote magnetic technology than we do in manual cases. We can get the equivalent and in some cases better results with robotic technology and it's safer for patients, especially in reducing their cumulative radiation exposure. This is important as we continue to increase our volume of complex ablations."
Here are some specific subjects covered in last article on Stereotaxis and comments from the interview with Dr. Spear that supports each:
1. Ease of Use with Niobe ES and Improved Speed Versus Older Systems:
"The Epoch solution…brings a number of features to the table that weren't previously available"
"The new system moves the catheter faster and with continuous motion; before, you had to move the catheter relatively slowly with segmented"
"When we moved from Niobe to Epoch, we saw a considerable amount of time savings, in part because we were able to change the way we did our mapping… we are now able to create maps using the 3.5 mm irrigated tip catheter and continuous motion of the catheter, thus recreating the anatomy fairly quickly. The accuracy of this type of mapping is incredible".
2. Improved Imaging Capability of Niobe ES with Vdrive - This was mentioned in the previous article as a key distinction that should in theory support the US adoption of Vdrive more so than Europe. The rationale behind that is the majority of procedures in the US use imaging and ICE catheters which Vdrive makes better. To give an idea of the size of the opportunity here in the US there's an estimated 68,000 ICE catheters and 60,000 loop catheters used each year in complex EP procedures.
"Now, we're able to visualize true catheter-to-tissue contact during a robotic ablation which is important"
"As soon as we place the ultrasound catheter into the robotic arm, we're able to get very stable ultrasound images without having to hold the catheter"
"How we utilize the ultrasound catheter has changed quite a bit, and I think it's actually made us more efficient"
We continue to believe Vdrive's recent entry into the US should boost volume in the installed base as well as attract new users, and in a geography where the EP/ablation device market is estimated to be $8.1 billion growing to $12 billion by 2016 this is potentially a significant driver for market penetration and revenue growth. Here is table of annual EP procedures here in the US:
Number of Annual EP Procedures in US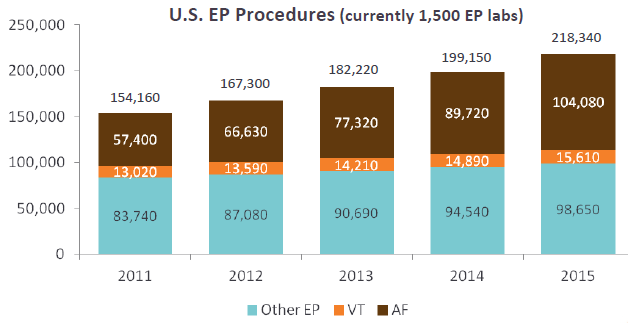 3. Improved Efficiency, Lower Radiation and Benefits of V-Sono:
"It has added a dimension that we didn't have before. By combining remote magnetic navigation and a mechanical arm to control the ultrasound catheter, we're one step closer to making the entire procedure robotic"
"V-Sono gives you an advantage in the robotic procedure because it allows you to monitor real-time catheter-to-tissue contact and complications"
"When we went from Niobe to Epoch we were able to reduce our radiation time by about 64%...with V-Sono once again we're able to reduce it…"
Stereotaxis System "Excels" In Complex Arrhythmias Like Atrial Fibrillation and Ventricular Tachycardia; Atrial Fibrillation One of Fastest Growing EP Procedures Worldwide Including in Japan
As per the interview, Dr. Spear believes Stereotaxis' robotic technology really excels with complex arrhythmias and in particular cites Atrial Fibrillation and Ventricular Tachycardia . He also comments that it can be used with Superventricular Tachycardia (SVT) including AV nodal reentry and accessory pathways, but notes it's "not absolutely necessary for those procedures".
With respect to Atrial Fibrillation , it is one of the fastest growing procedures in EP today and one of the most untreated conditions as well, and we continue to believe that Vdrive will begin to have a positive impact on Niobe ES sales here in the US as well as abroad. Of note in Japan, it is estimated that Atrial Fibrillation will be the fastest growing segment of EP ablation procedures in Japan with 183.5% growth between 2011 and 2018 reaching 48,000 annual procedures as seen here.
Number of Annual EP Ablation Procedures in Japan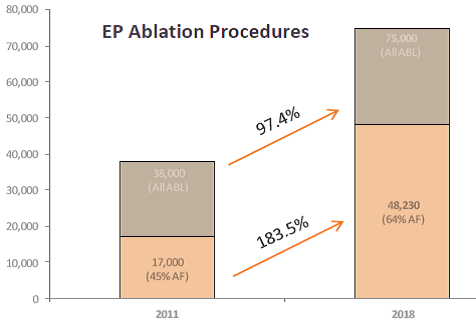 While on the discussion of Japan, a distribution partner should be announced sometime soon given reimbursement approval in Japan was announced in October and it's been seven weeks since William Mills, interim CEO/Chairman, commented at a sell-side conference in early December that the Company was in discussion with multiple potential distributors in Japan.
Number Of Press Releases Issued By Stereotaxis Well Below Peers Keeping Shares Under The Radar; Under-Promising And Over-Delivering Can Be Too Conservative To A Fault
The other thing this article does is provide further evidence of how the Company continues to drastically differ from its robotic peers when it comes to press releases. It is likely that this interview would have been highlighted by several peers via a press release based on what they have issued in the past. While Stereotaxis does have this interview on its website under "news for physicians", we believe they have little appreciation for how many doctors visit their website and how impactful a press release can be. We would argue that beginning to issue press releases around system placements like Mazor Robotics (NASDAQ:MZOR) does and/or issuing press releases on educational interviews like this can have the positive impact of alerting any potential customer (EP labs/hospitals/doctors) as to what other customers (EP labs/hospitals/doctors) are doing. We also believe there is no better marketing tool than the Internet and struggle to understand why small companies like Stereotaxis, notwithstanding its new conservative approach referenced in our prior article, don't use it to its full potential.
As we have said, we believe that as a public company there are few better approaches than under-promising and over-delivering, but being too conservative as a growing company in a field trying to replace the human hand can be an issue too. The robotic peers listed in the previous articles on Stereotaxis, who as robotic medical companies all are trying to take market share from the human hand, seem to understand this task and issued an average of 280% more press releases than Stereotaxis in 2013. Stereotaxis' closest peer in the EP space issued 460% more…those numbers suggest the Company is being too conservative to a fault.
For your reference here is a link to the full interview with Dr. Spear:
http://www.eplabdigest.com/articles/New-Advances-Robotic-Navigation-Interview-Dr-William-Spear
Disclosure: I am long STXS. I wrote this article myself, and it expresses my own opinions. I am not receiving compensation for it (other than from Seeking Alpha). I have no business relationship with any company whose stock is mentioned in this article.