It's been five years since the financial meltdown wreaked havoc on both Wall Street and Main Street alike, and insurance companies, arguably the last industry to fully recover, are finally on track for a big year. Insurance is about managing uncertainty; something that even industry mainstays learned a bit more about as they witnessed heavy losses in risk, underwriting, and financial management since 2008. Now that the last vestiges of the financial crisis have finally disappeared, insurance companies are better positioned to deal with losses and looking forward to business growth in 2014.
The P&C (property and casualty) business faces a growing climate this year for many reasons. For one, a stricter regulatory environment could benefit insurers even as consumer expectations change in regards to disaster protection. Interest rates are also finally beginning to rise which will help insurers' ROI and bring in higher capital appreciation. Publicly traded P&C companies have improved their financial positions and stand ready to profit from higher investment yields. Margins across the industry are improving thanks to a stable pricing environment and more efficient technology.
Insurance stocks can best be analyzed by looking at 2 main areas: ROE and A.M. Best ratings. ROE (return on equity) tells investors how much of a return the company is making on shareholders capital. For insurance companies, ROE should be around 10% to 15%. A.M. Best is a rating agency that specializes in insurance company analysis. Their reports are viewed as the industry equivalent to Moody's or Standard and Poor's and tell investors how financially stable an insurer is. Their ratings take into account profitability, liquidity in order to pay out on claims, and how much leverage is being used.
Running a screen for undervalued P&C insurers that met these criteria netted three top picks for 2014. All are trading under 15 times earnings, have a ROE around 10%, and are rated "A" or "A+" by A.M. Best.
First there's Allstate (NYSE:ALL), a $24.4 billion insurance company that trades at just 13.7 times earnings despite seeing stock gains of over 36% last year. The company has beaten earnings estimates for 11 straight quarters and oversaw EPS growth this year of over 212%. Allstate is rated "A+" by A.M. Best and has improved operating margins to almost 24%. ROE is around 9.3% but the company is on track to meet its goal of 13% according to a presentation made at Goldman Sachs back in December.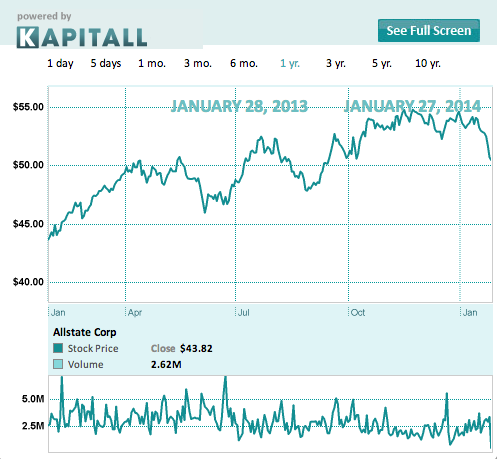 Click here to see data in full. Sourced from Zacks Investment Research.
For investors looking to find defensive capabilities, the stock comes with a dividend yield of 1.9% at current price levels and carries a long-term debt to equity ratio of only 0.31. Given Allstate's expected earnings for next year, this stock could easily see a repeat performance of 2013 with gains of around 40%.
The Travelers Companies (NYSE:TRV) is a $32 billion enterprise trading at only 11 times earnings. EPS growth over the past year is nearly 87% and operating margins are high at over 31%. The company is rated as an "A" company by A.M. Best and generates a solid 12.8% ROE. Travelers reported positive earnings news this week thanks to an uneventful hurricane season and improved investment returns giving it a ROE of over 16% for the quarter.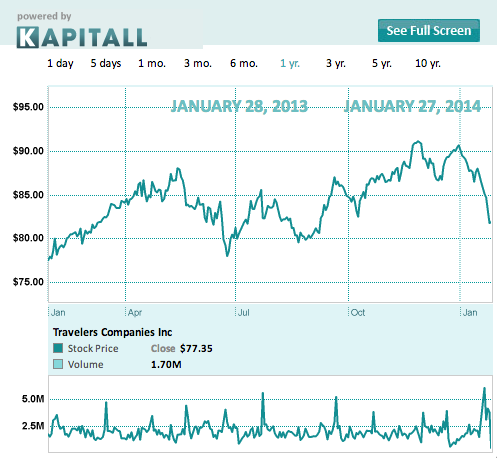 Click here to see data in full. Sourced from Zacks Investment Research.
Traveler's offers investors a dividend yield of 2.3% and a long-term debt to equity ratio of 0.25 making it a great defensive stock in addition to the growth opportunities it possesses. The stock is currently undervalued and trades at a 25% discount based on future earnings.
ProAssurance (NYSE:PRA) is relatively small at just $2.9 billion, and trades at a low 8.8 times earnings. It has the widest margins of the three insurers at over 55% and the highest dividend yield at 2.6%. ProAssurance has the highest ROE at 14%. The dividend was recently upgraded in addition to management authorizing an additional $100 million for share repurchases bringing the total to $227 million available. A.M. Best rates ProAssurance as an "A-" company, but that rating has been steadily climbing year over year.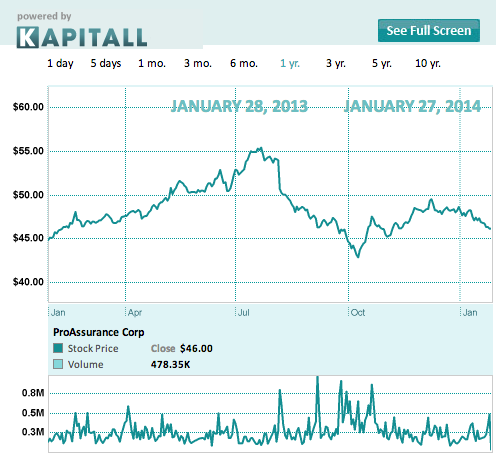 Click here to see data in full. Sourced from Zacks Investment Research.
Furthermore, the company is expanding its base with the purchase of Eastern Insurance, a deal worth $205 million. If the stock trades right at the industry average of around 15 times earnings, ProAssurance should be worth around $55 - which means its trading at a discount of about 17.5%.
The insurance industry stands to gain from renewed business growth in 2014, but could face pricing pressure due to increased competition. Earnings for the year will need to be closely watched to see which companies are expanding their market share and which companies are struggling to maintain sufficient premiums.
Disclosure: I have no positions in any stocks mentioned, and no plans to initiate any positions within the next 72 hours.
Business relationship disclosure: Kapitall is a team of analysts. This article was written by Daniel Cross, one of our writers. We did not receive compensation for this article (other than from Seeking Alpha), and we have no business relationship with any company whose stock is mentioned in this article.