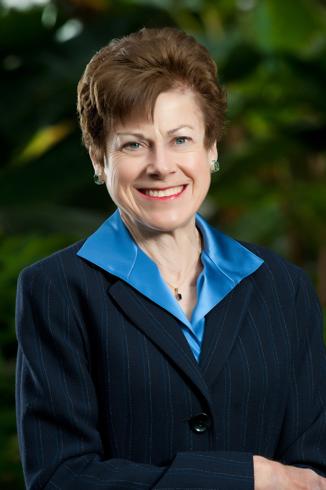 Lynn Reaser, is president of the National Association for Business Economics. She is also chief economist at Point Loma Nazarene University in San Diego. Previously she was Chief Economist of Bank of America's Investment Strategies Group.

H.L.: What do you think of March's 162,000 job gain?
L.R.: The report showed a smaller than expected 48,000-job increase from Census hiring, but that is likely to pick up substantially in April and May. The private-sector gain of 123,000 jobs was quite robust. Manufacturing companies have added jobs for the past three months with a jump of 17,000 workers in March. Many had despaired that manufacturing jobs in this country that had been shed during the recession would never return.
Despite the news on the employment front, which on balance was positive, the unemployment rate is still high at 9.7 percent, with 6 million people still out of work for six months or longer. I think we've peaked in terms of the unemployment rate, but it will take some time before it moves to a more acceptable level, but this recovery is genuine. We will probably recover all of the output lost in terms of Gross Domestic Product by the end of this year. It could take until 2013 before we reach a prior peak in jobs. But the important point to make is that at least we've started.
H.L.: How long do we have to wait before we can really conclude that we're gaining jobs?
L.R.: We need to see several months of significant gains in private-sector hiring before concluding that the recovery in the job market has truly taken hold. Yet, this report and other leading indicators of the job market suggest that this will transpire.
In particular, staffing firms for temporary workers continue to see demand from companies, and firms are also continuing to ramp up the number of hours worked per employee, including more overtime. Companies first rely on productivity gains. The second stage they take on more temporary hires and have their employees work longer hours per week. The third stage is that they begin hiring new permanent workers.
H.L.: What kinds of jobs are we gaining?
L.R.: We continue to gain healthcare jobs, but in March we added construction workers, who had borne much of the brunt of the recession, along with manufacturing employees. The recovery is likely to be quite broad-based, with low-skill jobs, such as in retail, along with high-skill jobs in medical services, private education, and engineering.
H.L.: What's your prediction for first quarter earnings?
L.R.: Earnings will be very strong in the first quarter compared with a year ago. The comparison is from a very low base. Profit margins will remain good, as companies have maintained a strict control over costs, and companies are also seeing some revival in top-line sales performance.
The economic recovery is turning out to be significantly stronger than the conventional wisdom, and that development is spurring both profit performance and gains in the overall equity market.
H.L.: Where exactly are companies going to get profits?
L.R.: Companies are seeing profits generated by spending abroad, particularly in China and the rest of Asia. They are also seeing some revival in consumer spending, with March retail sales showing sizeable gains. Companies targeting business capital spending have also seen a revival in demand for various technology equipment and software as well as other business equipment. They are also responding to demand from companies across the board starting to restock their shelves, rebuilding inventories.
H.L.: What sectors of the economy and the stock market look positive?
L.R.: We had a spectacular 2009 and a good first quarter. Much of the easy money in the stock market has now been made, but there still appears to be some upside potential.
Consumer discretionary, technology, financial services, and capital goods firms could see some of the better gains, and I think they will be fairly broad-based. In the short term, materials companies could also benefit from economic growth, but at some point one may want to be cautious as commodity prices continue to skyrocket.
Companies exposed to higher interest rates, like utilities, could be adversely affected.
H.L.: Is the stock market set to move up, or will volatility and a correction temporarily block an uptick?
L.R.: It's very hard for investors to time this market, so they may want to be exposed to the equity market, but they should be prepared for a correction and more volatility.
H.L.: Do you agree with the pundits who say a strong dollar makes stocks decline, and what do you predict for the dollar?
L.R.: We've actually had a strong dollar and a strong stock market. The dollar has been strong primarily because of debt problems in Europe, and the stock market has reflected the stronger prospects for the U.S. economy and profits. Later this year the dollar might weaken against Asian currencies in particular as China may allow its currency to start to appreciate. But the dollar's movement is unlikely to dictate the course of stocks.
For China, letting its currency appreciate will reduce some of the inflationary and overheated conditions in its economy, improve some of our export potential into China, and somewhat slow the flow of imports into the U.S. The most important effect might be to dampen some of the protectionist activity of Congress.
The Chinese currency should be much stronger, so not letting it appreciate further exacerbates imbalances in world trade, makes their exports more competitive than they should be with a larger share of exports, and dampens their potential to import.
H.L.: An avalanche of bad commercial real estate loans are coming due. Is the gravity of the situation being exaggerated?
L.R.: It's a very serious situation, but banks will continue to refinance many of these loans. It's called "extend and pretend," that is, banks are lengthening the terms of the loans with the hope that the borrowers will be able to repay the loans and the property values will improve significantly.
Overall, commercial real estate will be one primary sector in the economy that will be declining while others expand this year, but the problem is unlikely to be nearly as severe as that in housing and is unlikely to trigger another financial crisis or double-dip recession.
Disclosure: No positions