The Bank of Japan decided to "encourage the uncollateralized overnight call rate to remain at around 0.1 percent." The decision was driven by the "critical challenge" of deflation.
Jumping to the last paragraph of the Statement on Monetary Policy, it's clear that the rate will stick around 0.10% for some time:
The Bank recognizes that it is a critical challenge for Japan's economy to overcome deflation and return to a sustainable growth path with price stability. To this end, the Bank will continue to consistently make contributions as central bank. In the conduct of monetary policy, the Bank will aim to maintain the extremely accommodative financial environment.
But it's not all gloom and doom for Japan, in fact Growth has finally turned positive thanks to a recovery in international trade.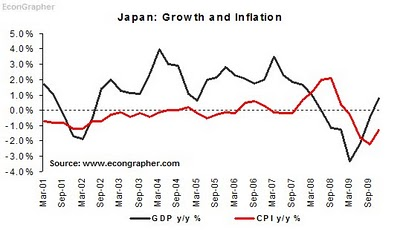 Japan's economy has been picking up mainly due to improvement in overseas economic conditions and to various policy measures, although there is not yet sufficient momentum to support a self-sustaining recovery in domestic private demand. Exports and production have been increasing mainly against a backdrop of high growth in emerging economies.

Business sentiment has been improving. Business fixed investment is leveling out. Private consumption, notably durable goods consumption, is picking up mainly due to policy measures, despite the continued severe employment and income situation.

Public investment is declining. Meanwhile, financial conditions, with some lingering severity, have shown increasing signs of easing. The CPI (excluding fresh food) is declining on a year-on-year basis due to the substantial slack in the economy as a whole, but the moderating trend in the pace of decline has continued.
Thus for now, Japan continues to be reliant on exports for growth; on the upside though it is positioned well to leverage off any further pick up in global trade (likely driven by emerging markets). But it still faces the heavy burdens of significant fiscal challenges and the deflation dilemma.
Sources:
Econ Grapher Analytics econgrapher.com
Economic and Social Research Institute esri.cao.go.jp
Japan Statistics Bureau stat.go.jp
Bank of Japan boj.or.jp
Disclosure: No positions