By David J. Phillips
Through decade's end, the non-Hodgkins lymphoma (NHL) therapy market should continue to be dominated by Roche's (OTCQX:RHHBY) Rituxan and Takeda's (OTCPK:TKPHF) Velcade. Nonetheless, Pharmacyclics (NASDAQ:PCYC) and its novel kinase inhibitor Imbruvica, which offers demonstrated gains in overall survival rates and mean duration before relapse, will afford this emerging "David" to these Goliaths heralded commercial sales potential either as use in combination therapy or in currently underserved NHL sub-populations.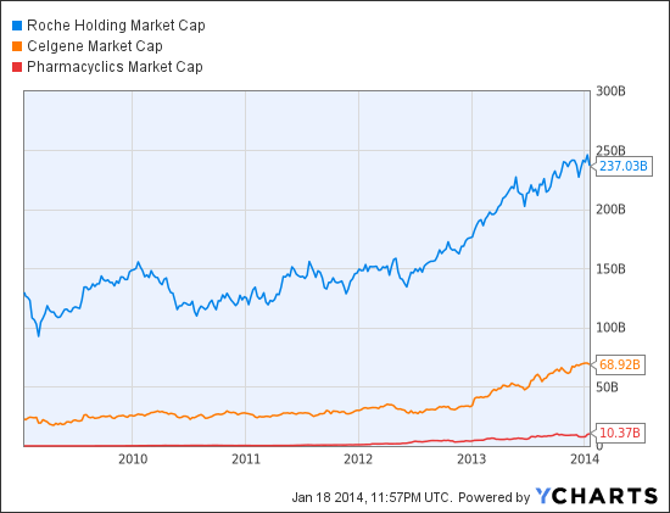 RHHBY Market Cap data by YCharts
Pharmacyclics' Imbruvica (ibrutinib), a novel small-molecule drug targeting B-cell malignancies in non-Hodgkin lymphomas (NHL), was approved by U.S. FDA regulators on November 13, 2013, for the treatment of mantle cell lymphoma (MCL) in relapsed/refractory patients who have received at least one prior treatment.
Imbruvica received accelerated approval for MCL based on a study where 111 participants were given Imbruvica daily until their disease progressed or side effects became intolerable. Results showed nearly 66 percent of participants had their cancer shrink or disappear after treatment (overall response rate).
Imbruvica blocks the function of Bruton's tyrosine kinase (BTK), a key signaling protein of the B-cell receptor signaling complexes that stimulate malignant B-cells to grow and divide uncontrollably.
MCL affects the white blood cells called lymphocytes found in the "mantle zone" of a lymph node. A rare form of NHL, and most prevalent in older adults (mean age, 68), MCL is an aggressive B-cell malignancy affecting about 6% of the 72,000 new cases of NHL diagnosed in the U.S. annually.
To date, first-line treatment has usually consisted of Roche's monoclonal antibody Rituxan (rituximab) - which is directed against the CD20 antigen found on Beta lymphocytes - combined with a multi-agent chemotherapy regimen, most often CHOP (cyclophosphamide, doxorubicin, vincristine and prednisone).
Given the complex pathophysiology of the disease (multiple cell-signaling division triggers), combined with a late-stage diagnosis typically discovered after the spread to the GI tract and bone marrow, MCL is characterized by short median survival times (3 - 5 years).
Complicating disease research, there are more than sixty patient sub-types of NHL, according to the World Health Organization, ranging from B-cell abnormalities like follicular lymphoma and lymphomatoid granulomatosiss to immunodeficiency-associated lymphoproliferative disorders, such as angioimmunoblastic T-cell lymphoma.
A retrospective claims database analysis conducted in 2011 among patients with follicular non-Hodgkin lymphoma (a slow-growing, indolent subtype of NHL, characterized by continuous risk of relapse and progression and accounting for approximately 20% to 25% of all NHL cases), found disease progression was associated with a $2,647 higher per patient per month cost and higher healthcare utilization compared with patients who did not progress in the outpatient community setting. The researchers logically concluded that treatments that can delay or prevent progression improve clinical outcomes and lower cost of care.
Consequently, a significant unmet need exists for novel new treatments. In addition to Imbruvica, other new treatments approved for various types of NHL in 2013 include Roche's immunotherapy agent Gayza (obinutuzumab) and an expanded labeling for GlaxoSmithKline's (NYSE:GSK) Arzerra (both) for use in combination with the chemo drug chlorambucil in the treatment of patients with previously untreated chronic lymphocytic leukemia (CLL).
Additionally, analytics firm Decision Resources opines that the stubborn nature of the disease itself (relapse rates) combined with the introduction of new therapies will fuel more than 6 percent annual growth in the non-Hodgkin's lymphoma drug market in the G-7 market alone (United States, France, Germany, Italy, Spain, the United Kingdom and Japan), with sales exceeding $10 billion per annum by 2022.
Developed and marketed jointly with Johnson & Johnson (NYSE:JNJ), investors hold out high hopes for Imbruvica's commercial success, as witnessed by the rapid rise in the biotech's stock price of late.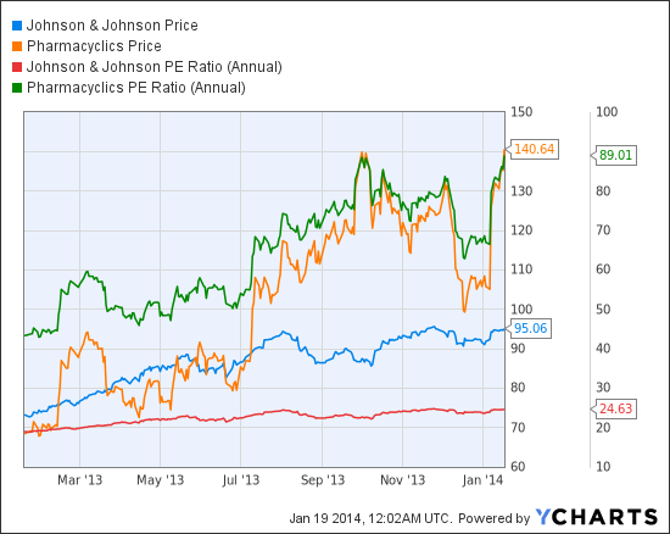 On January 7, an Independent Data Monitoring Committee (IDMC) unanimously recommended that a Phase III study, called RESONATE, a head-to-head comparison of Imbruvica versus Arzerra, be stopped early because the primary and a key secondary endpoint of the study had been met: Imbruvica showed a statistically significant improvement in progression-free survival (the primary endpoint of the study) in patients with relapsed or refractory CLL or small lymphocytic lymphoma (SLL). Further, Imbruvica showed statistically significant improvement in overall survival (a key secondary endpoint of the trial) versus Arzerra too.
Pharmacyclics' Imbruvica looks to be a winner for certain NHL sufferers. Whether it could prove a lucrative, long-term investment for stockholders remains to be seen - and will be reviewed in a second YCharts article.
Disclosure: None.