By David Russell
Rayonier has climbed 16 percent in the last two months, and now one trader apparently thinks that it's near the end of the road.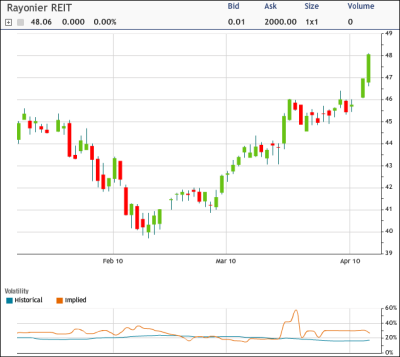 optionMONSTER's tracking systems detected the purchase of 2,400 May 50 calls for $0.65 against existing open interest, and the sale of 2,400 August 50 calls for $1.50. The trade resulted in a credit of $0.85.
The transaction appears to be the continuation of a calendar spread in December, where an investor sold the May calls while buying February contracts. The strategy was intended to earn income from the belief the timberland company will remain trapped below $50.
The February calls would have expired worthless, leaving the investor with a short position in the May contracts. In yesterday's trade, they appear to have bought them back and rolled the short position forward by another three months. The strategy reflects the same belief that RYN's upside is limited.
RYN rose 2 percent to $47.91. The company, organized as a real-estate investment trust, owns about 2.4 million acres of forestland. Management said that timber prices were improving the last time it reported earnings on Jan. 26, and Standard & Poor's raised the outlook on its debt to positive on Feb. 4.
The trade pushed overall options volume in RYN to more than 40 times greater than average in yesterday's session.
(Chart courtesy of tradeMONSTER)