Check out this week's Danger Zone Interview with Chuck Jaffe of Money Life and MarketWatch.com.
Specialty chemicals producer Ashland Inc. (NYSE:ASH) is in the Danger Zone this week. Those that consider ASH a "value" stock are mistaken. The stock is cheap by traditional metrics such as price to earnings, but a closer look reveals the value to be an illusion. Hidden non-operating income artificially inflates reported earnings while serious liabilities are buried in the footnotes. The stock is actually terribly expensive, and I do not believe Ashland could ever achieve the profit growth expectations embedded in its valuation. .
Misleading Earnings
Investors looking only at GAAP net income might think that 2013 was a great year for ASH. After all, the company increased its reported earnings from $26 million in 2012 to $683 million in 2013. However, that gain is an illusion as the increase comes from actuarial gains from ASH's pension plan.
In 2013, ASH recorded an actuarial gain of $532 million on its pension and postretirement plans. This gain was due primarily to the company increasing the discount rate on its projected benefit obligation by a full percentage point.
This actuarial gain was deducted from selling, general, and administrative expense on the income statement, so if you don't look in the footnotes, it appears as if the company was simply very efficient at cutting costs this past year. In reality, the company simply changed the rate at which it values future obligations. Removing the pension gain and other non-operating items reveals ASH's true after-tax operating profit (NOPAT) to be $525 million rather than the $683 million in reported GAAP income.
Even though reported earnings increased massively from 2012 to 2013, adjusting for non-operating items shows that NOPAT actually declined by 13% in 2013.
The profit decline this year is not a fluke. ASH's revenue and NOPAT has been fairly stagnant for over a decade. In fact, the company's profits in 2013 are almost identical to 2011. The only difference is that invested capital has nearly doubled over that time, which means return on invested capital (ROIC) has been cut in half.
Figure 1: Invested Capital Increasing With No NOPAT Growth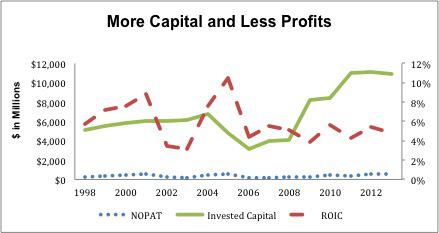 Sources: New Constructs, LLC and company filings
Competitive Position
ASH is divided into four reporting segments: Specialty Ingredients, Water Technologies, Performance Materials, and Consumer Markets. Specialty Ingredients is the largest component of sales with 33% last year while Consumer Markets (which sells the well known Valvoline motor oil) contributed slightly more to operating income.
The specialty ingredients industry is growing increasingly commoditized, which ASH management acknowledged in the 4Q13 earnings conference call when they predicted falling prices and rising input costs to result in a $50-$60 headwind in 2014.
Long-term, it's hard to see how ASH can achieve significant growth. Water Technologies and Consumer Markets both saw slight gains in operating profit last year due to declining input costs, but pricing pressure decreased the top line for both segments as well. ASH's products are turning into commodities, and the company doesn't seem to have a viable strategy to regain its competitive advantage.
Illusion of Value
As I said above, ASH looks cheap when valued by traditional metrics. It has a P/E of 11 and a P/B of 1.7. However, these metrics don't tell the whole story.
As I wrote above GAAP net income significantly overstates ASH's profits in 2013. However, certain liabilities hidden in the footnotes also decrease the value of ASH to shareholders. In addition to ASH's $3.5 billion (47% of % of market value) in adjusted total debt, it has $1.1 billion (15% of % of market value) in pension underfunding. Note that the pension underfunding, as big as it is, was shrunk by the abnormally low discount rate. With the higher rate in 2012, ASH's underfunding was at $1.8 billion.
The creative pension accounting at ASH reminds me of Eastman Kodak, which eked out accounting profits by raising the expected return on pension assets. ASH's business is not struggling as badly as Kodak's was, and I don't think the company will go bankrupt, but the fact that management has to resort to these accounting gimmicks is a bad sign.
Accounting for these liabilities and the true profit ASH earned in 2013, the colossal profit growth priced into the stock becomes clear. ASH has a price to economic book value (zero growth value) ratio of 5.9, while the ratio for the S&P 500 as a whole is only 2.7. Its valuation of ~$95/share implies that the company will grow NOPAT by 10% compounded annually for 39 years.
10% sustained profit growth is hardly realistic for any chemical producer. Over the past 15 years, ASH has only grown NOPAT by 4% compounded annually. If we decrease ASH's growth rate significantly below 10%, the company would need over 100 years of growth at that rate to justify its stock price.
One would expect more sophisticated investors to recognize the accounting gimmicks that make P/E unreliable for ASH, but back in September hedge fund Jana Partners actually referenced the company's low P/E in a presentation outlining its long thesis. Even the highest profile investors could use a little more diligence.
Refuting the Bull Case
The bullish case around ASH seems to focus on the proposed sale of its Water Technologies segment and a spinoff of the Valvoline division. Cash flow from the sale of Water Technologies would fund a share buyback program while the spinoff of Valvoline would theoretically create a new, growing company while cutting administrative costs in the core specialty ingredients business.
The sale of Water Technologies looks like nothing more than a short-term desperation strategy to keep the stock afloat. With the significant liabilities ASH has, a buyback is not really the best use of its money right now. As for the spinoff of Valvoline, I don't see a scenario where that could spur the kind of growth needed to justify the stock's valuation.
These measures are just putting a Band-Aid on a bullet wound. If the company can convince the market that these short-term measures can fix the long-term problems, the stock might go up in the next few months. Long-term, however, there's no scenario where ASH can justify its valuation.
Downward Catalysts
ASH reported its quarterly earnings and Monday. It fell short of revenue expectations but managed to cut costs and grow earnings. Based on the unusual gain from last year inflating earnings, we think there's a potential for ASH to disappoint in coming quarters, which would send shares down sharply. Cost cutting can only achieve so much. The odds for a disappointment only get higher the longer they put off reconciling the pension accounting issues with their wallowing cash flows.
ASH has also not made definitive plans to spinoff Valvoline and, in fact, indicated in the most recent conference call that they might be leaning towards holding onto it. That announcement might send shares down, as it would drive off the bulls that were counting on a spinoff.
Finally, failure to get a good price for the Water Technologies division could decrease the size of a potential buyback. Any failure to execute the "turnaround" strategy could send the stock tanking in the near term. Even if ASH does execute the strategy perfectly, however, the company simply does not have the ability to meet the expectations reflected in its valuation.
In the near-term, I expect a lot of volatility in ASH stock as quarterly earnings, sales, spinoffs, and buybacks could all send the stock seesawing up and down. Long-term, however, I only see one direction for this stock to go. If we give ASH credit for 7% NOPAT growth compounded annually for 15 years, the stock is worth only ~$60/share today.
Avoid These Funds
Investors should avoid the following ETFs and mutual funds due to their 3+% allocation to ASH and Dangerous-or-worse ratings.
Sam McBride contributed to this report.
Disclosure: David Trainer and Sam McBride receive no compensation to write about any specific stock, sector, or theme.
Disclosure: I may take a short position in ASH in the next 24-72 hours. I wrote this article myself, and it expresses my own opinions. I am not receiving compensation for it. I have no business relationship with any company whose stock is mentioned in this article.