Introduction
Without a doubt, Norwegian Cruise Line Holdings' (NASDAQ:NCLH) stock has been very successful since its IPO last year. Norwegian has a solid record of earnings growth, and its earnings are forecasted to continue rapidly growing in the future. However, when looking beyond earnings, Norwegian's future does not appear so bright. Compared to Carnival Corporation (NYSE:CCL) and Royal Caribbean Cruises Ltd. (NYSE:RCL), Norwegian's only cruise line cannot target nearly as broad of a market that Carnival's and Royal Caribbean's cruise lines service. Norwegian also lacks a competitive edge over the other cruise lines that directly compete within its target market. Additionally, Norwegian is under an increasing $4 billion debt load with little capacity to make interest payments and pay off the debt balance any time soon. These factors make Norwegian a risky investment to sail with over the long-term despite its strong earnings growth.
Cruise Line Holdings
| | |
| --- | --- |
| Brand | Type |
| Carnival Cruises | American/Bargain-Priced |
| Holland American Line | American/Upscale |
| Princess Cruises | American/Upscale |
| Seabourn Cruise Line | American/Luxury |
| Cunard Line | English |
| Costa Cruises | Italian |
| Ibero Cruises | Spanish |
| AIDA Cruises | German |
| P&O Cruises | English |
| P&O Cruises Australia | Australian |
Carnival Corporation owns a total of ten different cruise lines servicing a variety of markets with bargain-priced, upscale, and luxury cruise lines. In addition, Carnival owns a number of lines marketed towards international passengers.
| | |
| --- | --- |
| Brand | Type |
| Royal Caribbean Cruises | American/Bargain-Priced |
| Celebrity Cruises | American/Upscale |
| Azamara Club Cruises | American/Luxury |
| Pullmantur Cruises | Spanish |
| CDF Croisiéres de France | French |
| TUI Cruises (50% ownership) | German |
Royal Caribbean Ltd. owns a total of six different cruise lines. Like Carnival, Royal Caribbean's cruise lines service the markets for bargain-priced, upscale, and luxury cruise lines as well as the market for international passengers.
| | |
| --- | --- |
| Brand | Type |
| Norwegian Cruise Line | American/Bargain-Priced |
By contrast, Norwegian Cruise Line Holdings owns a only a single cruise line, the aptly named Norwegian Cruise Line. Norwegian Cruise Line is a bargain-priced cruise line marketed towards American passengers.
There is nothing wrong with being the smallest competitor and only occupying a single market. However, Norwegian Cruise Line's main competitors are Carnival's Carnival Cruises and Royal Caribbean's Royal Caribbean International, the two largest and most well known cruise line brands in the world. Norwegian has held its ground against these stalwarts, but I do not think that Norwegian Cruise Line has a distinguishing element that gives it an edge over its larger competitors to allow it to continue successfully competing in the future.
Lack of Competitive Edge
One of my greatest concerns about Norwegian is its only cruise line's lack of an identity, which leaves it without an edge over its competitors. Norwegian's flagship innovation is "Freestyle Cruising," a relaxed style of cruising in which there are no assigned dining times or assigned tables in the dining rooms. The concept was revolutionary in its time, and allowed Norwegian Cruise Line to become an established brand. However, the concept of freestyle cruising is no longer unique to Norwegian Cruise Line and has since been adopted by Carnival, Royal Caribbean, Princess, and many other major cruise lines. Without sole employment of freestyle cruising, Norwegian offers little to attract customers away from its competitors.
Carnival Cruise line's ships are known as "Fun Ships", offering short and cheap cruises on ships with Las Vegas style decor and entertainment. Royal Caribbean International is known for its 6,000 passenger "megaships" and its outdoor and adventure activities offered on its ships. Since freestyle cruising is no longer unique to Norwegian Cruise Line, it lacks the recognizable identity that each of its competitors possesses. Without an identity, I believe that Norwegian is at risk of being squeezed out of its market share by its competitors. Without anything currently new or different to bring to the table, why would customers want to sail with Norwegian Cruise Line when Carnival and Royal Caribbean continue to produce new innovations? Even without new innovations, Norwegian Cruise Line will keep its loyal customers, but the company's growth will be hampered by its inability to attract new customers.
Although it does not currently have an edge over its competitors, I do not think that Norwegian lacks the capacity to innovate. Freestyle cruising used to be a revolutionary concept, and its implementation by other cruise lines helped change industry practices. Furthermore, Norwegian released its newest ship, the Norwegian Getaway, this month as its second ship in the Breakaway class. The Getaway does contain a few new innovations such as The Waterfront, an outdoor promenade filled with shops and restaurants. With that being said, a few minor innovations do not revolutionize the line, and Norwegian must make big changes in order to remain competitive in the future.
If Norwegian wants to differentiate itself among its competitors, it needs to build a truly unique and groundbreaking new ship or renovate its fleet and its brand. However, such changes are very costly. With Norwegian's current debt load, it cannot easily afford to implement a costly program to give itself a recognizable identity.
High Amount of Debt
| | |
| --- | --- |
| Debt Ratio | 0.610 |
| Interest Coverage Ratio | 1.301 |
| Cash Flow to Debt Ratio | 0.099 |
Norwegian's balance sheets currently hold over $4 billion dollars of debt. The debt ratio is very high and the interest coverage ratio is suitable under current conditions but is certainly less than desirable. The most alarming statistic is the cash flow to debt ratio that is less than 0.1. Norwegian is not generating enough income to pay off its debts anytime soon. With Norwegian releasing the $1 billion dollar Norwegian Getaway with plans to build 2 sister ships in 2015 and 2017, its debt will continue to grow.
If Norwegian could continue generating enough cash to cover its interest payments, the large amount of debt would not be a major issue. However, it is important to note that the cruises are currently very popular and the cruising industry is growing during the strong recovery. If history is any indicator, boom periods do not last forever. The Great Recession, the September 11 attacks, and the Costa Concordia disaster all caused downturns in the cruise industry of varying degrees. A major downturn could spell disaster for Norwegian. With its less than satisfactory debt ratios, Norwegian's balance sheets do not have a high margin of safety and the company will be carrying a lot of debt for a long period of time. A substantial reduction in Norwegian's cash generation could damage its ability to pay off its debts and leave the company in some very deep water.
Valuation and Earnings Forecast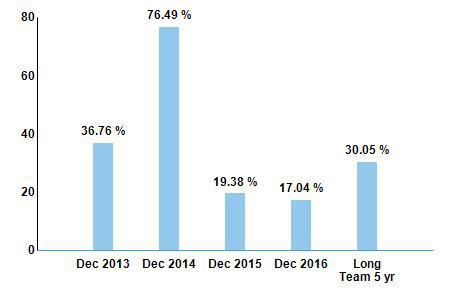 The graph above shows a strong earnings forecast over the next five years. Purely based off of its pleasing earnings growth estimates, Norwegian is fairly valued at its forward P/E of 26.93, although it is still high compared to the industry average P/E of 18.6. Norwegian can be considered a growth stock, and the higher P/E ratios reflect the above average growth potential. When taking the amount of debt that Norwegian accumulates to achieve the earnings growth, Norwegian does not provide good value. Its debt situation is too dire to buy its stock at any price other than a discount.
Conclusion
I disagree with the current bullish sentiment on Norwegian. If earnings were the only factor being considered, Norwegian would certainly be an attractive stock. However, earnings growth is not the end all be all metric to determine the quality of an investment. Considering the risks attainable to its large amount of debt and its current lack an identity, I would sell this stock and only purchase it after a major pullback that would make Norwegian's stock a bargain when considering all of the risks involved.
Disclosure: I have no positions in any stocks mentioned, and no plans to initiate any positions within the next 72 hours. I wrote this article myself, and it expresses my own opinions. I am not receiving compensation for it. I have no business relationship with any company whose stock is mentioned in this article.