Yesterday, I took a look at Bank of America's (NYSE:BAC) net interest margin as a way to gauge the company's ability to increase earnings in the future. Today, we'll take a look at another piece of BAC's business, its mix of loans and leases to its deposit base. This is a key metric in banking as it compares the amount of low cost, "sticky" money to the amount of that money that is being lent out. As a measure of risk and leverage, the loan to deposit ratio, or LTD ratio, is superb. The higher the ratio, the more risk the bank is taking on. Here, we'll see what BAC has done in recent years in this arena and what affect it may have on the bank going forward.
The chart below depicts BAC's average loans and leases for a given year (which is different from the spot number reported on the balance sheet) and the average amount of deposits for the same time period.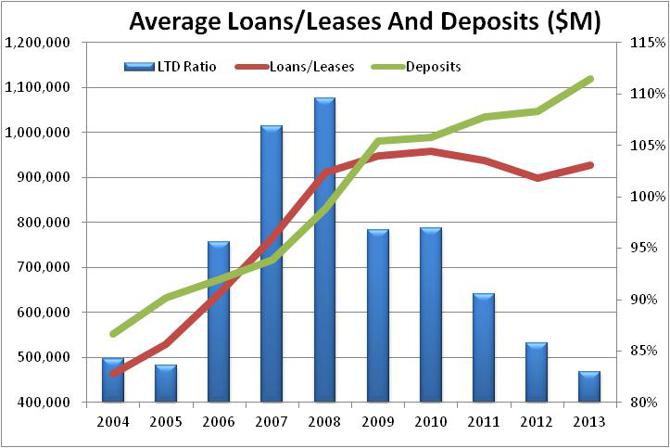 We can see many interesting things from the chart above with implications for BAC shareholders. First, the period from 2004 to 2009 saw explosive growth in deposits and loans. Deposits increased from around $550 billion to nearly $1 trillion in that period through mergers and general deposit growth across the industry. Similarly, loans increased from roughly $475 billion to $950 billion in the same time period. Astute readers will notice that loans actually grew more quickly than deposits and in fact, if we examine the blue columns in the chart, we see exactly that.
We can see that BAC's LTD ratio in 2004 was 85% but the leveraging up process that took place across much of the industry in the time period immediately preceding the financial crisis saw BAC's LTD ratio skyrocket to 110%. Consider that BAC $1.10 for each $1 it had in deposits and it isn't difficult to understand why it went so wrong so quickly for BAC during the crisis. This of course resulted in massive losses and the eventual bailout from the federal government. The good news for shareholders is that this reckless behavior is a distant memory, as we can see by examining the company's results since that time.
During and after the crisis we see a rapid deleveraging in the LTD ratio to the point where it has fallen to under 83% for the full year 2013, representing the lowest value in the past ten years. The reason is obvious; if we look at the lines on the chart, the deposit line has diverged significantly from the loans/leases line, indicating that while BAC has seen strong deposit growth, it hasn't seen commensurate loan growth. This is the result of many factors including weak demand and others that are out of BAC's control, but it also means that BAC management, led by their excellent CEO, is making a concerted effort to de-risk the balance sheet while simultaneously growing earnings. This is a win-win for shareholders as it means the likelihood of a complete meltdown like what occurred during the crisis is significantly reduced but at the same time, earnings are still growing; there is no better situation. The loans that BAC is making are made on profitable terms instead of the pre-crisis mentality of simply rubber stamping everything that came in the door; we all know how that policy turned out.
So what does this mean for shareholders in tangible terms? The story is great here and anecdotally, it provides a nice bull case for owning the stock. However, we need to put some numbers to it in order to make it meaningful for shareholders and we'll take a quick look at that now. BAC's reported 2.47% net interest margin for 2013 was a nice improvement over 2012 and we'll use 2013's number as our baseline for this exercise. If we assume this NIM will persist, which I believe is an extremely conservative assumption given that rates are set to rise in the near to medium term, and the fact that Q4 2013 saw higher NIM of 2.56%, BAC's $928 billion loan portfolio would produce something like $23 billion in interest income. If BAC simply begins to grow its loan portfolio at the rate it is bringing in deposits (~6.8%), keeping the LTD ratio steady, it will see additional interest income on its loan portfolio of $1.6 billion.
If we then assume the higher Q4 NIM rate of 2.56%, that number would move up to $2.4 billion in additional interest income for 2014. None of these assumptions are particularly optimistic and in fact, with BAC's loan portfolio, the actual NIM is likely much higher than 2.56%. That headline number includes certain trading activities that have nothing to do with making traditional loans and in 2012, that removed 55 basis points from NIM. Thus, we can assume for 2013, for which the 10-K has not yet been released, that the loan portfolio is actually producing around 3% in NIM once trading activity is removed from the headline number. Even without that boost, however, the math still works out very favorably for shareholders as we are talking about billions in additional revenue that largely flows straight to the bottom line with little to no incremental costs associated with it.
BAC management has done a terrific job since Moynihan took over as CEO in many facets of BAC's business. With the LTD ratio, we can see tangible evidence of a bank management team that has made it a priority to deleverage the balance sheet and avoid another meltdown and the enormous losses that accompany such an event. In addition, with the deleveraging process largely complete in my view, I think we could see the LTD ratio stabilize around the level it is now, meaning loan growth could further boost earnings in the coming years. Whether that happens or not, even the baseline scenario of a stagnant LTD ratio means potentially billions more in interest income each year with additional upside possible.
Disclosure: I am long BAC. I wrote this article myself, and it expresses my own opinions. I am not receiving compensation for it (other than from Seeking Alpha). I have no business relationship with any company whose stock is mentioned in this article.