The 3D space has received a beating recently, and if you ask me, for good reason. One of the themes I have written over the past several months is that these stocks are very expensive and investors should shy away from them (unless of course they are trading them, I have nothing against speculation).
I have nothing against these companies, and I will agree with many investors that say the sector is a game changer. However, even if they do change the world, it is not a given that investors will make money.
Let me show you a chart for a moment. It's not the only such chart I can show you. In fact many of today's high tech blue chip stocks have a similar chart.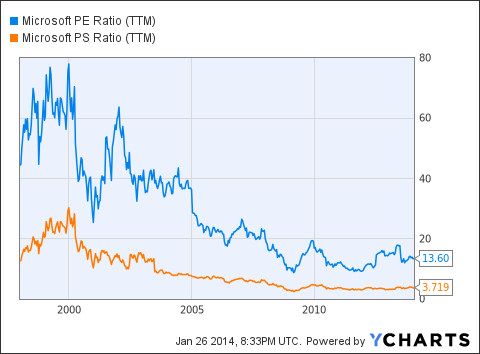 MSFT PE Ratio (TTM) data by YCharts
The chart portrays the P/E and Price/Sales ratio of Microsoft (NASDAQ:MSFT). I am sure back in 1999 there were analysts who had come up with some kind of formula to prove that the stock was worth 80 times earnings and 30 times sales. I don't what their logic was, but I am pretty sure it made some kind of sense to investors who bought Microsoft back then.
Now the chart below depicts the Price/Sales ratio of 3D Systems (NYSE:DDD), ExOne (NASDAQ:XONE) Stratasys (NASDAQ:SSYS) and Voxeljet (NYSE:VJET). As a side-note, I can't put the P/E on the chart because there are no profits on a yearly basis yet. Now please note I'm not comparing Microsoft to these stocks as a business - because they are miles apart -- just comparing the valuation.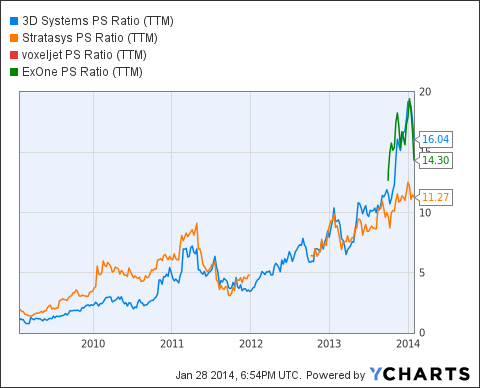 DDD PS Ratio (TTM) data by YCharts
What investors should be aware of in the above chart is that a Price/Sales of 15 or even 10 is not natural. Just as in the case of Microsoft, no stock cannot last very long with such a high Price/Sales ratio. Yes it might do so for several years, but over the long term, the Price/Sales will be going down, especially once the stock reaches some sort of mature status.
And guess what happens when the Price/Sales ratio starts going down? The answer is that investors will lose money, just as in the case of Microsoft.
Microsoft has done fantastic since 1999. Its profits and revenue have been growing and today it even pays a decent dividend. But because the stock was so far ahead of the fundamentals at the time, investors who bought the stock at those bubble valuations back then have done nothing. In other words, they were left holding the bag. The only ones that made a profit were the investors that bought first and sold once the stock reached bubble valuations.
Granted that all the 3D stocks in the space are still growing double digit, however what the unknown is how long this growth will continue. If by accident something changes in the future and analyst forecasts call for lower growth ahead, then that changes everything in the current models (which I do not agree with anyway).
Bottom line
Over the past several years investors could do nothing wrong. Almost everything went up, irrespective if it deserved so or not. I mean, you really had to be unlucky to lose money in this market.
But if I'm right that this year things will different, then not only do investors need to change their approach to the market in 2014, but will also have better luck short selling this time around (please consider: Maybe It's Time To Be A Contrarian and If You Want To Make Money This Year, You Have To Think Different).
And in such a market, the stocks that get hit the most are the ones with the most extreme valuation. And the 3D space is one of extreme valuations.
This market has a lot of headwinds, among other Fed tapering; the fact that last year the market gave 30%, and the trouble brewing in emerging markets. In such an environment, I do not think U.S. markets will give much this year, if anything.
I think we have had a good taste of things to come already. Apple's (NASDAQ:AAPL) nosedive (without merit if you ask me) is but one example. This market is looking for an excuse to correct if you ask me, and it is trying to find those excuses in the most unexpected places. As such, I think that the recent correction in the 3D space is just the tip of the iceberg.
This is a market that will probably not do much in 2014. And as I have said before, investors should be more conservative this year and concentrate on not losing money than making it. The fact that the S&P 500 (NYSEARCA:SPY) is down year-to-date might be a small hint of what may lie ahead.
In such an environment, stocks with fluffy valuations and extraordinary expectations baked into them usually underperform (if not take a nosedive). So if you are still riding on profits in the 3D space, then you better think twice if you still want to be on the train this year, or if it's time to cash out, even if you believe in the sector, and intend to get on the train once again in the future.
Disclosure: I have no positions in any stocks mentioned, and no plans to initiate any positions within the next 72 hours. I wrote this article myself, and it expresses my own opinions. I am not receiving compensation for it (other than from Seeking Alpha). I have no business relationship with any company whose stock is mentioned in this article.