INTRODUCTION
2013 was an excellent year for the stock market as the Dow Jones Industrial (NYSEARCA:DIA) and S&P 500 (NYSEARCA:SPY) reached new highs. The S&P 500 in particular was up 26% in 2013. Many well know, loved and held dividend stocks also rode along to new highs. Due to many stocks reaching new highs, dividend yields decreased and many fell below 3% and others even below 2%. For investors in the accumulation phase, 2013 was a difficult time to find value or to find stocks providing a little more income. Lockheed Martin (NYSE:LMT) for example which traditionally had a dividend yield over 4% now has a dividend yield of 3.18% (as of 2014-01-25) which is at near a 3 year low. Many other dividend stocks which traditionally yielded over 3% now find themselves in the mid 2% range. However, the pullback which started last Thursday may provide an opportunity to pick up some dividend stocks at a better yield and at a better value. With US indices having pulled back over 3% on Thursday and Friday as well as a small continuation on Monday, I will use the Peter Lynch Chart to evaluate the valuation of a sampling of dividend paying stocks.
ANALYSIS
What is a Peter Lynch Chart? Peter Lynch is a guru who used lots of charts to analyze the valuation of stocks. In his book "One Up on Wall Street", he describes his rationale for his method:
"A quick way to tell if a stock is overpriced is to compare the price line to the earnings line. If you bought familiar growth companies - such as Shoney's, The Limited, or Marriott - when the stock price fell well below the earnings line, and sold them when the stock price rose dramatically above it, the chances are you'd do pretty well."
The stock price is found on the right axis and the earnings are found on the left axis. Charts are in logarithmic scale. He aligned $1 in earnings per share to $15 in stock prices. The earnings line is therefore equal to the stock prices at a P/E of 15.
"Undervalued"
There remain a number of stocks that are "undervalued" and represent a value if you were to invest in them now. I have provided a sampling of some very common and other not so common or controversial dividend stocks that are, have been or are being considered in someone's portfolio. These stocks include Intel (NASDAQ:INTC), Seagate (NASDAQ:STX), Chevron (NYSE:CVX), Microsoft (NASDAQ:MSFT), Aflac Inc. (NYSE:AFL), Cisco (NASDAQ:CSCO), International Business Machines (NYSE:IBM), Phillips 66 (NYSE:PSX), ConocoPhillips (NYSE:COP) and Rogers Communications (NYSE:RCI).
Intel and Cisco recently suffered from large selloffs after these companies missed analyst's expectations this earnings season as well as issued soft guidance for the fiscal year. Although since that time, their stock price has recovered much of the selloff, there is still a value in these stocks.
MSFT on the other hand beat analyst's expectations and was holding strong while the market was selling off, however the stock did eventually sink lower and represents good value with potential upside when the market exits this selloff.
CVX presents the best value out of all the stocks I have presented below as it shows a potential 55.7% upside to its fair value estimate.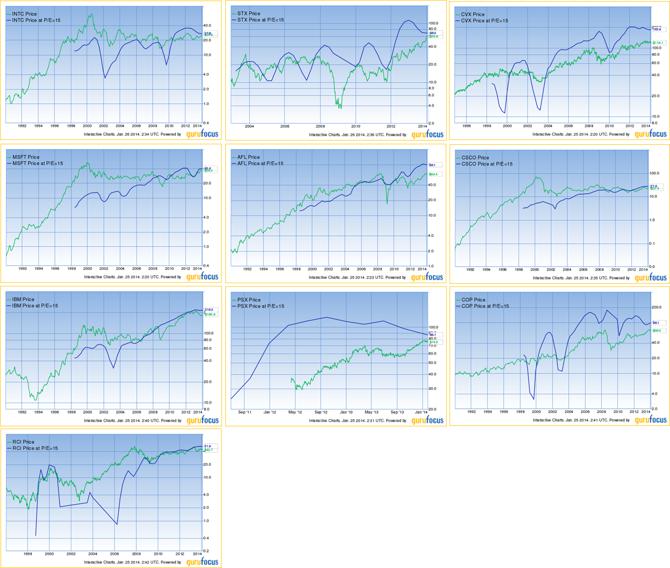 Source: GuruFocus
"Fair Value"
There were a few stocks that I found that were pretty much at fair value. Anyone already holding these companies in their portfolio may find it an opportune time to add to their positions. The companies include Wal-Mart (NYSE:WMT), Norfolk Southern Company (NYSE:NSC), CSX Inc. (NYSE:CSX), Raytheon Company (NYSE:RTN), and General Dynamics (NYSE:GD).
CSX beat analyst's expectations on EPS and revenue however the company was impacted by the decrease in coal volume which makes up a large percentage of their revenue stream. Despite the positive quarter, the company sold off bringing the stock price into fair value range.
WMT has been impacted by the recent bearish sentiment in the retail sector, slowing sales, and weak holiday numbers. Since reaching an all-new 52 week high in early December, the stock has since dropped approximately 10%. WMT now yields about 2.50% which is not bad given its history of double digit dividend increases. However, if this bearish sentiment continues and depending on what the quarterly earnings report shows (which may be not be so positive), we could likely expect to see the price continue to decline providing a better value than presently seen.
The defence sector has seen amazing increases over the last year since sequestration. In 1 year, GD has increased 45% while RTN has increased 62%. These two stocks are still at fair value despite this incredible run however the graphs do show that this is the first time since 2009 that have been fairly valued. If this run continues, this would be a good time to pick up some shares of RTN or GD while the price is fair.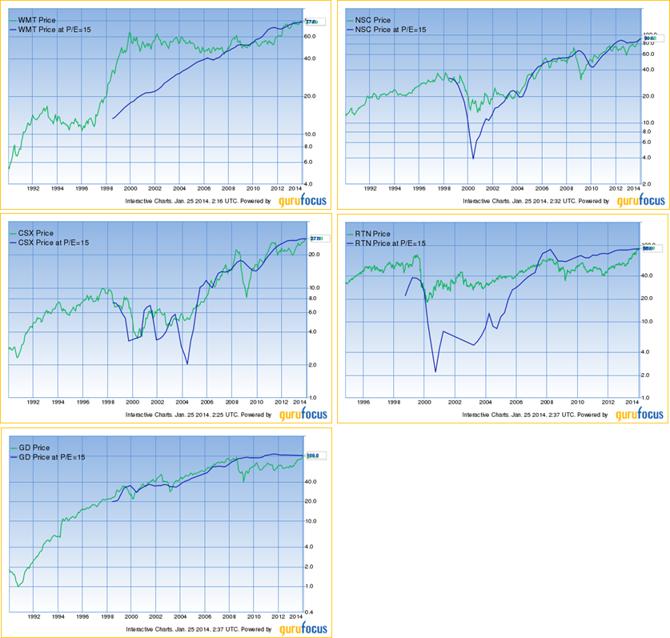 Source: GuruFocus
"Overvalued"
Because it has been a good run in 2013 for dividend stocks generally along with the market overall, it is not surprising that despite a pullback, some stocks remain overvalued. The companies that I have found to still be overvalued include LMT, Reality Income (NYSE:O), Target (NYSE:TGT), Accenture PLC (NYSE:ACN), Hasbro (NASDAQ:HAS), Walgreen (WAG), Harris Corporation (NYSE:HRS), Automatic Data Processing (NASDAQ:ADP), Johnson & Johnson (NYSE:JNJ), Orchids Paper Products (NYSEMKT:TIS), Baxter International (NYSE:BAX), and Proctor and Gamble (NYSE:PG).
It is the first time since 2008 that LMT has been considered overvalued. The stock has increased 65% in the last year alone and 78% over the last 5 years. Since sequestration did not appear to impact LMT and the defence sector as thought, the stock has since soared. The price is now slightly above the fair value.
TGT has been impacted by several factors recently including the data breach issue and weaker revenues which it attributed to the costs of opening new stores in Canada. After reaching its all-new 52 week high in July, the stock has declined 27.3%. Recently, an analyst downgraded TGT to underperform and provided a $47 price target. This would translate into a 19% decline from the fair value price in the chart. Despite all that has happened, the stock is still considered overvalued but it is not far from arriving at fair value. On the other side, the stock is close to yielding 3% which has not been seen for some time.
REITs have been impacted since May 2013 due to concerns about rising interest rates and the end of quantitative easing. Over the last year, shares of O have decreased 7%. Despite this decrease and the recent pullback, shares of O remain considerably overvalued. There is a difference of 160.1% between the fair value and stock prices.
For many of the popular dividend stocks like JNJ, PG, WAG, and BAX, a further pullback is required to bring them into or near fair value.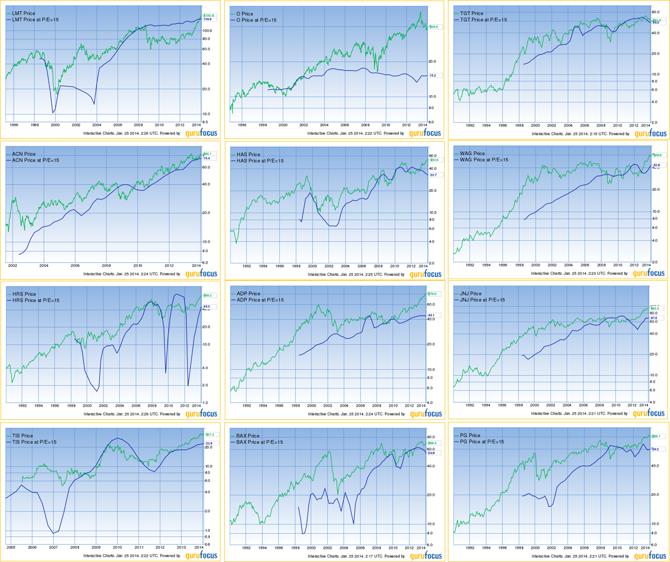 Source: GuruFocus
CONCLUSION
Despite the recent pullback, there are many dividend stocks that remain overvalued. This may not be a consideration to some however many dividend investors tend to focus on finding dividend stocks at fair valuations. This pullback has provided a number of stocks that are undervalued or fairly valued and have helped increase their dividend yields. Although it is uncertain whether this pullback is merely that or if it is the beginning of the market correction that many are predicting and waiting for, one thing is for certain, buying companies that are undervalued or fairly valued do pay dividends over the long term.
The information presented in this article is for information purposes only. It should not be interpreted as a recommendation for the purchase of certain stocks. Readers are encouraged to perform their own research before purchasing any stocks to ensure that they meet their goals and risk profile.
Disclosure: I am long WAG, O, JNJ, WMT, BAX, RCI, TIS, CVX. I wrote this article myself, and it expresses my own opinions. I am not receiving compensation for it (other than from Seeking Alpha). I have no business relationship with any company whose stock is mentioned in this article.