On Tuesday, Nasdaq OMX Inc. (NASDAQ:NDAQ) announced the launch its options trading on its Nasdaq Internet Index (QNET) platform on Mar 24, through Nasdaq OMX PHLX. Susquehanna Securities, which already provides liquidity in several PHLX index options, is the specialist for this new product as well.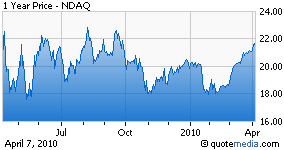 QNET is designed to track the performance of the largest and most liquid U.S. companies engaged in internet-based businesses that are listed on the Nasdaq Stock Exchange, the New York Stock Exchange (NYSE) or NYSE Euronext Inc.'s (NYX) NYSE Amex. By trading for options on QNET, investors shall enjoy the facility of customizing their trades according to their requirements and choice.

Through the launch of options trading on the Internet Index platform, Nasdaq continues to expand its exchange operations, particularly enhancing its competitive edge over its derivatives-focused rivals CME Group Inc. (NASDAQ:CME), IntercontinentalExchange Inc. (NYSE:ICE) as well as NYSE ARCA and NYSE Amex.

Estimate Trend Revision

Over the last 30 days, 1 of the 20 analysts covering the stock has lowered his or her estimate for the first quarter of 2010, while no upward revisions were witnessed. Currently, the Zacks Consensus Estimate for the first quarter is operating earnings of 47 cents per share, which would be down by 1.3% from the year-ago quarter.

The absence of upward estimate revisions for the first quarter indicates a likelihood of downward pressure on the performance of the stock in the near term.

With respect to earnings surprises, the stock has been steady over the last four quarters, with all positive surprises at an average of 3.3%. This implies that Nasdaq has surpassed the Zacks Consensus Estimate by 3.3% over that period.

The downside potential for the estimate for the first quarter, essentially a proxy for future earnings surprises, currently stands at 2.1%.