As many of you know, I've covered Vringo (VRNG) for a couple of years now and have told investors here and here about the huge upside the Company has going forward.
In a wild and very eventful day yesterday, Vringo gave investors the gift that keeps on giving. So without further ado, let's take a look at the three very important announcements on Tuesday.
1) Vringo enters into an agreement with ADT Corporation
For those of you that do not remember, Vringo filed a lawsuit against The ADT Corporation, ADT LLC, ADT Security Services INC., and TYCO Integrated Security LLC on September 13, 2013.
In just four months, Vringo was able to get ADT Corporation and its subsidiary, ADT LLC doing business as ADT Security Services to come to a confidential agreement. Unfortunately, since the figures were not disclosed, investors have been left guessing how much money Vringo will actually receive from ADT. Looking at ADT's market capitalization we can see that the Company is valued close to 8B, with yearly revenues well over $3B. Certainly we are talking about a lot of cash here.
The agreement between both parties will now resolve litigation that was pending in the United States District Court of Florida. That means that Tyco Integrated Security, LLC is the only one left in litigation in the United States.
2) Vringo files lawsuit against TYCO in Germany
Not only is TYCO still a defendant in litigation in the United States, but the Company must now defend itself from another lawsuit that Vringo just recently filed in Mannheim, Germany.
The lawsuit alleges infringement of the European Patent 1,221,149, entitled "Process and Device for Surveillance of a Room".
According to the press release, Vringo requests that Tyco provide information regarding the extent to which Tyco offers and/or delivers infringing products and compensate Vringo for any loss it has incurred or will incur due to such actions. Vringo also asks the court to impose the costs of legal dispute upon Tyco.
3) The Court awards Vringo an ongoing royalty rate of 6.5%

This was by far the most important announcement of the day and probably in Vringo's history for that matter. The royalty rate of 6.5% will come out to more than a billion dollars for Vringo. Not bad for a company that Wall Street currently values just over 300M.
So how did we get here? Here is a quick recap for those of you that are new to Vringo. On November 6, 2012, a jury ruled in favor of Vringo awarding the Company not only damages of $30.5M but also a running royalty of 3.5%. Vringo asked the court to raise the royalty rate to 7% from 3.5%, based on Google's (GOOG) willful infringement.
Google claimed to have worked around Vringo's patents in May of 2013. However, Honorable Judge Jackson ruled last week that Google's so called "work-around" is nothing more than a colorable variation and subsequently issued that I/P Engine (Vringo's subsidiary) is entitled to ongoing royalties as long as Google continues to use its "modified system."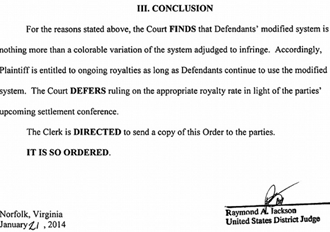 The two parties were ordered into a settlement conference on January 22, 2014. The Court did so in order to give both parties the chance to come to a final agreement on the royalty rate decision, or to come to a settlement agreement in the first place. After both parties could not come to an agreement, Judge Jackson made his decision to award Vringo a royalty rate of 6.5% through 2016.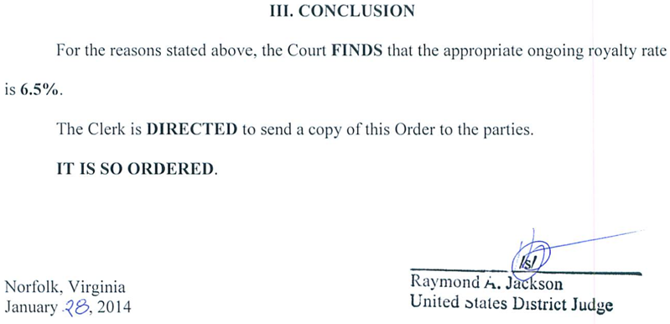 The 6.5% Royalty Rate
So how much will the royalty rate bring in revenues to Vringo? That is the billion dollar question that many investors are asking themselves right now. However, before we can answer that question, let's look at Google's revenues since Vringo's patents won't expire until the first quarter of 2016.
| | | | | | |
| --- | --- | --- | --- | --- | --- |
| | 2012 | 2013* | 2014* | 2015* | 2016* |
| Google's Yearly Revenue | $50.0B | $60.8B | $66.8B | $73.4B | $80.7B |
| United States Revenue* | $22.5B | $27.36B | $30.0B | $33.0B | $36.3B |
* Future revenue estimates and projecting growth of 10%
** More than 95% of Google's revenues come from AdWords.
Vringo (I/P Engine) presented evidence at trial that showed the appropriate way to determine the incremental royalty base attributable to Google's infringement by calculating 20.9% of Google's U.S. AdWords revenue, then applying a 3.5% running royalty rate to that base. Now that the court has ruled on a 6.5% running royalty, we can see just how much that will translate to Vringo.
Of course Vringo is not able to keep all of that cash due to legal contingencies, taxes, etc. That is why I'm playing pretty conservative with my numbers and applying a rate of 50% for those events.
If we add in the $41M in cash that Vringo has, the Company would have close to $711M in cash by 2016 ($670M+$41M=$711M). If we divide that by 115.5M on a fully diluted basis of shares outstanding, you get $6.15 in cash per share.
Investors should realize that this is ONLY based on the outcome of the Google trial. This doesn't even take into account many other things that Vringo brings to the table as I've listed below:
The recent settlement with ADT
The value of the ZTE case
The value of the ASUS case
The value of the TYCO case
The value of Vringo's patent portfolios
The value of a potential reversal of past damages or laches
Microsoft paying 5% of whatever amount Google ends up paying, up to a certain cap.
So How Much Is Vringo Worth Now?
There are a multiple of ways to value a company so I will go through a couple of different ways that I feel Vringo should be valued.
One way to calculate Vringo's valuation is to use a revenue multiplier model. It's clear now that Vringo has shown that it can generate revenue from its patents and because of that, a multiple should be applied.
You can put whatever multiple you think is right whether it be 5x, 10x, etc. Because this is Vringo's first big win, along with a recent settlement with ADT, not to mention Microsoft last year, I'll play it safe and go with a multiplier of 2.5X.
Through 2016, Vringo would receive roughly $711M. If we add a multiple of two and a half, that would give Vringo a market cap of $1.77B (2.5 x $711M). With a market cap of $1.77B and using the 115.5M fully diluted shares outstanding, Vringo's price per share would be around $15.32. Clearly, Vringo is severely undervalued as shares closed the day at $3.97 on Tuesday.
Of course there are other metrics which demonstrate Vringo's undervaluation. At the close of the markets on Tuesday, Vringo was valued at just 334M. The 6.5% royalty ruling is more than double the price of the entire Company. Clearly there is huge upside in this stock.
Conclusion
While bloggers and other contributors tried to paint a bleak outlook for Vringo, calling shares "dead money," I took the approach that patience pays off and that good things come to those that wait. It looks like things are starting to payoff for investors as the wild ride looks to be coming to a close.
Judge Jackson's ruling is a game changer not only for Vringo but for many investors who have toughed it out over the last two years. Like I've been saying for awhile now, this young Company continues to execute at a high level and investors that are patient will be rewarded over time.
Buying shares of Vringo looks to be a very wise move right now as shares have the potential to be a big multibagger in the years ahead. While I fully expect Google to appeal the royalty ruling as they do with every ruling that doesn't go their way, the chance of Google coming out in the win column gets slimmer with every passing day. Like the old saying goes, sometimes it's better to just cut your losses and move on.
As of January 15, 2014 more than 18M short sellers were betting against the Company. With such big news yesterday, expect a huge day of short covering as shorts figure out how they are going to cover over one another.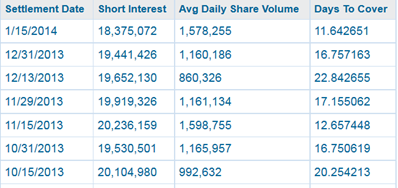 As Carl Icahn would say, the mother of all short squeezes is about to begin. Investors should expect a lot of volume and volatility over the next few days as many investors cash out for quick profits, shorts cover positions and new institutions taking positions in the Company.
As always, I'm providing you with my track record and other particular stocks that I recommend. The link provided will show you all of my picks, how they have fared, and where I think they will be going in the near future. I think you will find my track record to be very impressive and useful.
Disclaimer: Investors are always reminded that before making any investment, you should do your own proper due diligence on any stock mentioned in this article. Have a great day and as always, I look forward to hearing your thoughts or questions that you might have.
Disclosure: I am long VRNG. I wrote this article myself, and it expresses my own opinions. I am not receiving compensation for it (other than from Seeking Alpha). I have no business relationship with any company whose stock is mentioned in this article.