Well, here we are again. Ben Bernanke will give his farewell speech and in it will more than likely be another focus on the tapering of the quantitative easing policies of the Federal Reserve. As an owner of shares of Annaly Capital (NYSE:NLY), I will share my opinion on not only what the Fed will do, but also on how shares of stock in the mREIT sector will react. Keep in mind that I am not an mREIT expert, so to speak, but I have been able to dissect the actions of the Fed as it pertains to the interest rate environment as well as the direction of the mREIT business sector.
What Has Already Happened
As everyone who has been following the ongoing saga of the Fed policies already knows, quantitative easing will be tapered by $10 billion per month beginning now. Instead of $85 billion per month to purchase Treasuries and mortgage backed securities will be reduced to $75 billion per month. The mere "chatter" of this move caused the mREIT stocks such as Annaly Capital and American Agency (NASDAQ:AGNC), to sell off dramatically, prior to the actual announcement.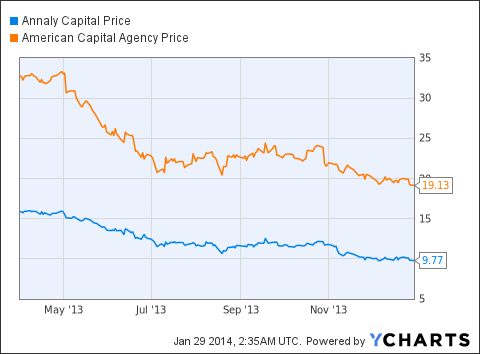 NLY dropped from nearly $18.00/share down to $9.77/share, and AGNC dropped from nearly $34.00/share down to $19.13/share. At the very same time, treasury rates on the 10 year bond quickly (too quickly) increased dramatically.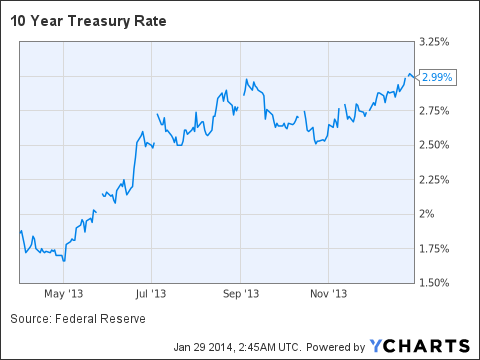 125 basis points was simply too much, too soon for NLY and AGNC to adjust both hedging and leverage. Each company needed to cut its dividend again, and the shares sold off. When I saw that AFTER the Fed announcement, these interest rates stabilized, and actually fell a bit, I suggested that it was time to buy shares in this sector, which I did, of NLY, at around $9.80/share. Trust me, I am no soothsayer or market timer. The only thing I did was to watch what was going on in the interest rate environment.
Here is what happened: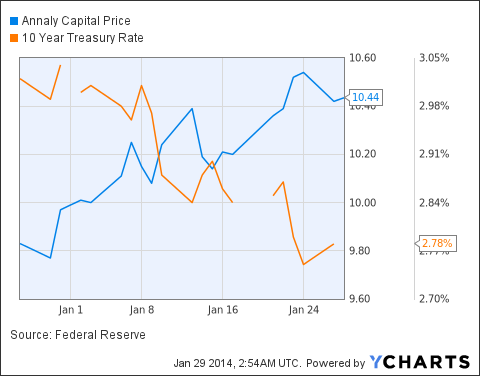 In one month, interest rates dipped and stabilized, and the share price of NLY jumped by nearly 8%. On top of that the price to book value continued to show an undervalued stock.
Currently, the price to book of NLY is just 82%, offering a discount of at least 18% on its shares. I believe that the share price of NLY could quickly increase to about $12.50/share, at least. That would be a flat price to book value. If NLY has been able to adjust hedging and leverage, the book value should stop declining, and dividends could become stable, if not increased, at some point in 2014.
Of course the Federal Reserve needs to co-operate.
What I Believe The Fed Will Do
There has been speculation that since the jobs number has been dismal, and new home sales have slowed, and emerging markets are causing disruptions in the global economy, that good ole' Ben might just surprise everyone, and reverse the tapering decision. On the other hand, there seems to be an even larger contingency, including some Fed governors, who are advocating a speed up of the tapering with another cut of $10 billion down to $65 billion immediately, like NOW.
Well that would sure place the new Fed Chairperson, Janet Yellen, in quite a pickle I would think. As far as I am concerned, if Bernanke does that, the financial markets will once again be shaken. The immediate impression would be that the new Fed policies will be less accommodating. Interest rates will rise too quickly, mortgage rates will jump higher and impact the housing recovery, lending will get tougher and the slowly healing economy will make an about face, and we could fall right back into a recession.
Not to mention what would happen to the share price if NLY! To me, that will be the least of our problems. I have got to believe that the Fed will be smarter than that.
My position is that the Fed will stay the course, keep the already announced tapering in place and not alter it either way, and the markets will rally.
As far as the share price of NLY, well I think now is a great time to own a risk allocation at a very reasonable price.
The Bottom Line
The challenges of this sector will not simply disappear; rising mortgage rates, interest rates that jump too quickly, a surge in prepayments, and actual Fed tightening. That is why NLY should be treated as a dividend opportunity stock for now, with a risk allocation of no more that 2-4%.
I myself will be going a bit further out on my own allocation level to my own maximum of 4%. I believe I can ride a nice wave.
Disclaimer: The opinions of the author are not recommendations to either buy or sell any security. Please remember to do your own research prior to making any investment decisions.
Disclosure: I am long NLY. I wrote this article myself, and it expresses my own opinions. I am not receiving compensation for it (other than from Seeking Alpha). I have no business relationship with any company whose stock is mentioned in this article.