KonaRed Corp (OTCPK:KRED) is a $74 million publicly traded company that has recently run up from $.75 cents a share to a high of $1.36 solely because of stock promotion. Investors not yet invested should avoid KonaRed Corp at all costs, and anybody currently in the stock should not dither and sell the entirety of their stakes immediately because it seems to have started the dump process of the pump and dump.
My track record at identifying stocks that are targets of pump and dump schemes speaks for itself.
Company Background
KonaRed Corporation is in the business of bringing the health and wellness attributes of Hawaiian Coffee fruit to the masses. KonaRed Corporation has developed an innovative, state-of-the-art, proprietary process that produces antioxidant-packed extracts and powders from Hawaiian Coffee Fruit, which are used in its Antioxidant Juices, Organic Green Teas, and On-the-Go Packs, as well as ingredients which can be added to food, beverages, and nutritional products. The company is headquartered in Kalaheo, Hawaii, and its products are sold in select Whole Foods, Albertsons, Safeway, Sprouts, Walmart, 7-Eleven, and many other retail outlets throughout the US and Canada. Learn more about the science behind coffee fruit and follow the healthy, Hawaiian active lifestyle by visiting www.KonaRed.com. For Investor Relations information about the company, contact IR@KonaRed.com. For media inquiries, contact PR@KonaRed.com.
The Setup
KonaRed Corp follows the typical pattern most shells do that end up getting promoted. The share count to me is what is important. After going through the filings, you come to the conclusion
Seed Shareholders- 26,560,000 free trading shares
LittleBird Capital Ltd.- 3,966,666 (I assume free trading)
Konared Shareholders- 42,750,000 (restricted shares)
LittleBird Capital Ltd. is an anonymous Marshall Islands entity
(click to enlarge)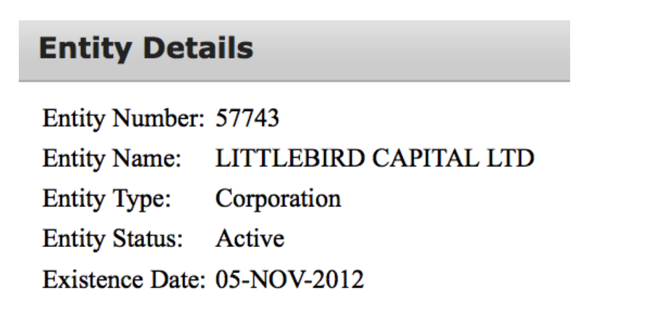 Most companies that end up being promoted usually tend to have little-to-no trading history. KonaRed Corp is the same. Those seed shareholders cannot turn their shares into cash unless there are buyers. This is where they turn to stock promoters. Stock promoters get paid to send out overly bullish professional-type mailers/emails to retail investors to lure them in. Let me show you what I mean:
KonaRed Corp Trading History
You can see that KonaRed Corp didn't start trading bigger volume until the beginning of January 2014.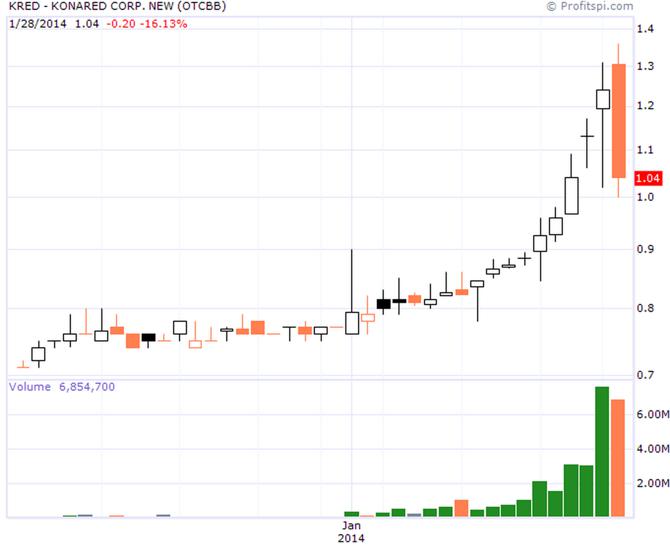 The KonaRed Corp. promotional landing page went up December 31, 2013 with a disclosed budget of $2,300,000? Coincidence? Absolutely not.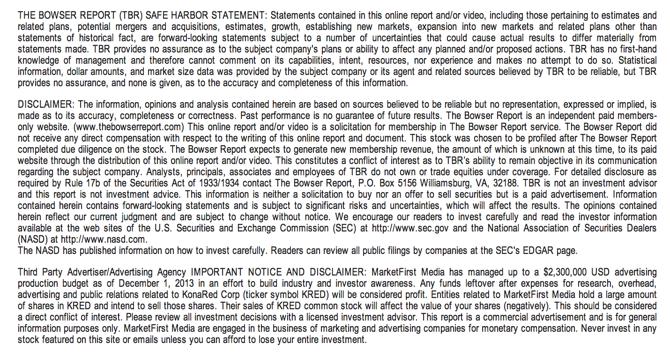 "Third Party Advertiser/Advertising Agency IMPORTANT NOTICE AND DISCLAIMER: MarketFirst Media has managed up to a $2,300,000 USD advertising production budget as of December 1, 2013 in an effort to build industry and investor awareness. Any funds leftover after expenses for research, overhead, advertising and public relations related to KonaRed Corp (ticker symbol KRED) will be considered profit. Entities related to MarketFirst Media hold a large amount of shares in KRED and intend to sell those shares."
Let me repeat that: "Entities related to MarketFirst Media hold a large amount of shares in KRED and intend to sell those shares."
Translation: They will be selling into your buying. Money from your pocket into theirs.
Email Campaign
This promotion group also runs a couple online newsletters as well. Their websites are:
This great penny stock researcher knew that this group would be promoting KonaRed Corp before the stock promotion even began, read how here.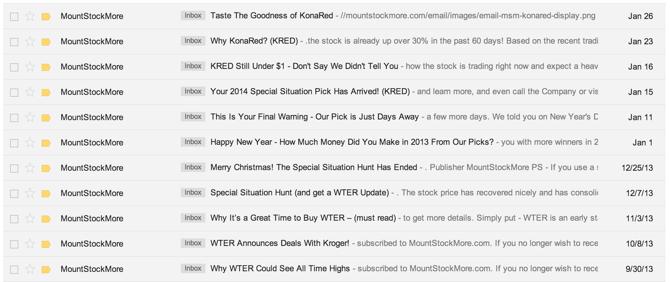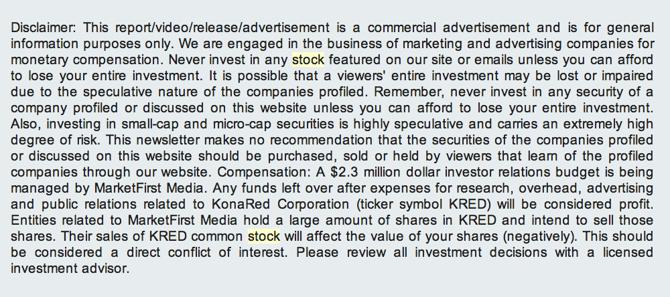 KonaRed Corp Promotional Page
Go here to see the full hard mailer hitting people's homes.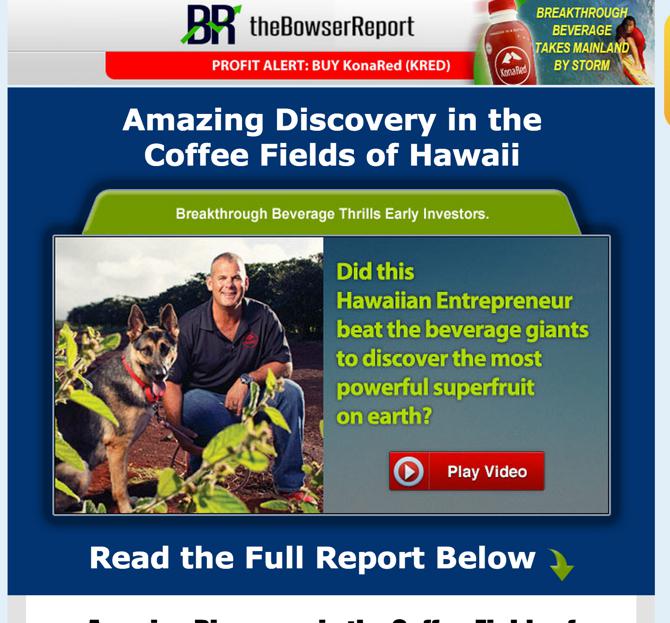 Overly bullish price targets just like WTER promotion. (See below)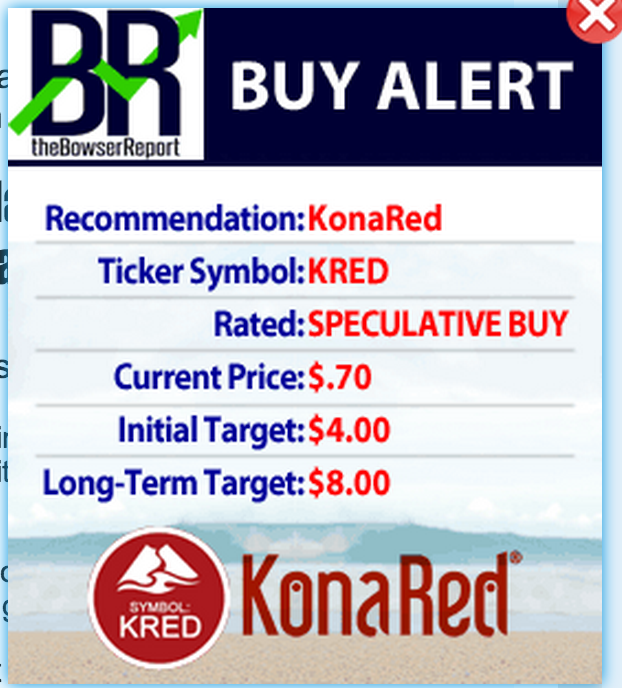 Let's take a look at their last stock promotion
The Alkaline Water Company Inc. (OTCQB:WTER)
Disclosed Budget: $3,000,000
Hard Mailer From: Francis Gaskins
Shares Outstanding: 79,387,175
Promotion High: $1.30
Market Capitalization at High: $103,203,327
Percent Drop: 83%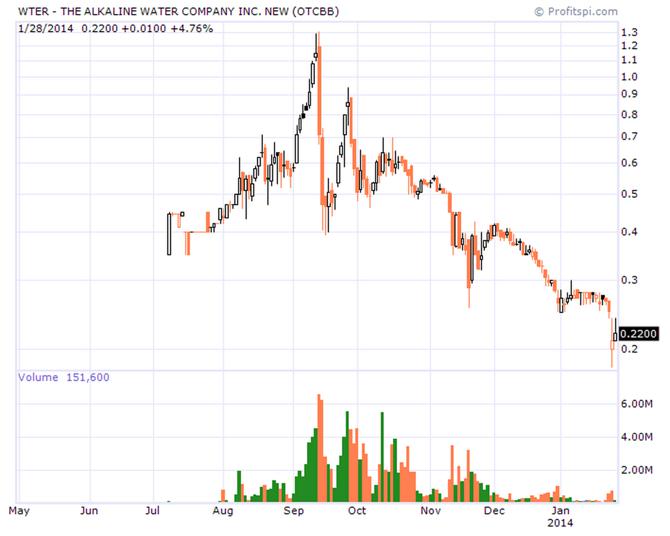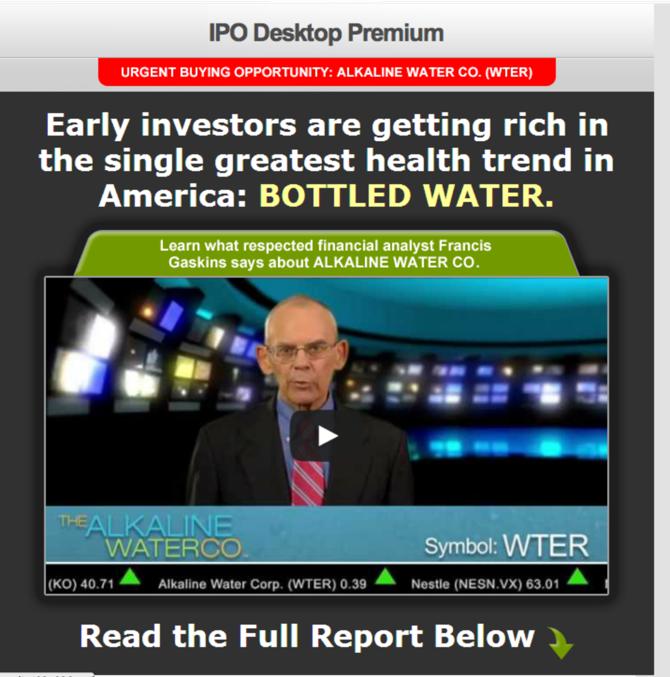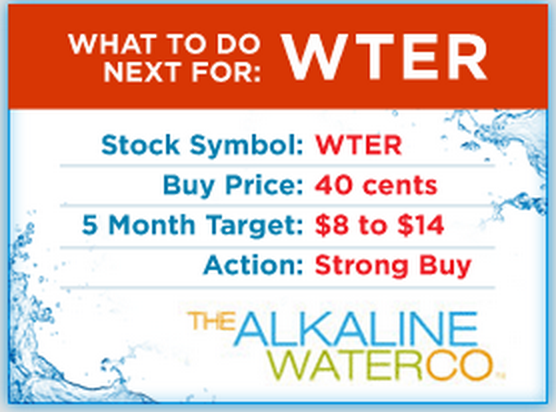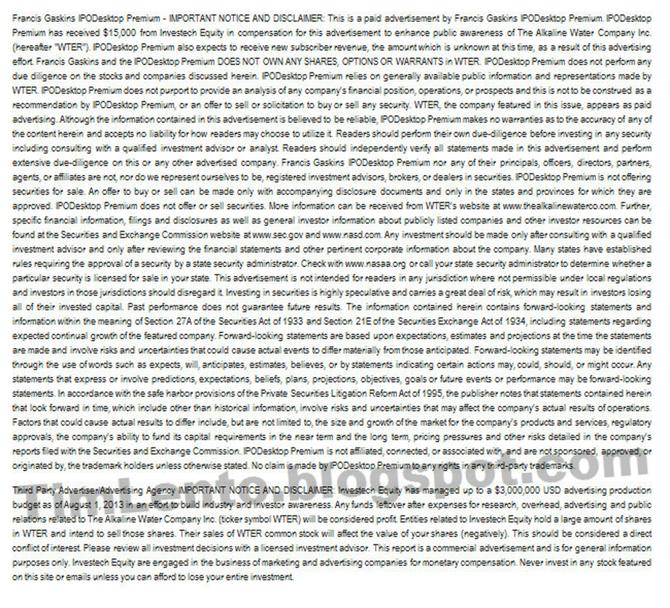 Recent SEC Halts
The SEC is finally cracking down on pump and dumps lately. Here is a list of big stock promotions that have been halted recently. I believe KonaRed Corp. has a chance to be next. Stocks that get halted tend to reopen 2 weeks later down 70%+. Makism 3D Corp was halted the next day after my report was published. The same thing happened with my Life Stem Genetics Inc. report. January we have not had any big halts, but that does not mean it can't happen.
GET OUT NOW
We have no doubt that this company is pulling the wool over investors' eyes. If you are long the stock, we emphatically urge you to get out. Do not dither, do not hope that you can offload your shares to a greater fool. Simply sell your shares. For speculative investors, if you can secure a borrow, then this represents an excellent opportunity with downside of 100% with minimal risk.
Disclosure: I am short KRED. I wrote this article myself, and it expresses my own opinions. I am not receiving compensation for it (other than from Seeking Alpha). I have no business relationship with any company whose stock is mentioned in this article.