The crowd gathering around the periphery of the ETF industry continues to expand, and some big names are joining the group. Russell, known in the ETF space as the index provider behind some of the largest exchange-traded products, recently detailed plans for 11 of its own ETFs in a filing with the SEC, including:
Russell Global 1000 ETF
Russell Global 1000 Growth ETF
Russell Global 1000 Value ETF
Russell Global 2000 ETF
Russell Global 2000 Growth ETF
Russell Global 2000 Value ETF
Russell Global 3000 ETF
Russell Global 3000 Growth ETF
Russell Global 3000 Value ETF
Russell Developed ex US Large Cap ETF
Russell Emerging Markets Large Cap ETF
The makeup of the proposed ETFs is relatively easy to glean from the names of the funds. The baseline Russell 1000 Global Index will seek to measure the performance of the 1,0000 most investable largest capitalization global stocks, and will represent approximately 67% of the market capitalization of all publicly traded equity securities globally. The Russell 2000 line of funds would include stocks generally with a market cap between $500 million and $2 billion, while the Russell 3000 ETFs would focus on those with market caps between $350 million and $500 million.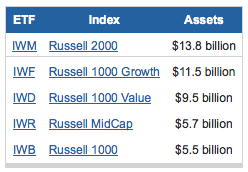 Russell becomes the latest high profile financial firm to take steps towards launching ETFs. In recent months a number of major mutual fund managers, including T. Rowe Price (NASDAQ:TROW) and Legg Mason (NYSE:LM), have begun paving the way for the launch of active ETFs (see Handicapping the Active ETF Race). In addition to being a major asset manager (more than $175 billion in AUM), Russell maintains some of the most widely recognized equity benchmarks, many of which are linked to popular ETFs.
None of the proposed ETFs seem to be direct competitors (i.e., linked to the same index) to existing ETFs (see this database of equity indexes for a comprehensive list of benchmarks covered by ETFs). No ticker symbols or expense ratios were included in the filing.
Disclosure: No positions at time of writing.
Disclaimer: ETF Database is not an investment advisor, and any content published by ETF Database does not constitute individual investment advice. The opinions offered herein are not personalized recommendations to buy, sell or hold securities. From time to time, issuers of exchange-traded products mentioned herein may place paid advertisements with ETF Database. All content on ETF Database is produced independently of any advertising relationships. Read the full disclaimer here.