Alcoa Inc. (NYSE:AA) is the world's leading aluminum company involved in the mining, refining, smelting, fabrication and recycling of aluminum. It supplies products to many industries such as automobile, aircraft, defense and packaging. The company's innovation in aluminum products and production methods is its big strength.
Oversupply of Aluminum
Aluminum is an essential material that is used in many important industries such as automobile, construction, aerospace. Its chemical properties make it one of the most useful metals and that is why aluminum demand is always increasing.
Despite this increasing demand, the aluminum industry is not performing well. This is due to the fact that producers are not able to decrease the supply even at depressed aluminum prices. This issue was also raised by delegates at the CRU's World Aluminum Conference in 2013.
In this conference the important stakeholders of the aluminum industry expressed their concerns related to factors hindering the growth prospects of the aluminum industry. It was discussed that the industry is currently in a state of gross over supply. This hot issue remained under discussion and delegates discussed why aluminum producers were still producing aluminum at historically high rates even when prices were depressed and stock remains piled up in warehouses.
It was discussed that 20% to 30% of producers, excluding the producers in China, were operating at a loss and the industry is not rationalizing its supply. It was determined that this has kept aluminum prices depressed.
Aluminum Price Movement over past 25 years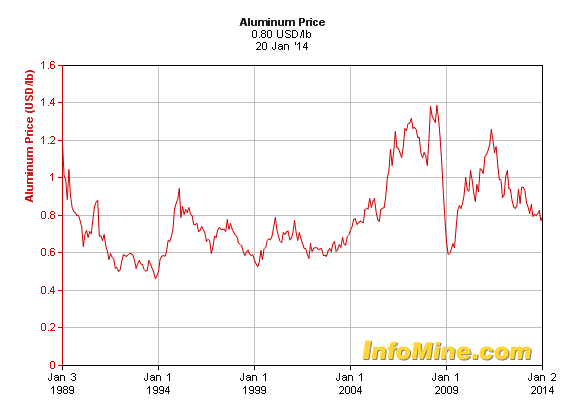 Now let us analyze aluminum prices over the past two and a half decades. Aluminum prices have remained around 0.8-0.6 from 1989 to 2004. Supply and demand remained balanced during that period and aluminum prices did not experienced large spikes. From 2004 onwards aluminum prices started to increase owing to a demand and supply imbalance. Up until this period the aluminum industry, including Alcoa, performed well.
Towards the end of 2008 aluminum prices began to sharply decrease owing to a decline in demand as a result of a slowdown in economies worldwide. From then onwards there was instability in the aluminum price. Aluminum producers needed to rationalize the industry and they could not so it resulted in depressed aluminum prices and poor performance of industry.
The Demand for Aluminum is Increasing but . . .
There are signs of economic recovery in most of the world's major economies. Demand for aluminum is expected to increase because of the positive outlook for industries that use aluminum products including the automobile and aerospace industries. This is good news for the aluminum industry but the supply and price situation is not very clear.
Harbor, an aluminum research firm, estimated that demand for aluminum in 2014 is expected to increase by 10.2% and the supply of aluminum is estimated to grow by 10.9%. These estimates show that there is no supply deficit that may increase the price in 2014.
IMF Forecast of Aluminum Price for 2013-2018
The following projection of the aluminum price was made by IMF to predict an increasing trend in aluminum prices in the coming years. However, this increase will not come very soon and this increase does not seem to be enough to stabilize the aluminum industry. The 2018 price of 2336 $/MT. price predicted by IMF is still short of 2011's2401 $/MT. This projection seems to portray the fact that the industry will not be able to fully recover from the oversupply curse that kept prices depressed.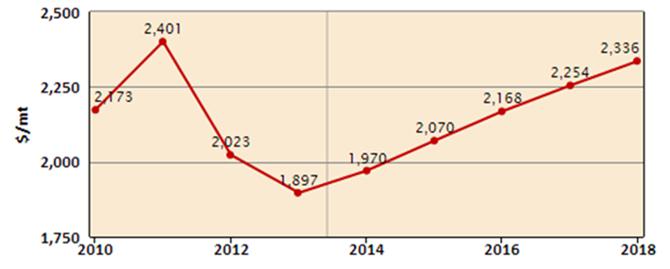 Source: knoema.com
Alcoa Still Has not Fully Recovered From the Depressed Prices
Let's see how the leading aluminum industry player Alcoa struggled in the price whirlpool.

Source: Morningstar.com
Between 2003 and 2007 Alcoa's net margins were in the range of 4.35%-8.33% as given above and then the net margins fell down to dismal negative figures during 2008 and 2009. The net margins became positive from 2010 onwards but they are still frail and well below the previous high margins. The current TTM net profit margin is merely 1.27%. These dangerously low margins need to be increased. It is important to remain competitive as we compare the company to foreign producers, especially cheaper Chinese competitors.
Alcoa earned a good return on asset in the range of 3% to 6.74% from 2003-2007but it also dropped drastically in 2008 to a negative figure and since then has remained depressed well below previous levels. Returns on equity were also superb and ranged from 8.55% to 16.78% between 2003 and 2007 but suffered the same descent in 2008 to negative figures. Presently, the TTM return on equity is 2.25% far below the previous high returns.
Average return on invested capital for the period 2003 - 2012 was 3.71%. Presently the TTM return on invested capital is -0.02%.
New Entrants Grabbing Market Share
With the growth in the demand for aluminum worldwide new industry players have emerged in China, Russia, India and the Middle East. This is a source of concern for Alcoa since the aluminum industry already needs to restore its supply/demand balance.
There is an increasing supply coming from China and in the future Chinese aluminum can be an even bigger problem for Alcoa and other industry players. China has a huge production capacity and a huge part of it is used by China for its own development projects. Once China completes its development projects in the coming years it would have a huge excess capacity that would be used to increase the export of aluminum to international markets further increasing its supply and decrease the margins and profits of other producers.
Bottom Line
The aluminum industry is going through difficult times and in recent years oversupply has depressed aluminum prices. As economies recover, there is an increase in the demand for aluminum and there is also an increase in supply despite these depressed prices. In the past few years, industry players found it difficult to match their supply with the low demand owing to high costs. Adding to the problem, new competitors from Asia are entering the aluminum industry. There is uncertainty as to when the aluminum industry and Alcoa will be able to stabilize. Without significant moat, Alcoa may take a few more years to be able to perform well. Alcoa does not seem to be a good investment and investors should not think of remaining invested for too long in such an uncertain situation. Therefore, I recommend selling the stock.
Disclosure: I have no positions in any stocks mentioned, and no plans to initiate any positions within the next 72 hours. I wrote this article myself, and it expresses my own opinions. I am not receiving compensation for it (other than from Seeking Alpha). I have no business relationship with any company whose stock is mentioned in this article.