A little over three months ago I penned an article stating that fundamentals for refiners were improving and they appeared undervalued compared with the overall market.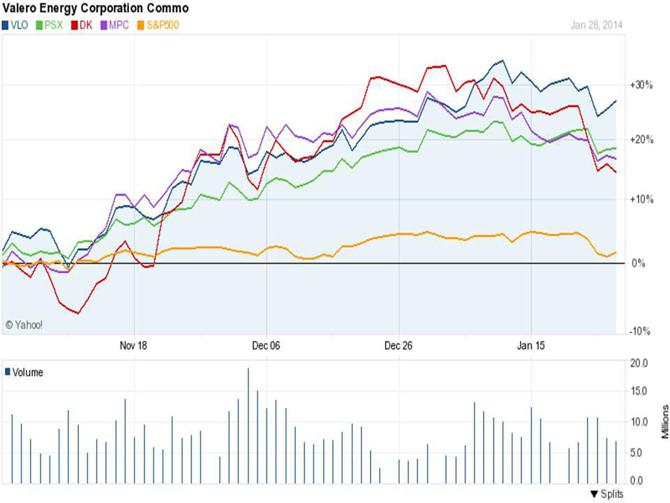 I am happy to report that has indeed been the case (See Chart). In addition, based on earnings reports from refiners - it still appears that analysts are way behind in understanding refiners' earnings powers. Let's take another look at some of the major refiners reporting earnings this week.
Valero (NYSE:VLO), the largest North American refiner and one of my picks in my previous article, easily beat analysts' estimates when it reported results this morning. Earnings after items came in at $1.78 a share, 31 cents a share above consensus. Earnings were bolstered by the spinoff of its retail arm last year. CST Brands (NYSE:CST).
Analysts have struggled to model Valero's earnings power. This is the seventh straight quarter that the company has easily beat bottom line expectations. The shares are still attractively priced at less than 9x forward earnings with a 2% dividend yield to boot. Valero still garners S&P's highest rating "Strong Buy" with a $61 a share price target. Valero is also the refiner best positioned for increasing exports of refined products.
Phillips66 (NYSE:PSX) also posted a stronger than expected earnings report today. The 2012 spinoff from ConocoPhillips (NYSE:COP) delivered $1.34 a share in earnings, 26 cents a share above the consensus estimate. The stock has now more than doubled since being spun off.
Although the stock is selling at just over 10x forward earnings, I am more reticent on future gains here than I am on Valero. PSX has shot up some 25% over the past couple of months and the stock looks like it is starting to top at current levels around $75/share. The company is also well positioned for future exporting but I would wait for a dip to buy a stake.
Finally, Marathon Petroleum (NYSE:MPC) posted results of $2.10 a share this morning, a whopping 95 cents a share above expectations. Revenues rose over 20% for the quarter to just under $25B. The shares still look reasonably priced at just over 9x forward PE and 6x operating cash flow. The shares pay a 2% and the stock is ~20% below the median price target of $100 a share that the 15 analysts that cover the shares have on MPC.
I continue to hold Delek US Holdings (NYSE:DK), the other refiner profiled in the original article, which does not report earnings until around Valentine's Day. The stock is a long term value play at just over 6x trailing earnings. Earnings are tracking to be down significantly this year, but earnings estimates for FY2014 have been moving up over the past three months.
The company has a strong balance sheet with a net cash position on the books. Delek has ~tripled operating cash flow since the end of FY2010. It also pays a 2% dividend. Delek has a small payout ratio (~25% of this years' reduced earnings) and has plenty of space to increase payout in the future. The stock trades 20% below the $36 a share median price target that the 7 analysts that cover the shares have on DK.
Obviously I am not as high on the sector as I was in October. Stocks in the sector have posted 15% to 25% gains since my article. They still look attractive on a longer term basis as long as the spread between WTI and Brent stays above $8 to $10 a barrel or more. I would not be adding additional funds to the space but do think we could get an additional bump on these stronger than expected earnings.
Disclosure: I am long DK, VLO. I wrote this article myself, and it expresses my own opinions. I am not receiving compensation for it (other than from Seeking Alpha). I have no business relationship with any company whose stock is mentioned in this article.