Kinder Morgan Energy Partners (NYSE:KMP) is holding its annual analyst day today where management is discussing both its 2014 and three year targets (presentations and webcast available here). As investors review the company's forecasts, they are underwhelmed with units down 1.5%. While long term guidance may not be meeting expectations, it is worth noting that the company consistently beats its forecast and is still predicting strong growth in 2014 and beyond as KMP profits from the U.S. energy boom. In short, I think selling on this news is a mistake. As a side note, this analysis also fully applies to Kinder Morgan Management (NYSE:KMR), which is an LLC that owns units of KMP and automatically reinvests dividends. Let's begin with a look at KMP's 2014 forecast: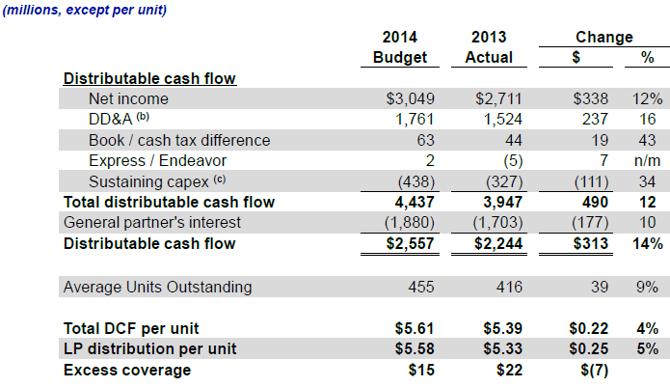 All in all, it is hard to paint this guidance as bad news with net income up 12% year over year. It is also worth noting that the company is increasing its sustaining cap-ex by 34%. Some bears like Hedgeye's Kevin Kaiser have suggested KMP inflates its distribution by allocating too little to sustaining cap-ex (you can see a breakdown of its sustaining cap-ex budget below). With this increase in sustaining cap-ex, it is clear that the company continues to allocate what it needs to manage its network. Now, KMP also plans on issuing another 39 million units to fund its growth projects, which is why distribution growth is forecasted to be a more modest 5% in 2014 to $5.58. Given the company's history of exceeding its target (it's exceeded targets in all but 1 year since 2000), I continue to expect a payout of $5.59.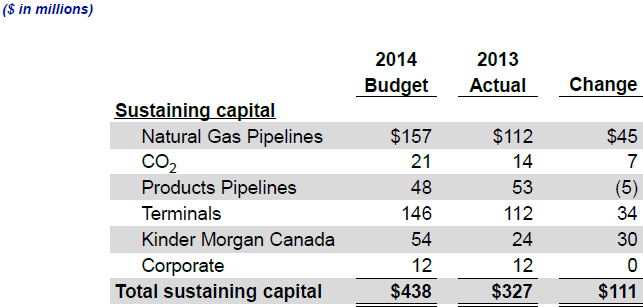 KMP is looking for growth across the board in 2014 with natural gas pipelines up 14%, products pipelines up 18%, and terminals up 21% as the company continues to focus on these stable fee-based businesses. Its CO2 unit will be up a strong 8%, and the smaller growth rate is driven by the fact management is focusing more of its resources on expanding the pipeline network rather than CO2 production. Its Canada operation will decline 4%, but KMP is in the process of building a massive pipeline from Alberta to British Columbia that will triple its capacity. This unit should show massive growth in 2017 when this pipeline is fully operational.
Importantly, KMP continues to spend on growth projects to expand its pipeline network and profit from growing U.S. production. Overall, KMP will spend $3.648 billion, which is up from $3.481 billion in 2013. KMP will spend $1.4 billion on pipelines, $1.1 billion on CO2, $562 million on Terminals, and $58 million in Canada. These projects will power tomorrow's distribution growth. In total, KMP has a backlog of $14 billion, so it will be spending significant resources on growth projects for years. KMP will continue to fund its budget with a 50/50 split of debt and equity.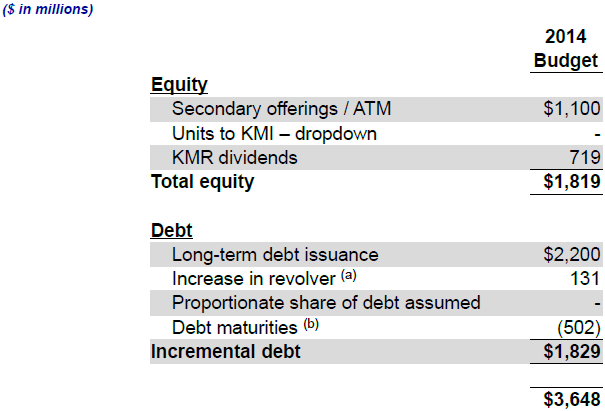 Interestingly, management says it will issue $1.8 billion in equity, which translates to the issuance of 23 million units assuming an average selling price at current levels. That is far lower than the 39 million units factored in to its 2014 guidance. Now, KMP is also purchasing tankers for $962 million, which is not included in its growth capital budget and will likely be funded in part by equity. This deal will likely lead to an equity issuance of 6-12 million units depending on the debt to equity breakdown. Even that would leave KMP short of its 39 million unit guidance. It appears that KMP is offering a conservative unit count and that it may issue fewer units than stated, which would lead to a higher distribution than it is guiding to.
As you can see, KMP is actually guiding to a pretty strong 2014. Now, the company also offered guidance through 2016, and the company is predicting annual distribution growth of 5%. Many investors had been hoping for a 5-7% forecast, and I have been looking for a 6% annual growth rate. However if you look at the following chart, you will see KMP almost always meets or exceeds expectations.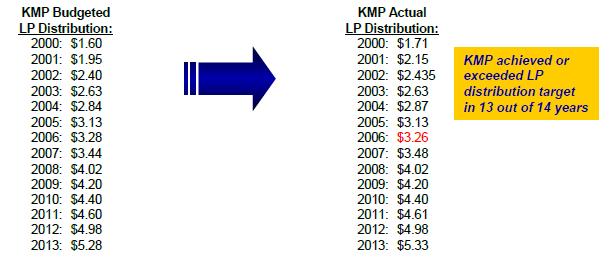 Given management's history of exceeding targets, it will likely grow its distribution faster than 5% over the next three years. It is also important to recognize that this guidance suffers from a calendar issue. KMP will spend billions on its Canada pipeline, which will dilute the unit count through 2016. However, this pipeline won't be fully operational until 2017, a year after its guidance ends. In other words during this time frame, KMP's distribution will be hurt by this growth spending without getting the reward of incremental cash flow. This pipeline has the capacity to grow the distribution by 8% when it is online. As a consequence, this guidance is a lot stronger than the 5% growth figure suggests.
KMP is suffering from negative sentiment with investors looking elsewhere in part because many investors expect interest rates to rise. This makes dividend stocks less appealing to some. As a consequence, it is no surprise investors look at results from a negative perspective. In reality, KMP offered solid guidance. With a 6.6% yield that should grow at least 5% over the next three years, it continues to be a great long term investment.
Disclosure: I am long KMP. I wrote this article myself, and it expresses my own opinions. I am not receiving compensation for it (other than from Seeking Alpha). I have no business relationship with any company whose stock is mentioned in this article.