Wow ! 2014 does seem so drastically different from 2013 already and we are two days short of completing just the first month of 2014. If the sell offs till yesterday weren't enough, stocks have opened to a big loss on January 29th as Seeking Alpha has covered here. This article is intended to alert dividend and value investors that two terrific dividend stocks are on sale: Philip Morris International (NYSE:PM) and AT&T (NYSE:T). Here are some points of interest for investors:
AT&T is down almost 5%, due to market weakness plus yesterday's less than stellar earnings report. This is AT&T's 52 week low.
The current share price of about $32 gives AT&T a yield of almost 5.8%.
A 6% yield point would be a share price of $30.60, which is about 4% from the current share price and with the current market mood it won't take long to get there.
This is significant because the last time AT&T yielded 6% was during the market weakness in October 2011. And the company has meanwhile increased its dividends twice in a row, making it 30 plus years of consecutive dividend increases.

(Source: YCharts.Com)
The table below shows how the yield on cost could like for an investor who buys today (or at the 6% level), assuming AT&T continues its mediocre dividend growth rate of 2%.

Let us take a look at Philip Morris now.
The stock is down more than 2% as of this writing and is trading at its 52 week lows.
This comes on the back of several down days, when the stock reached a low of $80.
Philip Morris is now trading at a yield of almost 4.7% and the 5% level would be reached at $75, which is less than 4% from the current price.
Philip Morris hasn't yielded this much since 2010, and the company has promptly been increasing dividends by double digit percentages ever since the spin off.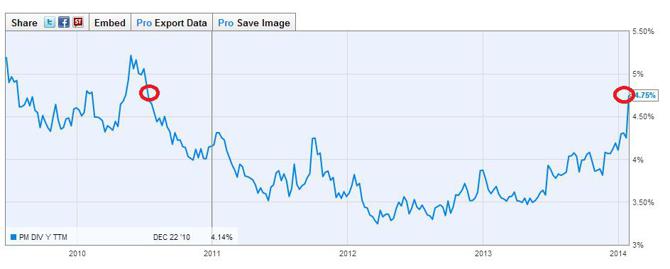 (Source: YCharts.Com)
The table below shows what the yield on cost might look like for an investor that is patient with Philip Morris for a decade. The assumed dividend growth rate is 7%, which is lower than the 5 year average of 12%.

Conclusion: So, just about a calendar month ago investors loved stocks. Now suddenly there is a wave of negative sentiments. Some recent earnings reports haven't helped things either. But as one famous investor from Omaha said, "Be fearful when others are greedy. Be greedy when others are fearful.". The latter statement seems to ring true now. If you already hold these two wonderful stocks, it might be a nice time to add more. If you do not hold them, now is as good a time as any to buy them when no one loves them. If you are looking for some psychological entry points like 6% and 5% yields, that is not far away too. Keep watching and you will get your entry points soon.
Disclosure: I am long PM, T. I wrote this article myself, and it expresses my own opinions. I am not receiving compensation for it (other than from Seeking Alpha). I have no business relationship with any company whose stock is mentioned in this article.