I don't know if you noticed, but the gold mining space is one of the few sectors that is positive for the year. Year to date with gold (NYSEARCA:GLD) is up about 4%, and Market Vectors Gold Miners ETF (NYSEARCA:GDX) has returned 10.55%, while the S&P 500 (SPΥ) has fallen about 3%.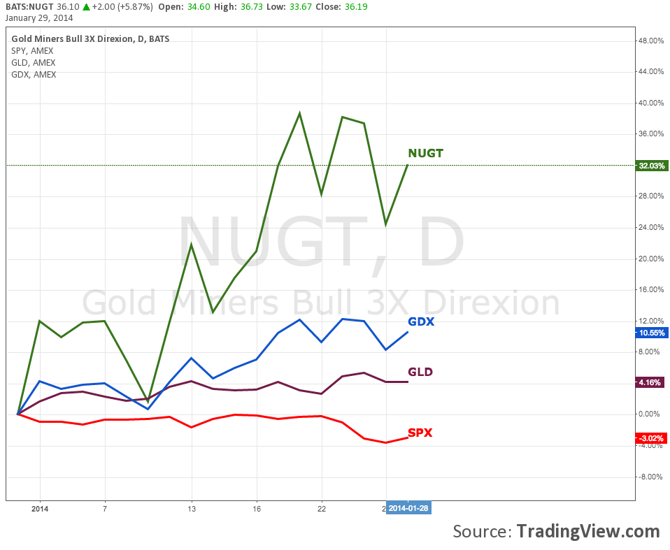 Over the past several months of the my thesis has been not to invest in gold, but rather in gold mining stocks (please consider: Speculating In Mining Stocks For The Next $100 In Gold and Gold Stocks Are A Good Speculation Play At These Levels).
Please note, my speculation thesis in the gold mining space is independent if gold rises or not. In fact, I do not really think gold will see another bull market for many years to come. However, that does not mean that gold stocks can't go up. How so?
In the age of lower gold prices, companies will have to cut corners and lower costs to survive. They have no choice. It's either that or theoretically they will go out of business. And in the face of a lower gold price, companies will do just that.
In other words, even if gold goes to $1,000 an ounce, gold miners will find a way to bring it out of the ground and still earn a profit. They have to, otherwise they will go out of business. And my guess that's exactly what they will do.
JPMorgan's John Bridges isn't so sure they will succeed, however even he estimates that the average all-in sustaining costs will fall by about $100/oz in 2014, for companies that JPMorgan covers. Personally I think costs will come down even faster, because I believe when push comes to shove, management usually finds answers.
And the recent rally in gold stocks (in my opinion) represent the expectation of the market that the all-in sustaining costs will be indeed going down.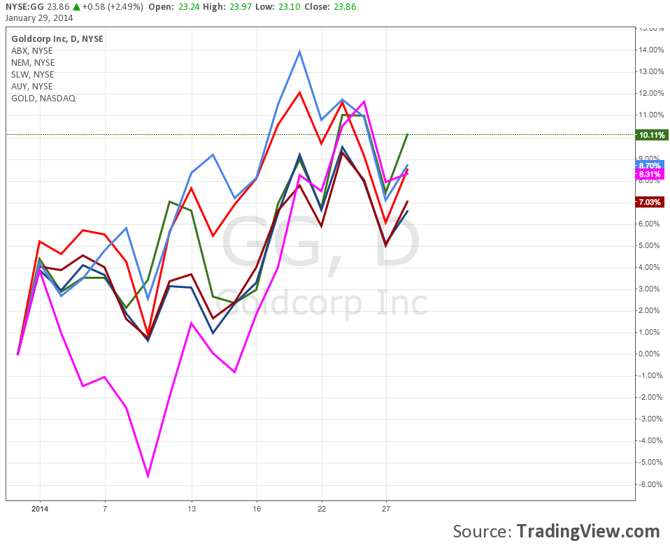 Year to date Goldcorp (NYSE:GG) has return 10%, Barrick (NYSE:ABX) and Newmont (NYSE:NEM) 7%, Silver Wheaton (SLW) 8.5%, Yamana (NYSE:AUY) 8.7% and Randgold (NASDAQ:GOLD) about 8.3%.
If you want to venture in the space based on the expectation that these companies will lower costs (irrespective of the price of gold), then more due diligence is required by investors when choosing individual stocks.
However, if you want to save all that hard work, buying the GDX Gold miners ETF should give you good results also. But if you are more aggressive, then the Direxion Daily Gold Miners Bull 3X Shrs (NYSEARCA:NUGT), which is up by about 32% YTD, is the way to go.
Disclosure: I have no positions in any stocks mentioned, and no plans to initiate any positions within the next 72 hours. I wrote this article myself, and it expresses my own opinions. I am not receiving compensation for it (other than from Seeking Alpha). I have no business relationship with any company whose stock is mentioned in this article.