I was looking a little at the charts, when I noticed that BlackBerry (BBRY) was at a very special technical juncture. That is, the 200 day moving average.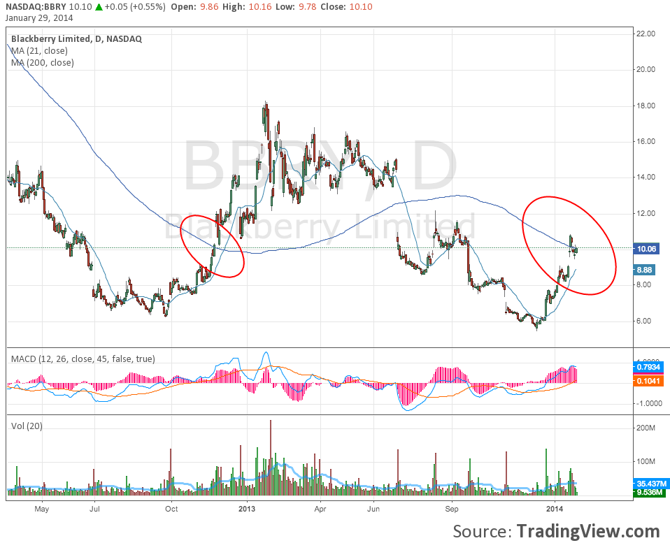 There are several reason why this technical juncture is important.
1) It signifies the start of a very long term uptrend.
2) It is identified by technical traders and technical trading programs as a very bullish sign.
3) As a result of 1 and 2 above, a lot of money usually come into a stock, for other than fundamental reasons.
The last time BlackBerry crossed above its 200 DMA was back in December of 2012, and the stock went from around $10 to $18 in several months. While we do not know what the stock might do this time around, the fact of the matter is that this technical juncture is a very bullish sign. In fact as I am writing this article with the entire market correcting today, BlackBerry is resisting and is slightly up.
Short Interest hold steady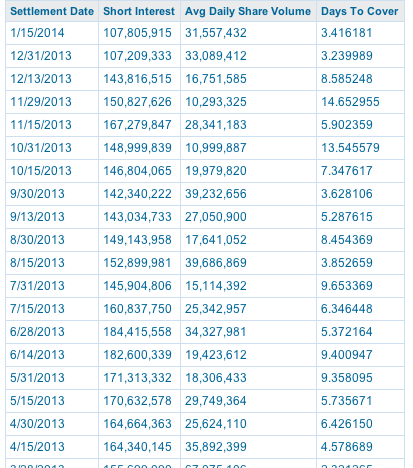 Short interest in BlackBerry common shares remained surprisingly steady. As the chart above shows, NASDAQ data as of 1/15/2014 indicates they are unchanged compared to the previous period.
I have to say this is surprising, for I thought we would have seen a much lower count with the recent rally in the stock. This is both a positive and a negative.
The negative that I see is that as long as the short interest stay high, people are not taking BlackBerry's stock seriously. I would prefer for this number to go down, for the simple reason that it will change the perception of the stock in the eyes of the market.
However there is also a silver lining to the current number, because it means that the recent rally was not a short covering rally, but instead a good old fashion buyers rally.
And the fact that short interest are not lower, might give the stock fuel for higher prices ahead, assuming of course that we actually do get some sort of short covering activity the weeks ahead.
Disclosure: I have no positions in any stocks mentioned, and no plans to initiate any positions within the next 72 hours. I wrote this article myself, and it expresses my own opinions. I am not receiving compensation for it (other than from Seeking Alpha). I have no business relationship with any company whose stock is mentioned in this article.