In comparison to Google's (NASDAQ:GOOG) stock, the stocks of Yahoo (NASDAQ:YHOO) and AOL (NYSE:AOL) are highly dependent on display advertising. We estimate that nearly 60% of AOL's stock depends on display ads on the sites of AOL and its third-party network. In comparison, about 16% of Yahoo's stock is from display advertising and less than 5% of Google's stock comes from its AdSense form of text advertising.
The significance of each company's display ad business for the stock is based on how much or how little money is made by the company's search advertising business.
Larger Value Contribution from Search Means Less from Display

Interestingly, the dependence of Yahoo, AOL and Google on their display ad businesses is roughly inversely proportional to the significance of their search advertising business. In other words, the more money you can make from search advertising, the less important display advertising is for your business.
Comparison of Google and AOL
Below is a summary of our analysis for Google's stock. Google's search advertising business constitutes 68% of the $705 Trefis price estimate for Google's stock. Ad Partnerships for Search and Content, which includes Google's AdSense for content advertising business, accounts for 5% of our estimate for Google's stock.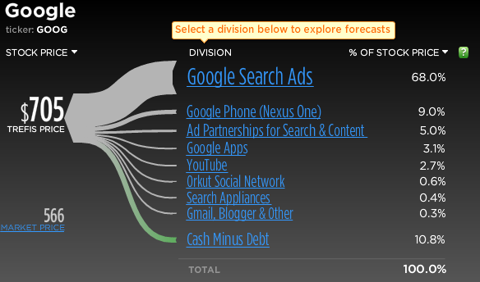 For AOL, on the other hand, we show you below how nearly 60% of the company's value comes from display ads. This value is about evenly split between the display ads shown on AOL owned sites versus third-party partner websites for which AOL provides display advertising.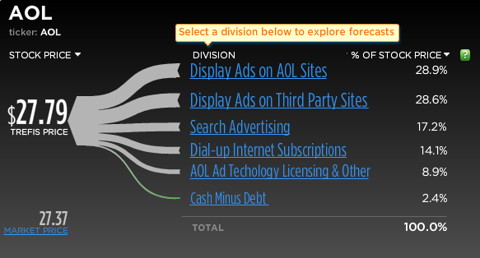 Comparison of Search Market Shares
The significance of each company's display ad business depends on the importance of search. We estimate that Google and Yahoo will have worldwide search market shares of 67% and 10% respectively in 2010. We expect Google's search market share will continue to grow over time as the shares of Yahoo and AOL decline.
In comparison, AOL will have about 3% search market share within the US market only in 2010. We believe that
You can modify our forecasts for Google worldwide search market share and AOL US search market share above to see significant small fluctuations in market share can be for the stocks of Google and AOL.
For additional analysis and forecasts, here are the complete models for the stocks of Google, Yahoo and AOL.
Disclosure: No positions