Alexis Dawance worked at Lehman Brothers for seven years, where he reached the Director position in the Equity division focusing on US & Global stocks. He co-founded Global-Cap, a Zurich based niche asset management company, in 2006. At Global-Cap, he has been managing two hedge funds for more than three years.

Alexis obtained his BA from HEC Lausanne in Finance and Economics.
Seeking Alpha recently had the opportunity to ask Alexis about his single highest conviction stock holding at present.

What is your highest conviction stock position in your fund right now - long or short?

A long position in EnergySolutions, Inc (NYSE:ES-OLD) is our highest conviction holding.

EnergySolutions, headquartered in Salt Lake City, is a fully integrated, pure-play nuclear services company. It provides specialized nuclear services to government
and commercial customers domestically and internationally. The company provides services throughout the life cycle of its clients' nuclear operations. They include plant engineering and consultancy, the operations of nuclear reactors, plant support services, reactor decommissioning and site decontamination, spent nuclear fuel management, logistics, processing and disposal services (LP&D).

Together with five other facilities, EnergySolutions owns the world's largest commercial radioactive waste disposal facility (Clive, Utah) and a complex network of logistics facilities.

Can you talk a bit about the Nuclear Services industry and EnergySolutions' competitive positioning?

Last month, President Obama redoubled his efforts to promote nuclear power as a clean energy source, saying that $8.3 bn in loan guarantees for the first nuclear power plant to be built in three decades was "only the beginning". Portraying nuclear energy as a key part of cutting emissions as well as creating new jobs, the president appealed for bi-partisan support to build more reactors.
This renewed support for nuclear energy in the US and the rest of the world, notably in China, is good news for the industry and for EnergySolutions. In the US alone, $6bn of stimulus money are planned to be spent by 2011 and over $21bn of prime contracting opportunities with the DOE have been identified.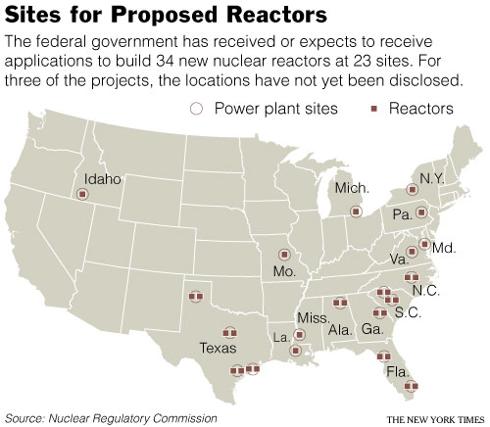 EnergySolutions is the only large, fully-integrated nuclear services company in the US. ES and Areva (France), are the only companies that can provide those full services on a world wide basis. Areva focuses on the construction and operation of nuclear reactors as well as nuclear fuel recycling facilities, as La Hague in France. As such, it does not compete directly with ES in the USA.

A number of Engineering & Construction companies like Bechtel, Fluor (NYSE:FLR), Jacobs Engineering (NYSE:JEC) and URS Corporation (NYSE:URS) can provide a limited number of nuclear services. ES is often working in consortium with a number of those companies.

Reactor Equipment manufacturers, like General Electric (NYSE:GE) and Toshiba (OTCPK:TOSBF) provide specialized services and spent fuel management.
EnergySolutions has secured its know-how with patents on more than 280 nuclear waste treatment process techniques and has a 20-year track record with " life of plant" customers. Such critical mass, scale, know-how and track record protects the LP&D sector with a very high barrier of entry.
Today's price level provides an attractive entry point to a high-profitability, recurring business: ES is currently providing waste logistics, processing and disposal services to 84 of the 104 nuclear plants operating in the US. Such a de-facto primary role in LP&D positions the Company to secure additional service contracts, leveraging on its long-term relationships with utility customers and the DOE.
How does revenue break down by unit? And how does ES's valuation look?

While LP&D accounted for only 15% of 2009 revenues, the segment contributed to 51% of the Company's 2009 operating income, thanks in large part to its unique disposal facility in Clive. The visibility on LP&D revenues is high: 80% of US nuclear plant operators are "life of plant" customers, which means that ES provides those customers with ongoing processing and disposal services for the remaining lives of the nuclear plants.
The fee structure is usually unit-rate, the company is paid a tariff for each work unit performed. This allows the Company to retain a stable, high margin revenue stream from their LP&D operations.
Sales in 2009 have been $1.62bn. The Company is trading at 0.9x 2009 sales and at 12.33x LP&D earnings alone. Given visibility on its core operations, ES should be granted a valuation premium.
What new growth areas or catalysts do you see that could move the stock?

ES is very well positioned for becoming an International growth story: There are currently 436 reactors operating in the world and 49 more are under construction, while the development of 136 new nuclear plants is planned and the approval of an additional 277 is pending (source).
In the UK, where the Company has a strong footprint , managing 22 reactors for the UK Nuclear Decommissioning Authority, ES has identified opportunities for £64bn over the next 5yrs and is confident to become a very competitive bidder.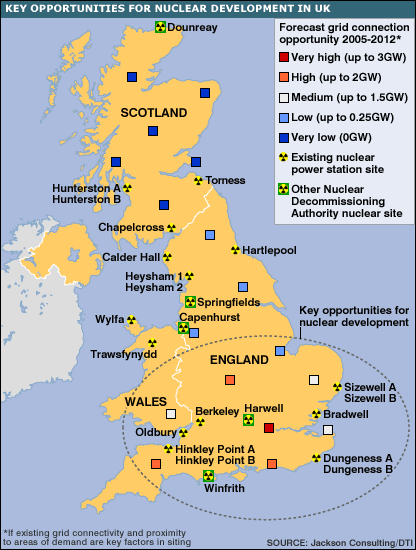 In China, EnergySolutions announced last week that it has been selected to provide waste management systems to new CPR1000 reactors being built by China Guangdong Nuclear Power Holding Corporation (CGNPC) as a part of
the extensive nuclear new build program in China. The contract to design and supply the liquid waste processing system, together with solid waste systems for two reactor units of Yangjiang Nuclear Power Project, has been awarded to the company's international subsidiary EnergySolutions EU Ltd.
Click to enlarge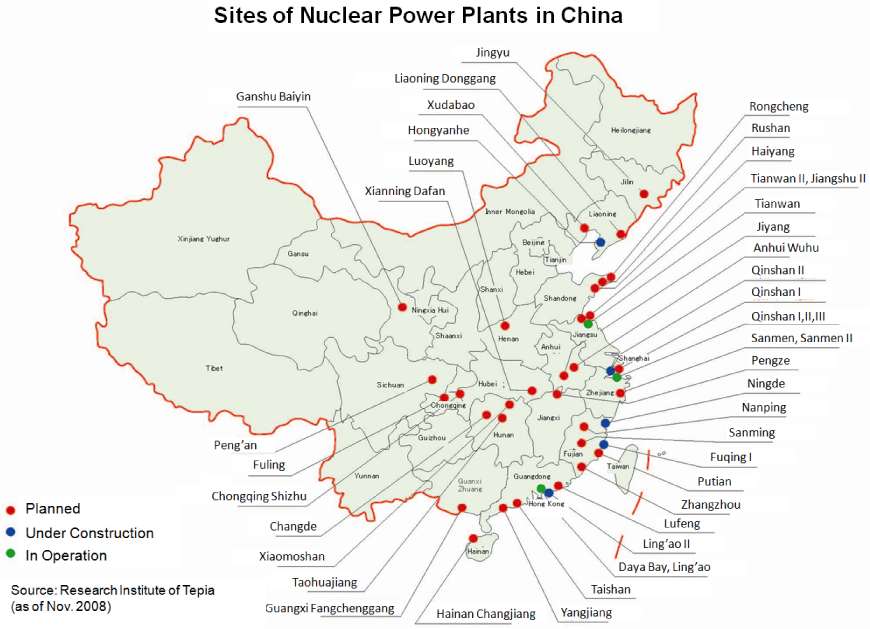 The big picture is that EnergySolutions is well positioned for becoming a growth story and the current share price does not price in the opportunity to scale up the size of its operations worldwide.

What are the risks at EnergySolutions?
Waste Control Specialist LLC, a waste processing and disposal company, wants to build a facility to accept Low Level Radiation Waste (LLWR) on its disposal facility near Andrews Texas. If they are successful, this could put some pressure on ES high margins in this business.

Other risks are from Washington: If the stimulus package is delayed further or we see an increase in unfavorable government regulations.

Finally, the financial leverage at ES (net debt/cap at 53%) is relatively high compared to large E&C companies.
Thank you very much for sharing your thesis, Alexis.
Disclosure: Alexis Dawance's fund is long ES
Read more High Conviction Picks »
If you are a fund manager and interested in doing an interview with us on your highest conviction stock holding, please email Rebecca Barnett.