Advaxis (NASDAQ:ADXS) has made great achievement in expanding ADXS-HPV therapy for cervical cancer. It secured two strategic partnerships in the Asian market in two months.
I already discussed the first deal with the Global BioPharma in my previous Seeking Alpha article on Dec 11, 2013. Let's briefly revisit the first deal first.
The Global BioPharma Deal
On December 9, 2013, Advaxis entered into an exclusive licensing agreement for the development and commercialization of ADXS-HPV with Global BioPharma, Inc. (GBP), a Taiwan based biotech company funded by a group of investors led by Taiwan Biotech Co., Ltd (TBC).
TBC is one of the top five pharmaceutical companies in Taiwan with annual domestic sales in excess of $100 million in the healthcare sector. TBC engages in the research, development, manufacture, representation, and distribution of pharmaceutical drugs, medical devices, and active pharmaceutical ingredients (NYSEMKT:API).
GBP is formed solely to focus on the development and commercialization of ADXS-HPV for the treatment of human papillomavirus (HPV)-associated diseases. The GBP territory covers over 4 billion people with over 200,000 annual diagnoses of cervical cancer, accounting for roughly 40% of the world's cases, according to WHO statistics. GBP is dedicated to the development, manufacturing, and commercialization of ADXS-HPV for the treatment of HPV-associated diseases.
Under the terms of the agreement, Advaxis will exclusively license the rights to ADXS-HPV to GBP for the Asia, Africa, and former USSR territory, exclusive of India and certain other countries, for all HPV-associated indications. Advaxis will retain exclusive rights to ADXS-HPV for the rest of the world.
GBP plans to conduct registration trials with ADXS-HPV for the treatment of advanced cervical cancer and will explore the use of Advaxis' lead product candidate in several other indications including lung, head and neck, and anal cancer.
According to the agreement, GBP will pay Advaxis event-based financial milestones, an annual development fee, and annual net sales royalty payments in the high single to double digits. In addition, as an upfront payment, GBP will make an investment in Advaxis by purchasing from the Company shares of its common stock at market price. GBP will also have an option to purchase additional shares of Advaxis stock from the Company at a 150% premium to the stock price on the effective date of the agreement.
GBP will be responsible for all clinical development and commercialization costs in the GBP territory. In collaboration with Advaxis, GBP will also identify and pay the clinical trial costs for up to 150 patients with cervical cancer for enrollment in Advaxis' U.S. and GBP's Asia registrational programs for cervical cancer. GBP is committed to establishing manufacturing capabilities for its own territory and to serving as a secondary manufacturing source for Advaxis in the future.
The GBP Deal Brings Great Tangible Economics to Advaxis
First, Advaxis will have the access to data from 150 patients with cervical cancer, which can be used for registrational programs in the US. Let's think about the cost of $20,000 per patient, it will save Advaxis $3 million for the clinical program. Three million dollars may not be a big number, but the data from the 150 patients will save time and other related resources.
Second, the deal secures a second manufacturing source for Advaxis. This is important because establishing manufacturing facility for immunotherapy is both time consuming and costly. The GBP manufacturing source will complement Advaxis' US manufacturing capability.
Further, this deal not only boosts Advaxis' balance sheet, but more importantly validates Advaxis' proprietary immunotherapy technology. It is impressive that a new company has been exclusively formed and funded by a team of seasoned biopharmaceutical professionals to develop and commercialize ADXS-HPV in Asia and other important markets.
Even further, the GBP deal will serve as an exemplar for other partnership talks. The GBP agreement is the first to be executed as part of Advaxis' global commercialization strategy to enter into regional licensing deals with other market dominant biopharmaceutical companies in territories where there is a high prevalence of HPV-associated cancers. When Advaxis continues to advance its clinical programs with positive data, it will attract big pharma or biotech companies to the negotiation table. The favorable terms with GBP will serve as an example for Advaxis to get similar deals in future partnership talks.
The Biocon Deal
On January 20, 2014, Advaxis and India based Biocon Limited entered into an exclusive licensing agreement for co-development and commercialization of ADXS-HPV for the treatment of human papillomavirus (HPV)-associated cervical cancer in women, for India and key emerging markets.
Biocon Limited is India's largest and Asia's leading biotechnology company with a strategic focus on biopharmaceuticals and research services. It is a fully integrated, innovation-driven biopharma enterprise offering affordable solutions for chronic diseases to patients worldwide.
Pursuant to the Agreement, Advaxis granted Biocon an exclusive license:
to use Advaxis' data from clinical development activities, regulatory filings, technical, manufacturing and other information and know-how to enable Biocon to submit regulatory filings for ADXS-HPV in the following India and key emerging markets;
to import, promote, market, distribute and sell pharmaceutical products containing ADXS-HPV.
Under the Agreement, Biocon has agreed to obtain regulatory approvals for ADXS-HPV in India. In the event Phase II or Phase III clinical trials are required, Advaxis shall conduct such trials at its cost, provided that if Advaxis is unable to commence such clinical trials, Biocon may conduct such clinical trials, subject to reimbursement of costs by Advaxis. Biocon has agreed to commence commercial distribution of ADXS-HPV no later than 9 months following receipt of regulatory approvals in a country in the territory. Biocon will be responsible for the costs of obtaining and maintaining regulatory approvals in the Territory.
Advaxis will have the exclusive right to supply ADXS-HPV to Biocon and Biocon will be required to purchase its requirements of ADXS-HPV exclusively from Advaxis at the specified contract price, as such price may be adjusted from time to time. In addition, Advaxis will be entitled to a six-figure milestone payment if net sales of ADXS-HPV for the contract year following the initiation of clinical trials in India exceed certain specified thresholds.
Our Takeaways from the Biocon Deal
The Biocon deal expands the usage of ADXS-HPV for cervical cancer in the largest cervical cancer market in the world in terms of patient population.
Cervical cancer is one of the most frequent cancers in women in India. Over 366 million women of the age of over 15 years, are at a risk of developing cervical cancer. It is estimated that every year over 134,000 women are diagnosed with cervical cancer in India and nearly 73,000 die from this disease. Approximately 7.9% of women in general are estimated to harbor cervical HPV infection at a given time, and 82.5% of invasive cervical cancers are attributed to high-risk HPV strains.
According to WHO, in 2008, there were over 530,000 new cases of cervical cancer worldwide, 90% of these were reported in developing countries. While globally there were over 300,000 deaths, the African region recorded over 50,000 deaths and Asian countries reported over 150,000 deaths for the year.
As the dominant biopharmaceutical company in India, Biocon has a proven track record of successfully interacting with Indian regulatory agencies to gain approval for its own products and on behalf of its partners. They also have a powerful commercial sales force and distribution strengths to establish a high level of post-approval success.
Under the terms of this deal, ADXS will supply ADXS-HPV to Biocon and Biocon will be required to purchase ADXS-HPV exclusively from ADXS at a specified contract price. Upon commercialization of ADXS-HPV in India, ADXS will receive a double-digit percentage of the net sales. This has the potential to generate tens of millions of dollars in revenue to Advaxis over the lifetime of the agreement.
The deal also validates ADXS's technology and clinical data achieved with ADXS-HPV.
Ready to Move ADXS-HPV to Pivotal Trials in the US
Recently, ADXS presented compelling Phase II data of ADXS-HPV for cervical cancer in India.
The final 18-month survival data are 28% (31/110). The final 12-month survival was 36% (39/110). These data are comparable to the results for the landmark 2004 Moore Phase III study conducted by the Gynecologic Oncology Group of cisplatin alone and cisplatin plus paclitaxel in recurrent cervical cancer patients with the same initial performance (health) status (0-2). In that study, 12 month survival was presented as 35% for cisplatin alone and 32% for the combination and 18 month survival was presented as 20% for combination therapy and 12% for cisplatin, alone.
We believe the data presented at the SITC are very encouraging. After 110 patients and 264 doses, the safety data is encouraging. ADXS-HPV continues to demonstrate a well-tolerated and manageable safety profile with 42% of patients reporting Grade 1 or 2 transient, flu-like symptoms that self-resolve or respond to symptomatic treatment. Less than 2% of patients reported serious adverse events associated with ADXS-HPV. Published studies on chemotherapy treated patients like these show 100% of patients experiencing severe adverse events, usually multiple times.
Great efficacy has been observed which are very promising. Compared to GOG historical one year survival of 5%, ADXS-HPV has achieved 36% one year survival rate. This is a huge improvement. Other literature data showed that generally, recurrent cervical cancer has a poor 1-year survival rate of 15% and a 5-year survival rate of 3-13%. ADXS-HPV's 36% one year survival rate is also a 100% improvement. 18 month survival also reached 28%. Further investigation is warranted.
Advaxis plans to conduct end of Phase II meeting with FDA soon. The company is preparing the Phase III protocols and will submit a SPA to the FDA. Two Phase III trials will be conducted.
The positive ADXS-HPV data may trigger partnership talks for Advaxis in our view.
ADXS-HPV for cervical cancer is the Company's current focus. Advaxis plans to conduct new short term clinical trials to support its partnership talks as well as the planned Phase III trial of ADXS-HPV.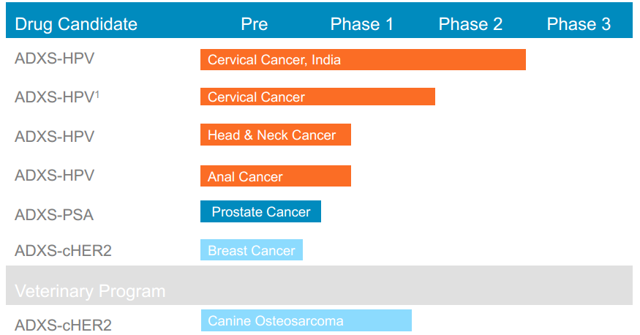 1. This study is being conducted by the Gynecologic Oncology Group
Based on the two partnerships and recent positive developments within the company, we maintain our Outperform rating for ADXS and reiterate our 12-month price target of $7.50 per share.
Disclosure: I have no positions in any stocks mentioned, and no plans to initiate any positions within the next 72 hours. I wrote this article myself, and it expresses my own opinions. I am not receiving compensation for it (other than from Seeking Alpha). I have no business relationship with any company whose stock is mentioned in this article.
Disclosure: I/we have no positions in any stocks mentioned, and no plans to initiate any positions within the next 72 hours.
Business relationship disclosure: I work as a Consultant Analyst for Zacks Investment Research. The article is written by me and is 100% my opinion. I receive compensation from Zacks for writing equity research reports and providing valuation analysis on this company's stock and expect to do so in the future. Zacks receives compensation from the company. Please see the Zacks Disclaimer for further information: http://scr.zacks.com/Disclaimer/default.aspx