Family Dollar Stores (NYSE:FDO) recently sent a strong signal of continued dividend growth with its latest dividend increase. The company announced a quarterly increase earlier this month from $0.26 to $0.31 per share, a 19.2% increase. This further strengthens what has been a consistent trend of annual dividend increases by the discount retailer.
In terms of dividend growth, Family Dollar has shown a commitment to reward long term shareholders. The company's latest 19.2% hike almost doubles a 10 year compound annual dividend growth rate of 11.38%. Dividend growth had also been consistent with the current three and five year compound growth rates roughly matching the 10 year rate. The following graph depicts rolling three and five year compound growth rates as well as the current 10 year growth rate.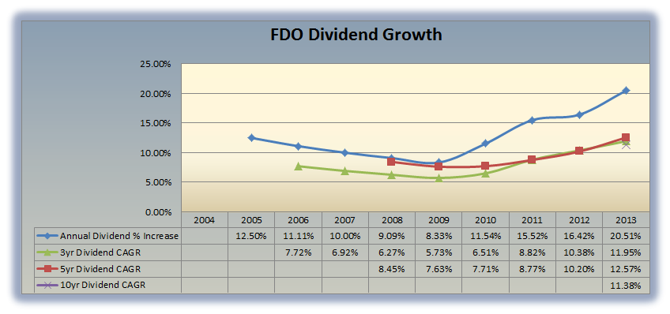 While dividend growth has been strong, there has to be some concern surrounding its sustainability with the massive increase in capital spending that began in 2012. The company is investing substantially larger amounts of capital into improving its supply chain and opening new stores. Store expansion plans for fiscal 2014 include over 500 new stores and the remodeling of over 800 existing stores. Solid execution by management will be critical in generating the long term growth opportunities expected from the increased capital expenditures. The following graph shows absolute dividends distributed by Family Dollar since 2004, including free cash flow per share.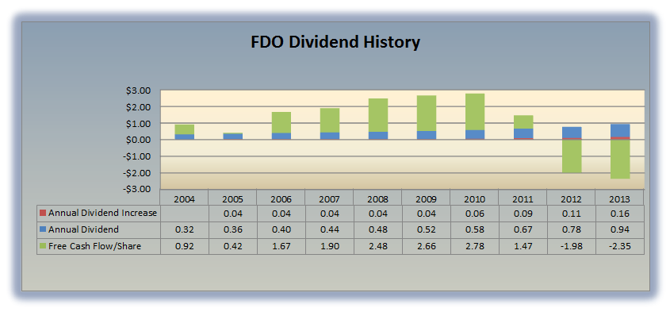 Yield on cost is highly important with regard to dividend growth investing. Potential investors must constantly weigh current yield versus dividend growth and vice versa. While Family Dollar boasts an impressive dividend growth rate, the current yield of 1.95% places somewhat of a drag on projected yield on cost figures. The following graph shows projected yield on cost at the three, five, and 10 year historical compound annual dividend growth rates over the next 10 years. An investor might expect a yield on cost in the 6% range after 10 years.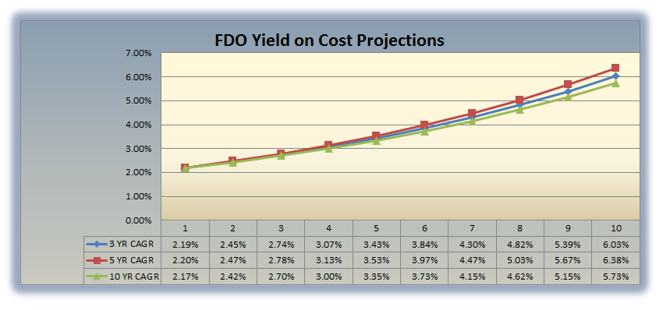 In terms of profitability, Family Dollar has been a pillar of consistency. Given the low bottom line margins often exhibited in the discount retail space, FDO has maintained a respectable 3-5% net margin over the last ten years as shown in the following graph.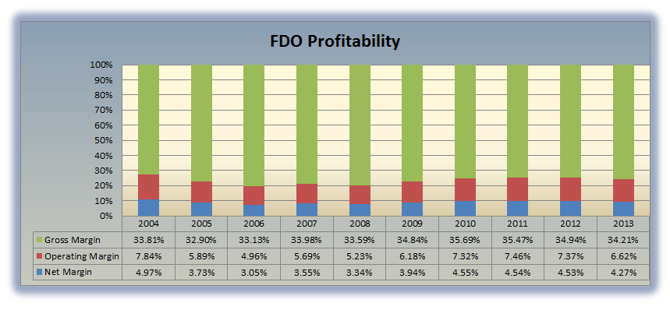 Historical valuations of Family Dollar may indicate the company is currently trading at a discount. Low end forward P/E multiples have been trending up since 2008 and shares are currently trading at the lower bound forward P/E multiple based on projected 2015 earnings per share of $3.79. The following chart highlights forward P/E valuations over the last 10 years, derived by using the prior fiscal year stock price highs and lows compared with the subsequent fiscal year EPS.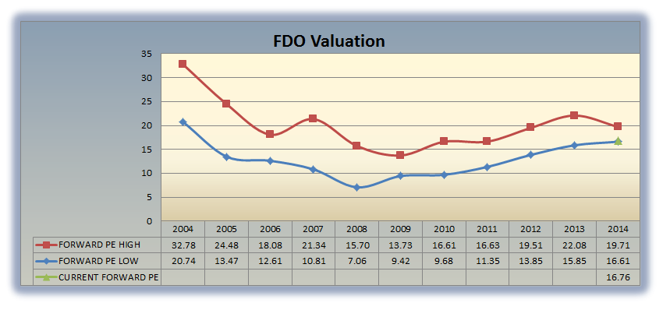 An investor looking to open a position on Family Dollar at a lower price could make use of a put ratio spread. These work well when stocks are under selling pressure allowing an investor to profit from a decline in share price while lowering their cost basis. For example, an Apr '14 67.50 strike put option is purchased for $7.00 while two Apr '14 62.50 strike put options are sold for $3.90 each, resulting in a net credit of $0.80. In the general case, if FDO is trading below $62.50 by expiration the investor buys 100 shares of FDO at $62.50 and also realizes a profit of $500. The $0.80 net credit originally received from the ratio spread acts to further reduce the cost basis.
Disclosure: I have no positions in any stocks mentioned, and no plans to initiate any positions within the next 72 hours. I wrote this article myself, and it expresses my own opinions. I am not receiving compensation for it (other than from Seeking Alpha). I have no business relationship with any company whose stock is mentioned in this article.