By David Russell
Mirant has been falling since early January, and now one trader is looking for a rebound.
optionMONSTER's Heat Seeker tracking system detected a long-term bullish trade on the power-generating company that includes the use of three option contracts. The trader bought 5,000 January 10 calls for $1.90 and sold 5,000 January 10 puts for $1.35. He or she also sold about 1,150 January 12.50 calls for $0.85.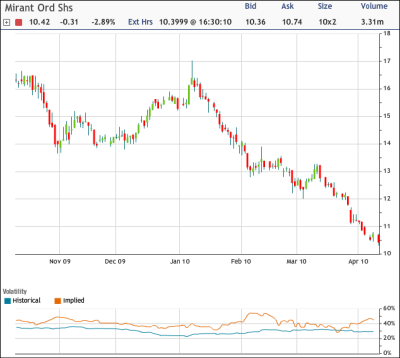 The call transaction resulted in a net cost of $0.35 per contract purchased and will provide significant leverage on any upside in the shares. Because downside puts were sold, additional losses will occur if MIR closes below $10 on expiration.
The stock fell 2.89 percent to $10.42 yesterday and is down 32 percent so far this year. Although the company lowered its guidance on Feb. 28, traders may think that it's fallen far enough and is now due for a rebound.
The option trade combined elements of a "synthetic" stock position with a vertical spread. It illustrates how traders can mix and match strategies to achieve desired break-even levels and leverage. (See our Education section)
The MIR transaction follows bullish activity in related names such as RRI Energy earlier this week and Calpine last month. Some investors may expect sentiment toward the power-generating sector to improve as economic data indicates the recovery is gaining momentum.
The next scheduled events that could serve as potential catalyst for MIR include its annual meeting on May 6 and the release of first-quarter earnings the next day.
Overall options volume in the name was 10 times greater than average yesterday.
(Chart courtesy of tradeMONSTER)