After our bearish longer-term attitude in most commodities the last year or so, brought on by a rebound in world grain production and ideal global weather we forecasted, a glut in U.S. crude oil and previously bearish attitude in gold from roughly $1600 an ounce, commodities have perked up a bit lately. The biggest mover has of course been natural gas (NYSEARCA:UNG), up now about 33% since our November buy recommendation on one of the top 5-10 coldest winters in 60 years. Gold has broken out to the upside, now that many former bulls (who were wrong) threw in the towel near the lows recently, and we have some nervousness in the stock market. In the soft commodities, it is cocoa and now potentially coffee that may help lift the CRB Index out of its 1-2 year downward slide.
Cocoa and Traders Watching For Signs of El Nino Next Summer
Cocoa prices (NYSEARCA:NIB) rallied to new highs recently on continued strong demand and ideas that the drought shortened west African main crop will keep supplies tight into 2014. However, the mid-crop is off to a good start and this could cap rallies later this spring or summer, especially if summer rains fall. The big question that traders are asking is whether El Nino might form next summer. We see different climatological variables that might influence the formation of El Nino or not. Some computer models, especially the ones out of Japan, forecast a summertime El Nino, but models have been wrong before. The key for El Nino is for the eastern north Pacific to warm (something which is slowly happening now). That way, cool waters will not erode equatorial warming, like they did 2 years ago (false El Nino alarm and cocoa prices collapsed). This event, the potential changing of the Pacific Decadel Oscillation Index -- (PDO), needs to be accompanied by an increase in solar activity and/or a major southern latitude volcano if El Nino is to really form.
We will be watching closely for any of these signs in the months ahead, as they would have more of a positive effect on the soft commodity sector, while bearish for grains.
Coffee and Soybeans Watching South American Weather
The 3 year downtrend in coffee futures was one of the most precipitous free falls in commodities in recent memory, only to be surpassed by cotton prices collapsing from $2.30 lb/ in 2010 to under 70 cents a year ago. The other price debacle was in corn and wheat, which has dropped more than 50% over the last 16 months on our forecasted rebound in global grain supplies and near perfect global weather.
The lows in coffee are likely in due to the combination of developing drought conditions in northern Brazil and the fact that farmers have over pruned coffee trees for years. After two back to back big Brazilian crops, trees are tired, and the potential $60 million+ Brazilian coffee crop is in jeopardy. Trying to foster a longer-term trading view in coffee (NYSEARCA:JO) requires very intense, difficult scrutiny and accurate weather forecasts months in advance, not just for Brazil but for Vietnam, Central America and Colombia. Give me weather issues in two or more countries and then a modest 15-30% rally could occur the next few months. Nevertheless, while I cannot predict a major move up in coffee prices with much confidence, I see a continuation of dry weather in Minas Gerais and Sao Paulo in the next few weeks, lowering coffee production a bit. This, combined with what I see as one of the coldest Februaries in the U.S. in recent memory, should keep coffee prices firm on breaks. The wild card will be Vietnam with a slight chance for a 2014 El Nino "possibly" lowering production later this year.
The dryness I expect in February in Brazil is being brought on by warmer than normal ocean temperatures east of the country. In addition, stratospheric warming some 20-30 miles up over the Southern Hemisphere last month resulted in a negative Antarctic Oscillation Index (AAO). The correlation is such that historically a month later a negative AAO is often associated with drier northern and central Brazil weather.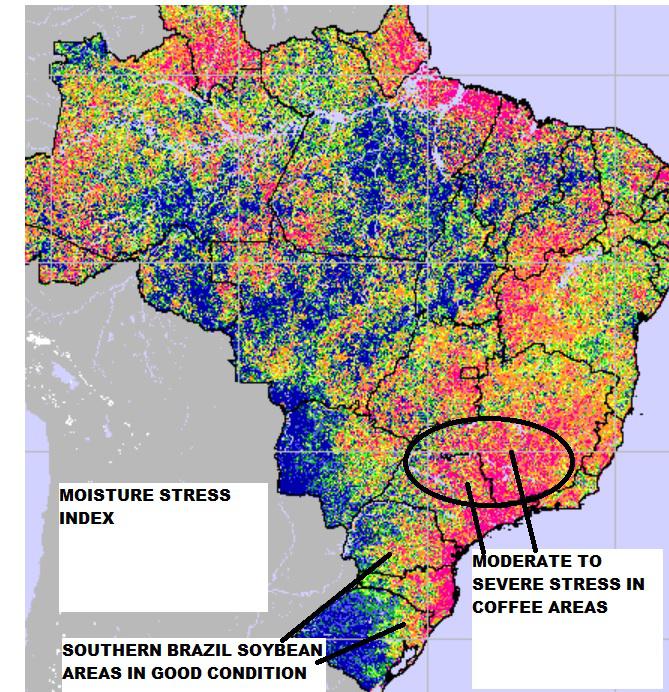 While past the critical time of the year for coffee blooms, crop stress is developing for the cherries in Sao Paulo and Minas Gerais and rains are needed soon. For soybeans, prices remain under pressure due to the expectation of huge supplies coming out of South America, worries over the Argentina peso declining and issues of the Chinese economy and demand slacking off again. I expect weather issues in southern and central Brazil may clip 1-3 MMT off the soybean crop if February is dry, but probably not enough to get us into a major bull market in soybeans (NYSEARCA:SOYB).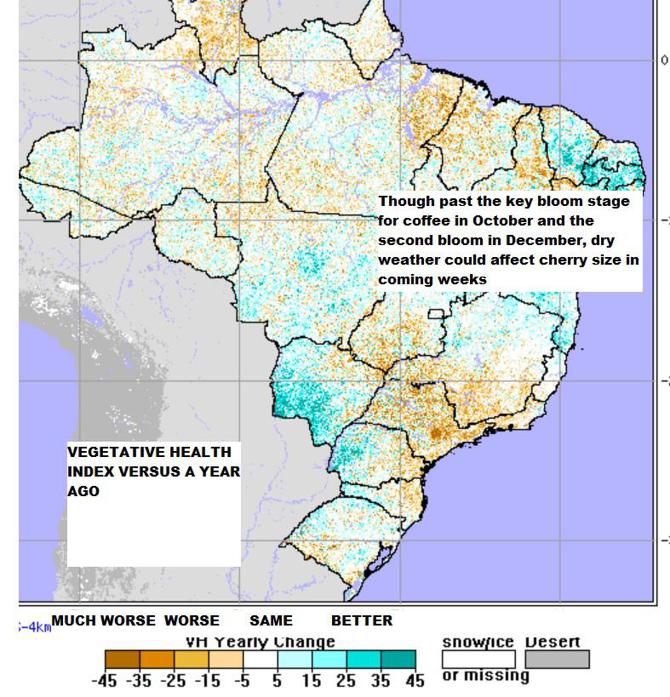 Drought easing rains in Argentina that we predicted two weeks ago are one reason why soybean prices have not exploded to the upside. This improvement will offset some dry weather issues in Brazil.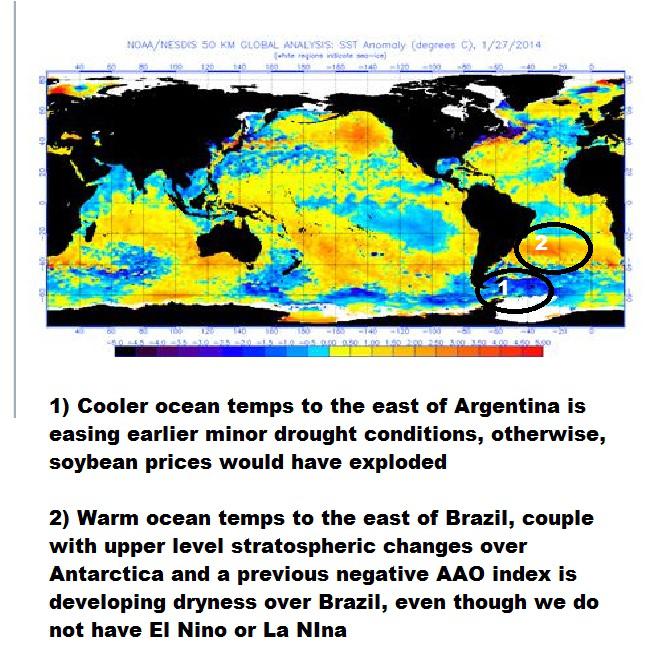 Disclosure: I have no positions in any stocks mentioned, and no plans to initiate any positions within the next 72 hours. I wrote this article myself, and it expresses my own opinions. I am not receiving compensation for it (other than from Seeking Alpha). I have no business relationship with any company whose stock is mentioned in this article.