Retailers are partying like it's 1999 as a combination of an early Easter and warmer weather across much of the country, pent-up discretionary demand from consumers, and extremely easy comparisons to the year-ago period helped companies post their best same-store sales gains in more than a decade in March.
Preliminary results show total sales increased 11.4% from a year ago to $36.5 billion for the 30 retailers we track, while same-store sales surged 9.2% compared to a 4.7% drop last March. This is the seventh straight gain after 12 consecutive months of declines, and the best showing since March 1999.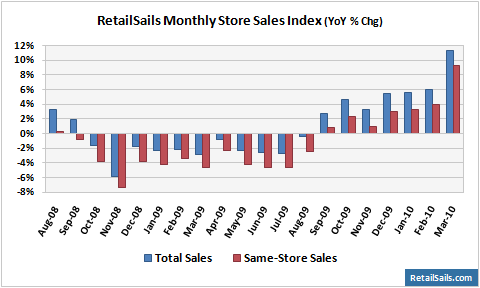 Performance was strong across the board, as 27 out of 30 retailers posted comparable sales gains for the month, with 16 posting double-digit increases. That compares to last March when 22 retailers posted decreases, with 10 of them posting double-digit declines.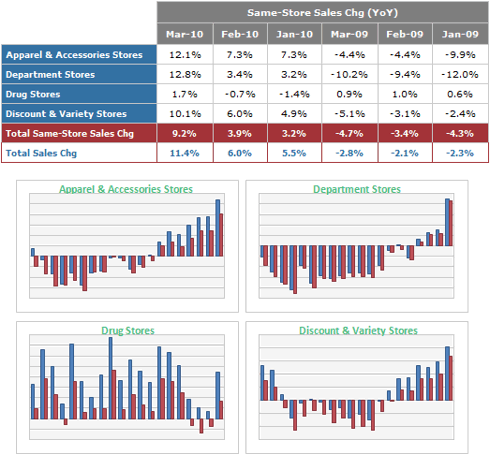 On the face of it, the results look unbelievably impressive and seem to scream "the consumer is back", but we must note that the early Easter likely played a significant part in the gains. With Easter falling 8 days earlier than a year ago, we estimate that at least half of this month's gains are due to the calendar shift.
As most companies noted in their press releases, a much better measure of performance will be the combined March-April results. As an example, Kohl's posted a 22.5% comp increase for March, but said April will likely show a low double-digit decrease due to the timing of Easter.
See below for details by sector and company. Check back later, as we will be updating individual retailer pages all day, and will have an in-depth monthly report posted by this weekend.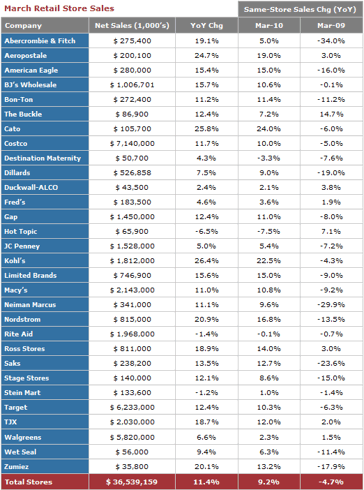 Disclosure: No positions