By Dee Gill
Value investors make money by buying stocks on sale, when the shares are relatively cheap on measures like P/E ratio or cash flow ratio. It's a tried and true method of stock picking that served investors particularly well in last year's market bonanza, when it was easier to spot undervalued tech or consumer stocks.
But finding bargains in today's market will require investors to move beyond the P/E ratio. A lot of share price valuations look alike right now, with more companies trading at earnings ratios within a point or two of each other. This year, stock pickers should pay particular attention to another feature: the company's growth characteristics.
That's the message from Putnam Investments' Robert Ewing, a value investor, whose Fund for Growth & Income returned between 14% and 35% to clients in four of the past five years. (The fund dropped by 4.85% in 2011.) Ewing, who is also co-head of U.S. equities at Putnam, detailed his stock-picking approach for 2014 in an interview with Lawrence C. Strauss at Barron's earlier this month. With little variation in share price valuations now, Ewing says he's paying more attention to organic growth potential.
Ewing's comments struck a chord with us at YCharts, where we like to find ways to help investors tap into the wisdom of smart professionals and envision their thinking in images. The YCharts Stock Screener shows that more than a quarter of stocks in the S&P 500 now trade at between 14 and 18 times forward earnings, which is an unusually big cluster of similarly-valued shares. More than 14% of the index trades at forward P/Es of about 16. Since the prospects of all these stocks can't possibly be equal, perhaps screening for growth could help ferret out the shares most likely to become better performers.
We set the YCharts Stock Screener to show us those 71 shares with forward P/E ratios of between 15 and 17. Then we clicked on Add Financial Column to see quarter-over-quarter revenue growth for each one. The results give us an immediate way to find value possibilities in a sea of shares with nearly identical valuations.
Revenue looks flat, for instance, at Kellogg (NYSE:K), General Mills (NYSE:GIS) and Campbell Soup (NYSE:CPB), three food companies trading at forward P/E ratios between 16 and 17. Other notable stocks – AutoZone (NYSE:AZO), American Express (NYSE:AXP), Johnson & Johnson (NYSE:JNJ) and Philip Morris (NYSE:PM) – are at least growing faster than the inflation rate.
But the results show 27 companies with at least 5% revenue growth, which makes them good starting targets for Ewing's brand of investing. The Screener is just a starting point. A few minutes with the fundamentals chart of any that look interesting will tell us if we're on the right track.
Better growth is seen at Qualcomm (NASDAQ:QCOM) -- 33% revenue growth for the quarter. A quick chart of its historic quarterly revenue growth shows that last quarter's big gain was no fluke; the mobile chip maker has reported revenue gains of 20% or better every quarter except one since 2010. Earnings growth has been impressive too.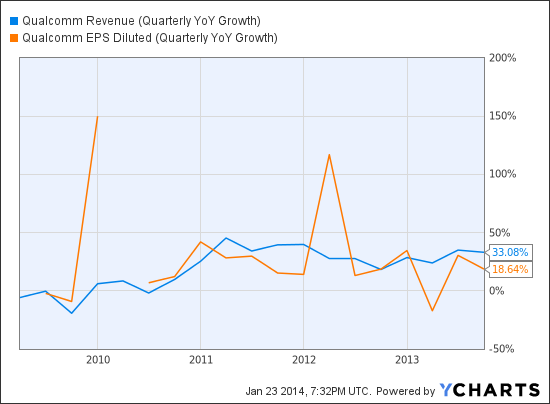 QCOM Revenue (Quarterly YoY Growth) data by YCharts
Charting Qualcomm's historic P/E ratio tells us that although its valuation has been trending up, it's still below norms of the past five years.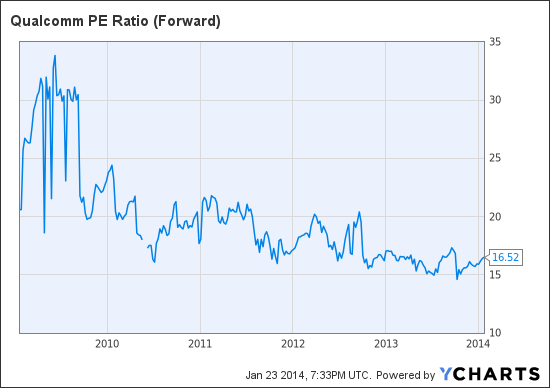 QCOM PE Ratio (Forward) data by YCharts
All of which makes Qualcomm worth investigating further.
Alternatively, Stanley Black & Decker's (NYSE:SWK) nearly 10% growth doesn't look nearly as enticing after a few minutes with its charts. First impressions include a nasty share price drop in October. Clicking through fundamentals charts quickly shows us erratic earnings despite revenue gains. Its profit margins have been narrowing.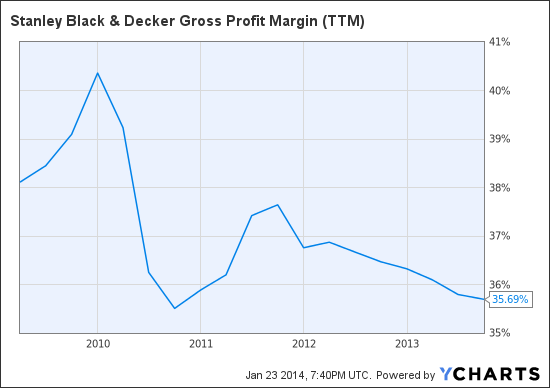 SWK Gross Profit Margin ((TTM)) data by YCharts
There are of course many ways to measure both valuation and growth. Customizing the screen with more details -- like Enterprise Value to EBITDA and retained earnings growth, for example – creates even better shortcuts to unearthing potential value. When everything costs the same, it helps to have some investment tools to uncover the real bargains.
Disclosure: None