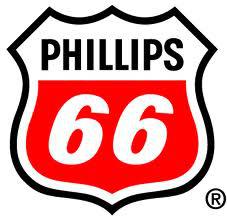 For Phillips 66 (NYSE:PSX), Q3 was weak with pressure on refining margins. However, the ability of the company to post net-income of half a billion dollars while refining actually lost $2 million, was (at least to me) a sign of strength. Indeed, today PSX announced Q4 earnings that snapped back very nicely on the back of favorable crude differentials. The company had $826 million in net income ($1.37/share) for the quarter and $6.02/share for the full year. Interestingly enough, the stock plummeted in early trading to below $71/share! But the stock also snapped back and is currently trading over $74.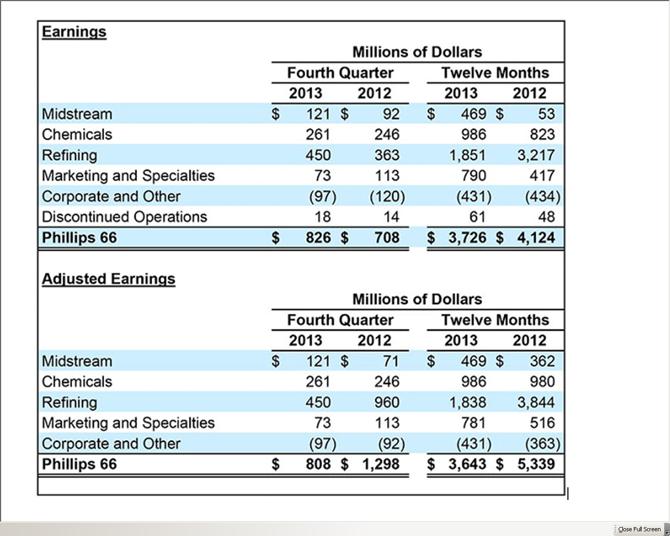 Highlights from the earnings report:
Refining earnings were $450 million.
94% advantaged crude slate compared to 67% in Q4 last year.
Refining processed 257,000 bpd of tight oil, an increase of 111,000 bpd compared with the Q4 last year.
Midstream earnings were up 31% YOY
Chemicals earnings were up $15 million (I expected better)
$865 million of cash from continuing operations
Excluding changes in working capital, operating cash flow from continuing operations was $1.3 billion
Shareholder Rewards
For the full year, the company paid $807 million in dividends, and repurchased 36.5 million shares of common stock totaling $2.2 billion (avg price ~$60.27). In Q4, PSX approved $2.0 billion of additional share repurchases for total authorizations of $5.0 billion. Since the share repurchase program was initiated in Q3 of 2012 through the end of December 2013, the company has repurchased 44.1 million shares of common stock for $2.6 billion (avg. price $58.96). That's 7% of total shares outstanding since Phillips 66 became a stand-alone company. This resulted in 590 million shares outstanding at the end of 2013.
In addition to the ongoing share repurchase program, a further reduction of outstanding shares will result from the planned PSPI exchange.
Growth Plans:
More important than a single quarter's earning report are the company's growth plans going forward. On the refining front, where the company is more-or-less in a maintenance/optimization mode, PSX recently began shipping Eagle Ford crude to the Sweeny Refinery on a third-party pipeline. But the real action and running room is in the Midstream, Chemicals, and the DCP Joint Venture segments.
According to Chairman and CEO Greg Garland in the Seeking Alpha Q4 conference call transcript:
If you look at 2014 capital budget for Phillips 66, we've announced $2.7 billion and we believe this reflects the opportunities that we have, including our share of expected cap spending by DCP, CPChem and WRB, the 2014 capital program is expected to be $4.6 billion. Of this $4.6 billion about 70% is directed towards Midstream and Chemicals opportunities. These businesses drive growth and enterprise value appreciation to infrastructure investment and capturing NGL value uplift.
I have listed several of the major growth projects below:
Midstream Growth Projects:
Developing a 100,000 bpd NGL fractionator to be located in Old Ocean, Texas.
A 4.4 million barrels/month LPG export terminal in Freeport, Texas.
180,000 bpd Cross-Channel Connector project: includes reactivating an idled pipeline to connect refineries and storage terminals on the south side of the Houston Ship Channel.
Chemicals Growth Projects:
CPChem will build a US Gulf Coast Petrochemicals Project consisting of a 3.3 billion-pound-per-year ethane cracker and related polyethylene facilities.
CPChem completed a study to expand normal alpha olefins capacity at its Cedar Bayou plant in Baytown, TX and will proceed with engineering plans.
CPChem's Sweeny Facility expanded its fractionator capacity by 22,000 bpd, or 19 %.
The 1-hexene facility at Cedar Bayou is anticipated to start up during the first half of 2014.
DCP Joint-Venture Midtream Growth Projects:
During Q4, the 580-mile Texas Express Pipeline began transporting NGLs from Skellytown, Texas, to Mont Belvieu, Texas.
Q1 2014: expected start-up of the 435-mile Front Range Pipeline to transport NGLs from the Denver-Julesburg Basin to Skellytown, TX.
2014 start-up: the 200 MMcf/day Goliad Plant in the Eagle Ford.
2014 start-up: the expansion of the O'Connor Plant to 160 MMcf/day in the Denver-Julesburg Basin.
Summary & Conclusion
Despite somewhat sketchy NYSE trading activity this morning, PSX's Q4 earnings report was very strong and beat analyst expectations by $0.30. More important than one quarter's earnings are the growth projects the company has on the table for 2014 and beyond in the Midstream and Chemicals segments. And of course PSX has previously setup the Phillips 66 Partners (NYSE:PSXP) MLP so it can drop-down midstream assets when it makes sense to do so. Speaking of PSXP, it also announced strong Q4 earnings today. A week ago, PSXP raised its quarterly distribution rate. The Q4 PSXP distribution will be $0.2248 per limited partnership unit. That represents an increase of 5.8% over the minimum quarterly distribution of $0.2125 per unit.
To sum it up, PSX is a steady growing midstream, chemicals, and refining company specializing in energy logistics. All of the company's segments are nicely profitable and deliver solid returns-on-capital-employed (see below). When you have a solidly growing very profitable company run by shareholder friendly management it can only mean one thing: dividend growth and solid price appreciation. PSX is a BUY, a long-time hold, and likely the one of the best investments on "Shale USA".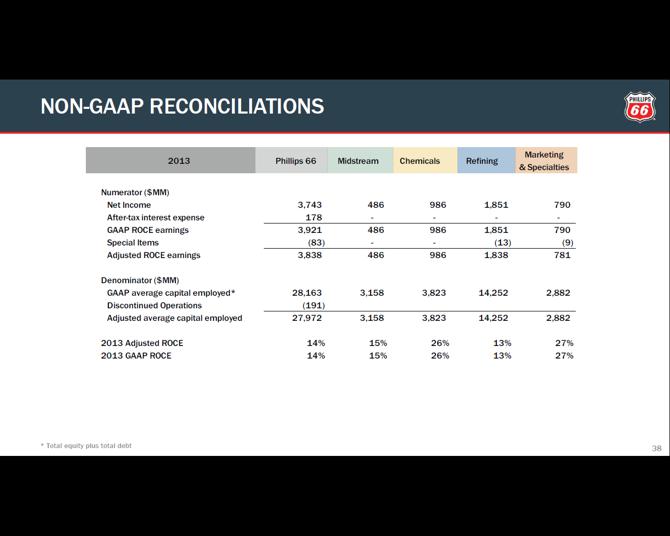 Disclosure: I am long PSX. I wrote this article myself, and it expresses my own opinions. I am not receiving compensation for it (other than from Seeking Alpha). I have no business relationship with any company whose stock is mentioned in this article.
Additional disclosure: I am an engineer, not a CFA. The information and data presented in this article was obtained from company documents and/or sources believed to be reliable, but has not been independently verified. Therefore, the author cannot guarantee its accuracy. Please do your own research and contact a qualified investment advisor. I am not responsible for investment decisions you make. Thanks for reading and good luck!