In March 2009, the S&P 500 reached its lowest point since the turn of the 21st century. Nearly five years and 177% later, many investors find themselves looking on from the sidelines with substantial cash positions. The S&P 500 continues to make new highs, leaving many stock valuations stretched to the upside. The low hanging investment fruit has already been picked over, making it much more difficult to find bargain investment opportunities. Now more than ever, in order to succeed, investors need to employ an investment road map that adapts to the ever-changing financial market landscape.
Ultimate Investment Road Map: The Business Cycle
The business cycle is the normal, sequential, and repeated ups (expansions) and downs (recessions) of the economy. This continuous cycle has repeated over and over since the United States became industrialized in the mid-1800s. We believe the business cycle is the ultimate road map an investor can utilize to balance risk vs. reward in their portfolio. Think about it … doesn't it make sense to reduce stock exposure as you head into a recession? And conversely, wouldn't you want to own more stocks when the economy is improving? Absolutely! But how can an investor make sense of the highly complex economy in order to make better investment decisions?
The Relationship between the Economy and Investments
The good news for investors is bonds, stocks, and commodities move in sequence with the business cycle, thereby offering a framework from which to invest. Periods of economic contraction are characterized by deflationary conditions under which bonds prosper. As the economy begins to improve, inflation is tamed and interest rates are falling or just edging slightly higher. This environment is extremely fertile for stocks. When the economy begins to pick up a head of steam, inflation becomes prevalent, providing a strong underpinning for commodity prices and companies whose profit is boosted by such strength.
The bell-shaped curve shown in Figure 1 represents continuous change in the economy [GDP] with one cycle leading into the next. With three main asset classes (bonds, stocks, and commodities), each with two turning points, it's possible to slice the business cycle into six stages. Think of the stages as seasons of the business cycle. The calendar year rotates through four repeatable seasons, the knowledge of which empowers farmers to plant in the spring, harvest in the fall, and avoid the problematic cold of winter. Like the seasons of the year, the business cycle changes in a repeatable and sequential fashion. It is unwise for farmers to plant in the winter, and it is equally foolish for investors to buy stocks just ahead of an oncoming economic recession. This six stage road map helps to best allocate assets in the phases in which they do best, and avoid exposure in those phases when they have traditionally proved to be unprofitable. For a more in depth description of investing throughout the business cycle, please read this or watch our five-minute explanatory video.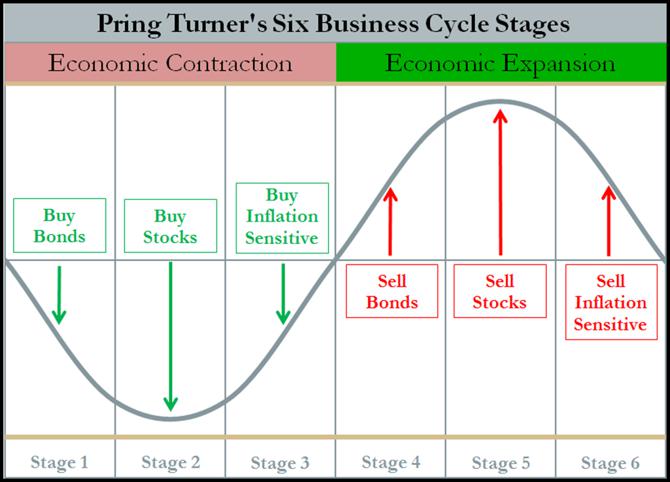 Figure 1: Pring Turner's Six Business Cycle Stages
So Where Are We Now?
As we begin 2014, our indicators point to a Stage 4 environment, a position they first entered early in 2013. This phase of the cycle is characterized by four elements-a growing economy, a rising stock market, declining bond prices and increasing commodity prices. Three of those elements have certainly been in force, but the current Stage 4 so far has lacked the typical inflationary consequences, as most commodities and indexes have been range bound.
Current Environment vs. Typical Stage 4
Since 1955, the S&P 500 (including dividends) has returned an average annual return of nearly 11%. During Stage 4 the stock index has earned an 8% average annual total return. Historically, this underperformance has been due to rising interest rate pressures and the debilitating effect of higher commodity prices on the general economy. Today inflation remains tame, allowing the Fed to maintain their Zero Interest Rate Policy [ZIRP] in addition to implementing their asset purchasing program (Quantitative Easing). This has led to far better than normal stock market performance during the most recent Stage 4, as the S&P 500 has returned over 26% on an annualized basis during this time.
While business cycle indicators have remained in Stage 4 for nearly a year, we have yet to experience all the "real" Stage 4 symptoms, namely the absence of the traditional end of cycle inflationary kick. However, that may be about to change as there are internal indications providing hints that the stock market may be starting to anticipate a more inflationary environment ahead. More on that in a bit, but first let's take a look at the usual Stage 4 winners.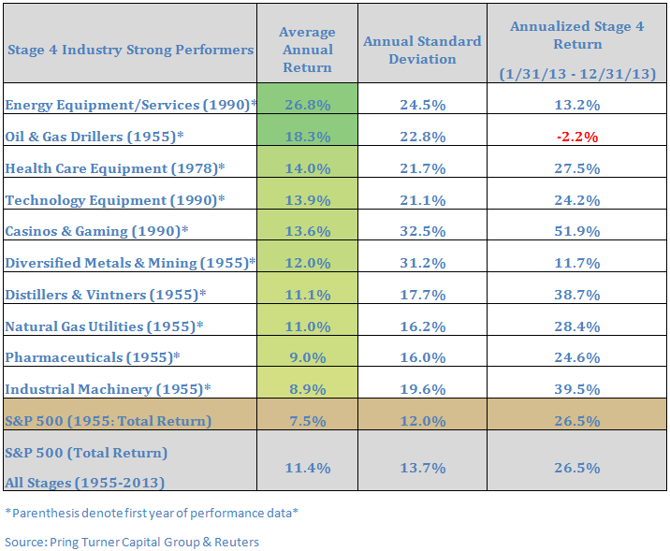 However, there are reasons to suspect the real Stage 4 sector rotation is about to begin. In this respect, Figure 2 shows smoothed sector business cycle momentum. The green arrows point out the current position of early cycle leaders on this curve. Keep in mind as long as momentum is above the equilibrium level (horizontal blue line) actual prices may still be rising even when the curve is falling. This just means that industry prices are rising at a slower and slower rate. The red arrows flag typical late cycle out-performers.
At present, early leaders are either overextended or are in a declining phase, whereas earnings driven groups are either reversing to the upside (Steels & Aluminum), or experiencing the beginning of a mark-up phase (Energy and Industrials). In effect, we believe the internal workings of the stock market are now perfectly placed to take advantage of a Stage 4 environment. The question is; how long is Stage 4 likely to last?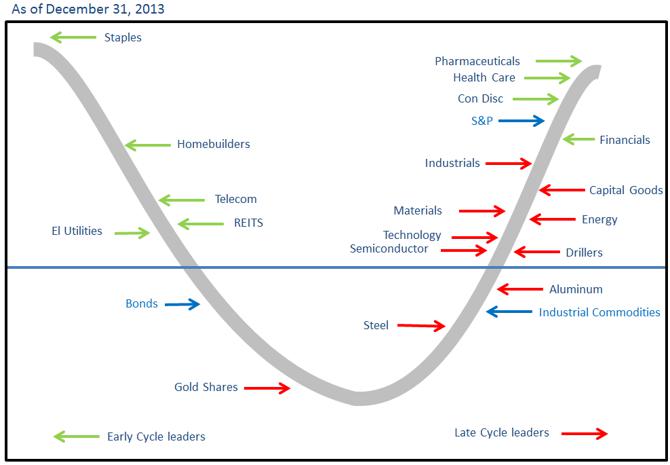 Figure 2: Sector Business Cycle Momentum Position
Source: Pring Research
How long is Stage 4 likely to last?
Since 1955, the average length of the 32 previous Stage 4 environments is roughly 6.5-months. January 2014 marks the 12th straight month in Stage 4 for the current business cycle run. Only three previous instances have lasted longer, the record being 22-months in 2005. Therefore, based on duration, this Stage 4 is long in the tooth, putting us on high alert to a possible stage change. Unfortunately, there is no precise way of forecasting how long the current phase will last; we simply have to continue monitoring our business cycle indicators for a potential change.
Stage 4 typically concludes much closer to stock market peaks, rather than stock market bottoms; this is a very important overriding fact to keep in mind. As the business cycle progresses from here, investors would be wise to lessen their market risk by reducing stock positions and raising the quality of their holdings while increasing cash balances. These are just a few examples of potential steps we would take in our portfolios, along with the Pring Turner Business Cycle ETF (DBIZ) as the cycle moves out of Stage 4 and into the later stages. Stay tuned.
Disclosure: I am long DBIZ. I wrote this article myself, and it expresses my own opinions. I am not receiving compensation for it. I have no business relationship with any company whose stock is mentioned in this article.
Additional disclosure: Pring Turner Capital Group, Inc. ("Advisor") is an investment adviser registered with the U.S. Securities and Exchange Commission. The views expressed herein represent the opinions of Advisor, are provided for informational purposes only and are not intended as investment advice or to predict or depict the performance of any investment. These views are presented as of the date hereof and are subject to change based on subsequent developments. In addition, this document contains certain forward-looking statements, which involve risks and uncertainties. Actual results and conditions may differ from the opinions expressed herein. All external data, including the information used to develop the opinions herein, was gathered from sources we consider reliable and believe to be accurate; however, no independent verification has been made and accuracy is not guaranteed. Neither Advisor, nor any person connected with it, accepts any liability arising from the use of this information. Recipients of the information contained herein should exercise due care and caution prior to making any decision or acting or omitting to act on the basis of the information contained herein. Pring Turner Capital Group is the "Sub-Advisor" for The Pring Turner Business Cycle ETF, DBIZ. The Standard & Poor's 500 Index ("S&P 500") is a capitalization-weighted index of 500 stocks intended to be a representative sample of leading companies in leading industries within the U.S. economy. Stocks in the Index are chosen for market size, liquidity, and industry group representation. You cannot invest directly in an index. Copyright © 2014 Pring Turner Capital Group, Inc. All rights reserved.