Editors' Note: This article covers a stock trading at less than $1 per share and/or with less than a $100 million market cap. Please be aware of the risks associated with these stocks.
I have a preference for high quality stocks with a defensible competitive advantage, a long runway for growth and strong capital allocators for management. Given current valuation levels, it is difficult to find any high quality companies trading at a reasonable price which leads to potential cash build. As a substitute for cash, I try to find deep value stocks trading below their asset value with a catalyst to unlock the value such as an activist investor. This provides a cash like vehicle given the margin of safety to the asset value and potential upside. SMG Indium Resources Ltd. (OTC: OTCPK:SMGI) fits the mold of a deep value asset play with a catalyst.
SMG Indium Investment Thesis
SMG Indium is a company established to stockpile indium. The investment thesis for SMGI is simple. The company's Net Market Value (NMV) (Cash + Inventory @ market prices - Total Liabilities) per share based on current market prices is $2.67 while the market price (Jan. 24, 2014, close) is $1.75 per share. All obligations related the company's initial public offering have been fulfilled and management/the largest shareholder is taking steps to eliminate the discount by converting inventory to cash (a contract to sell 75% of inventory was signed in December 2013) and returning capital to shareholders in the form of repurchasing shares (up to 20% is currently authorized), paying a special dividend. These actions will lead to a closing of the share price discount to NMV and a potential capital appreciation of 52%.
Company Description
SMG Indium Resources Ltd. is a corporation established to stockpile completing its initial public offering in 2011. In the IPO prospectus, the company stated it will use at least 85% of the net proceeds of the offering to purchase and stockpile already processed and mined indium ingots. This obligation was fulfilled in 2012 and the company is no longer obligated to purchase more indium.
SMGI has the largest stockpile of indium outside of China, with all indium insured and physically stored at a Brink's Global USA facility located in the United States. The company has a management services agreement with Specialty Metals Group Advisors, LLC (NYSE:SMG). SMG receives a 2% management fee, based on NMV, per annum; in turn, SMG manages all the activities of the company, including:
Purchasing, lending, leasing and selling indium.
Submitting written reports to the company's board of directors detailing the delivery and payment particulars regarding each purchase, lease, loan or sale of indium.
Arranging for the storage of indium.
Preparing a biweekly report on the net market value, as defined below.
Preparing any regulatory filings or special reports to the company's stockholders and board of directors.
Total management fees amounted to $476,434 for the first nine months of 2013 or $0.07 per share on an annualized basis. Other than the master services agreement, the company has no full time employees. The CFO is a part time and the administrative assistant is an independent contractor.
Shareholder Structure
Raging Capital Management 55.1%
Talara Capital Management 12.48%
Anchorage Capital Group 12.8%
AC Investment Management, LLC 6.8%
The majority shareholder of the company is Raging Capital Management, whose owner is a member of the management services company Specialty Metals Group Advisors, LLC. Raging Capital Management is a deep value and activist investor with $300 million under management. Talara Capital Management focuses on global commodities, infrastructure and industrials. AC Investment Management, LLC is a private New York based investment advisor specializing in commodity strategies on a global basis.
Valuation
As mentioned above SMG provides a biweekly report on the NMV. The NMV is a non-GAAP measure determined by multiplying the number of kilograms of indium held by the last spot price for indium published by Metal Bulletin and posted on Bloomberg L.P.
The latest NMV (Jan. 24, 2014) was $2.67 per share based on an indium spot price of $705 per kg. The latest price (Jan. 24, 2014 close) for SMGI was $1.74 trading at a discount to NAV of 34% or 52% upside from current levels. This valuation is confirmed by a look at the company's Q3 balance sheet.
| | | |
| --- | --- | --- |
| SMGI Valuation | | Q3 2013 |
| Cash | | 10,355,871 |
| Indium inventory @ cost | $485/kg | 16,585,348 |
| Indium inventory @ market value | $705/kg | 24,108,599 |
| Other assets | | 1,673,097 |
| Total liabilities | | 1,325,999 |
| NAV @ Cost | | 27,288,317 |
| NAV @ Market Price | | 36,137,567 |
| Shares outstanding diluted | | 8,834,242 |
| Q3 2013 NAV per share- diluted @ Cost | | 3.09 |
| Q3 2013 NAV per share- diluted @ Market Price | | 4.09 |
| -Special Dividend | | (1.30) |
| Current NAV per share- diluted @ Cost | | 1.79 |
| Current NAV per share- diluted @ Market Price | | 2.67 |
| Current Price per share (1/24/2014) | | 1.75 |
| Upside to NAV | | 52.6% |
| Source: Company data, Metal Bulletin | | |
The chart below illustrates SMIG's historical upside to NMV dating back to May 2011, which has averaged 30%.
Click to enlarge image.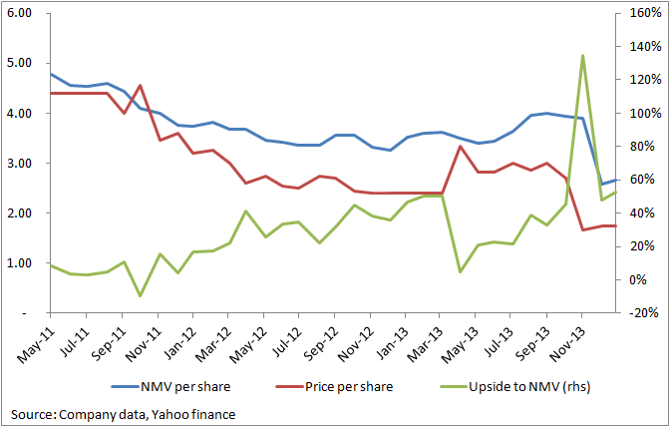 Catalyst
The upside to NMV should close over the next 12 months. Up until 2012, the company was under an obligation to acquire indium to comply with its IPO prospectus. The company fulfilled this agreement and can now sell its inventory. In the company's June 30, 2013, 10-Q, it reclassified 52% of its indium inventories to current assets with intentions of converting these assets to cash. In an 8-K dated Dec.16, 2013, the company stated it reached an agreement to sell 75% of its stockpile in 2014.
The company initiated a stock repurchase plan in 2013 with an authorization to purchase between $1 million and $3 million by the end of 2014. Since initiating the repurchase plan, the company has bought 30,304 shares and 4,400 warrants for $69,000. This repurchase activity may increase with Raging Capital Management owning 29.1% of the outstanding warrants and 55.1% of the outstanding shares of Common Stock. Raging Capital Management has $300 million under management, is run by William Martin, a deep value/activist investor. William Martin is on the board and a member of the management services company SMG Metal Advisors. This involvement in the company and the majority shareholder position leads me to believe the discount will try to be narrowed. There is much more to gain from narrowing the discount then a 2% management fee.
SMGI provided a special dividend of $0.10 per share in 2011 and 2012. This was increased to $1.30 per share, so there is potential for further dividends, which should help to narrow the discount.
Why Does the Opportunity Exist
SMGI is a micro-cap with a market capitalization of $15.5 million. It is not covered by any brokerage firm. The company would not come up on any screen as the assets are carried at cost on the balance sheet rather than at market value. The company also has not had a steady history of profitability as it has been buying assets.
Risks
The biggest risk is commodity price risk associated with indium. Given the discount to NMV, this risk is more than compensated for. The outlook for indium can be found in the company's latest 10-K.
Conclusion
SMG Indium's share price is trading well below its current net market value using the spot market price. The company is actively trying to narrow the discount by selling inventory and returning capital to shareholders through a share repurchase plan and a special dividend. The company has a deep value/activist investor as a majority shareholder, a board member and a member of the management services company, who should help the discount narrowing process. There is 52% upside if the discount to net market value closes completely.
Disclosure: I have no positions in any stocks mentioned, and no plans to initiate any positions within the next 72 hours. I wrote this article myself, and it expresses my own opinions. I am not receiving compensation for it. I have no business relationship with any company whose stock is mentioned in this article.