As a "diversified" independent oil and gas firm, Apache's (NYSE:APA) diversification comes in the form of its international exposure to growth markets in energy demand and relative to its North American-focused asset push. Apache has profitable exposure to both oil and gas plays, another form of longer-term diversification. Its natural gas exposure comes from Canada, Australia and the U.S. Anadarko Basin, also known as its Central region. It continues to push forward strategies in the Permian and Central regions of the U.S. for oil and rich liquids.
North America
In the U.S., Apache expected 25% onshore liquids growth and achieved 35%, according to its investor day presentation. It expects dividend growth at 18% in 2013. Apache's proved reserves plus Permian and Central region resources comes to 11. 7 billion barrels of oil equivalent (bboe), of which 37% are its Permian resources and 48% are from the Central region. The following graphic indicates the Central region's potential, with a 5.4 billion boe of estimated Apache inventory.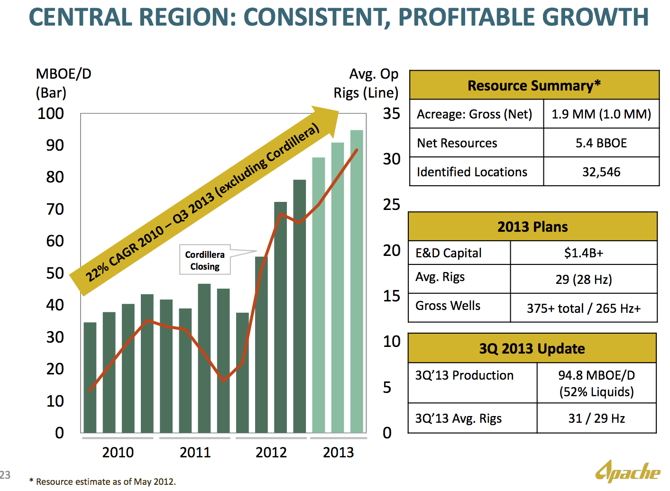 The Central region, spanning the Texas Panhandle and Central Oklahoma, is comprised of six different plays defined by Apache. The Granite Wash is the mothership of the plays in terms of resource potential, a mere 4.5 billion boe. The production is 52% liquids. The estimated ultimate recovery (EUR) per well in the Granite Wash is 793 EUR (as of May 2012). Apache is testing 11 play areas, and considers these "early days" as far as revelations go. One oil play, the Tonkawa, is considered a "bypassed formation," with vertical drilling dating back to 1950. Apache states that it has drilled more horizontal wells in the Tonkawa than any other producer.
The Permian
The year 2013 has certainly been the year of the Permian Basin. With the reserve estimate of 50 billion boe for the Spraberry/Wolfcamp play indicated by Pioneer Natural Resources (NYSE:PXD) in the early part of 2013, operators have focused and re-focused their capital outlays. Apache began its North American liquids push starting in 2009. It too, among the Permian producers Pioneer and Laredo Petroleum (NYSE:LPI), will continue to drive down drilling and completion costs - code for being in manufacturing mode - to match oil price to well economics and maximize return on capital. In fact, a high compliment was paid to Apache in a discussion about reading 10-Ks. The implication was that a key driver for Apache and its management is return on capital, and that Apache-trained employees carry that mission wherever they may land.
Aside from soft power skills and competencies, which do drive firm performance over time, Apache estimates 3.8 billion boe in its Permian operations. Its horizontal oil targets are the Wolfcamp and Cline (Wolfcamp D) shales. Third-quarter production was 131.7 mboe/d, or 18% yoy growth. The fourth quarter will be hit like other operators by bad weather. This chart depicts the production trends further out.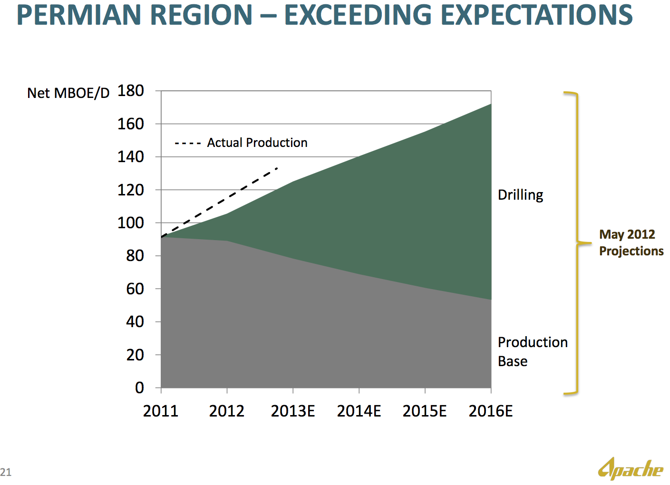 The effect of Permian oil for Apache is marked. Apache boasts the most horizontal rigs in the Permian as well.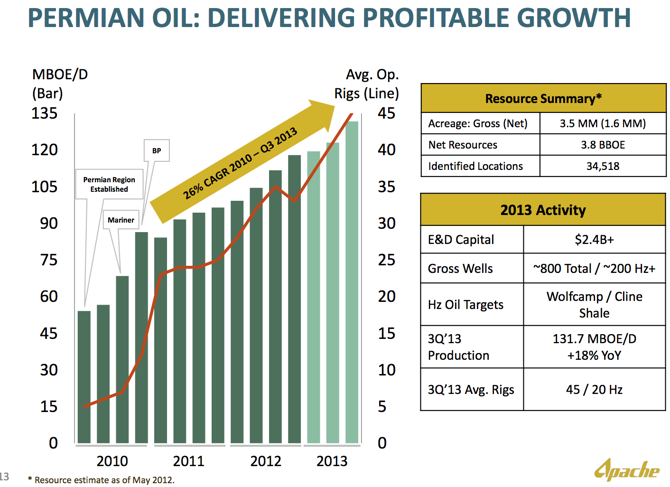 Of note, the Central Basin Platform (CBP) of the Permian, which few firms mention, holds 691 mmboe for Apache. One analyst firm mentioned that a number of private firms have taken up conventional positions in the CBP as a place to apply horizontal drilling (as Apache does) as a weigh station to pounce on good deals. The CBP is supposed to have strong internal rates of return and modestly-priced acreage.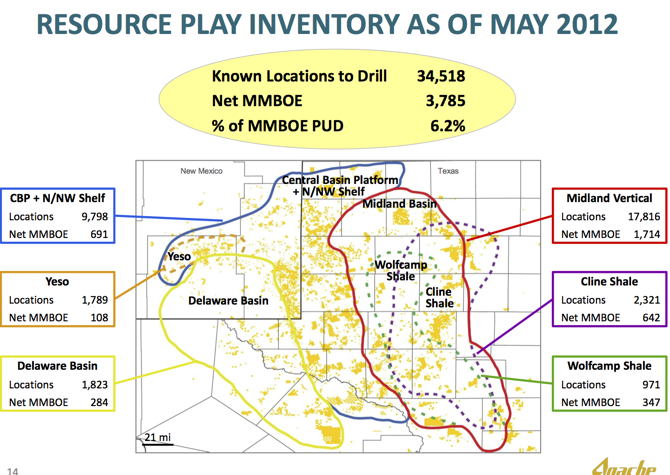 Internationally, Apache has held production for oil and gas steady in Egypt despite political upheaval. It is the number one oil producer in Egypt. In Australia, its Wheatstone LNG project will bear fruit over time. Remember, LNG demand is growing in Asia, from China, Japan and other LNG-importing countries. This project monetizes ~11 trillion cubic feet (tcf), with 13% going to Apache. Chevron (NYSE:CVX) is a partner in the project. The Canadian Kitimat project monetizes ~50 trillion cubic feet of natural gas, with a 50% share to Apache. Apache was considered a first mover in the Canadian LNG space.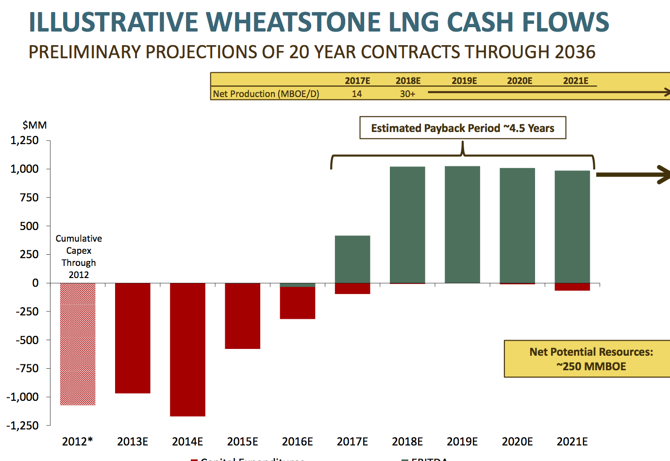 Apache offers a unique window from which to view the unfoldings of oil and gas trends. It is seemingly able to leverage its capital among the dueling fuels. Apache makes good calls on what activities to part with and where to focus. Being an independent oil and gas firm exposed to global reserves and production provides another investment perspective, as offered by a Halliburton (NYSE:HAL) presentation (see also this article about conventional/unconventional trends). In 2013, independents owned 17% of reserves to the majors' 9%. Ownership by production was 23% advantage independents to the majors' 14%. This chart speaks volumes about the flexibility and agility of the independents.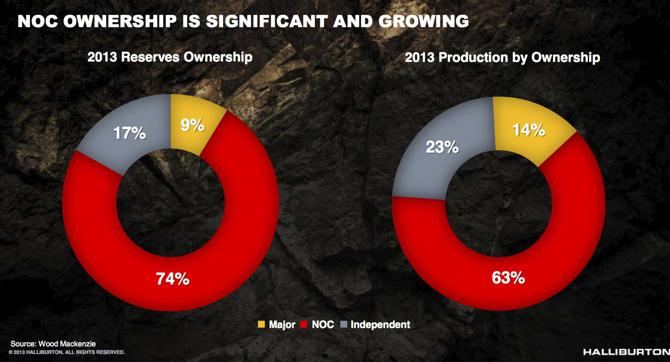 Disclosure: I have no positions in any stocks mentioned, and no plans to initiate any positions within the next 72 hours. I wrote this article myself, and it expresses my own opinions. I am not receiving compensation for it (other than from Seeking Alpha). I have no business relationship with any company whose stock is mentioned in this article.