By Todd Bunton
Bob Evans Farms (NASDAQ:BOBE) recently released disappointing guidance for fiscal 2014, as severely cold weather and higher sow costs are negatively impacting earnings. It's interesting to note, however, that analysts haven't just slashed their estimates for 2014, they've cut them for 2015 too.
Bob Evans is a Zacks Rank of 5 (Strong Sell).
With shares trading at more than 20x 2014 earnings, investors should consider avoiding this stock until its earnings momentum improves.
Bob Evans Farms owns and operates 561 restaurants in 19 states, primarily in the Midwest, mid-Atlantic and Southeast regions of the United States. It also produces and distributes refrigerated and frozen side dishes, convenience food items and pork sausage under the "Bob Evans" and "Owens" brands.
Lower Guidance
On January 21, Bob Evans released disappointing guidance for fiscal 2014, citing severe winter weather and high sow costs. Management now expects adjusted EPS between $2.20-$2.30, which was significantly below the Zacks Consensus Estimate of $2.60 at the time.
CEO Steve Davis stated that "[b]ased on fiscal third quarter results through the first half of January, we estimate a negative operating profit impact of $3.0 million to $3.5 million for lost sales, and additional weather-related operating expenses of $1.0 million to $1.5 million."
The company will release its third quarter results after the market closes on March 4.
Falling Estimates
As you can imagine, analysts revised their estimates significantly lower for 2014 after the guidance warning from management. What's interesting, however, is that they also lowered 2015 estimates by a meaningful amount. Analysts must think that something other than weather is affecting profits.
The Zacks Consensus Estimate for 2014 is now $2.24, down from $2.60 before the guidance warning. The 2015 consensus is currently $2.95, down from $3.23 over the same period. You can see the negative earnings momentum in the company's "Price & Consensus" chart: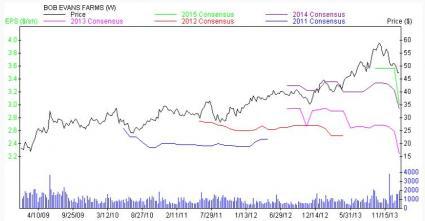 Bob Evans is a Zacks Rank #5 (Strong Sell) stock.
Valuation
Based on valuation, Bob Evans doesn't look like a screaming value here. Shares trade at more than 21x the current FY2014 Zacks Consensus Estimate and around 16x the FY2015 consensus.
The Bottom Line
With negative earnings momentum and pricey valuation, investors should consider avoiding Bob Evans until its earnings momentum turns around.
BOB EVANS FARMS (BOBE): Free Stock Analysis Report