The US movie box office registered growth of about 10% in 2009. With the recent success of 3D movies, the box office industry further expects to reap profits from increasing ticket prices nationwide. We expect movie studios like Paramount, owned by Viacom (NYSE:VIA), to benefit from the price hike in 3D movie tickets although the impact to Viacom's stock will be small. Similarly, the impact on the stocks of media companies like News Corp (NASDAQ:NWS) and Disney (NYSE: DIS) is likely to be small.
BTIG, an investment firm, estimates that prices for adult admission to 3D movies has recently increased by about 8% in the US. Ticket prices for IMAX movies increased by approximately 10%, while prices for regular movies increased by about 4%. While higher prices may deter some moviegoers from watching movies in theaters, the on-going appeal of 3D movies could draw in crowds and lead to additional cash flows for movie studios.
Below we discuss the importance of box office to Viacom and why an increase in movie ticket prices will not matter to Viacom's stock price.
Viacom's Box Office Business is 13% of its Stock
The US box office accounts for a majority of Viacom's Paramount Studios box office revenue. Paramount Studios had about 16% share in the US box office market in 2009.
We estimate that box office constitutes about 13% to Viacom's stock price. This amounts to $2.8 billion based on our estimated $21.5 billion value for Viacom.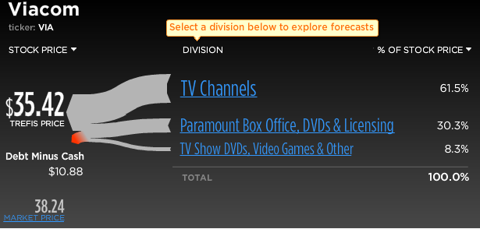 Insignificant Upside to Viacom's Stock from Price Hike in Movie tickets
According to estimates from the Motion Picture Association of America (MPAA), average movie ticket prices in the US were about $7.50 in 2009. With 3D movies contributing roughly 11% of the total box offices sales, we estimate that this amounts to average 3D movie ticket price of about $14 and average 2-D movie ticket price of about $7.10 in 2009.
We forecast an increase of close to 5% in the US movie attendance in 2010 along with a 5% rise in the average ticket price.
We estimate that average ticket prices will reach about $10 by the end of Trefis forecast period. If people continue to watch movies in the theater despite the price hike, Viacom can add about $50 million (or less than 1%) to its estimated market cap of $21.5 billion.
This suggests that Viacom's stock will not significantly benefit from rising movie ticket prices. The possibility of consumers shying away from movie theaters, as a result of higher prices, can further negate the possible value addition for Viacom.
You can modify our forecasts above to see how change in the US movie ticket prices can affect Viacom's stock price.
For additional analysis and forecasts, here is our complete model for Viacom's stock.
Disclosure: No Positions