The stock market has been an utter horror for investors these past few days. In what has been a most unpleasant interruption to the persistently dreamy trading bliss over the last several months, stocks have actually (gasp) gone down over the last several trading days (oh, the humanity!). But while the recent decline of less than -4% has certainly generated its share of desperate media pleas in search of when the worst will finally be over, this so called crisis isn't even a crisis (at least not yet), as the signs of broader stress to the underlying financial system are mostly lacking at this stage. Instead, the recent decline may simply be a sign that investors are finally looking for opportunities somewhere other than stocks for a change.
The stock market has yet to even test major support levels during the current pullback. This, of course, is one of the problems that can arise when stocks run so far ahead of trend for so long, as it makes the corrections feel far more painful than reality once they finally arrive. Fortunately for rattled investors, the stock market as measured by the S&P 500 Index is now closing in on an important upward sloping support level that has proven reliable on several occasions over the past year in the form of the 100-day moving average. During the 2013 pullbacks in June, August and October, stocks found support at this level in each instance and subsequently bounced higher. And stocks are now less than eight points above the current 100-day moving average at 1767 on the S&P 500 Index (NYSEARCA:SPY) with relative strength and momentum readings also at levels that were consistent with past market bottoms. As a result, we may see a rebound in stock prices sooner rather than later at this point regardless of whether it makes fundamental sense or not.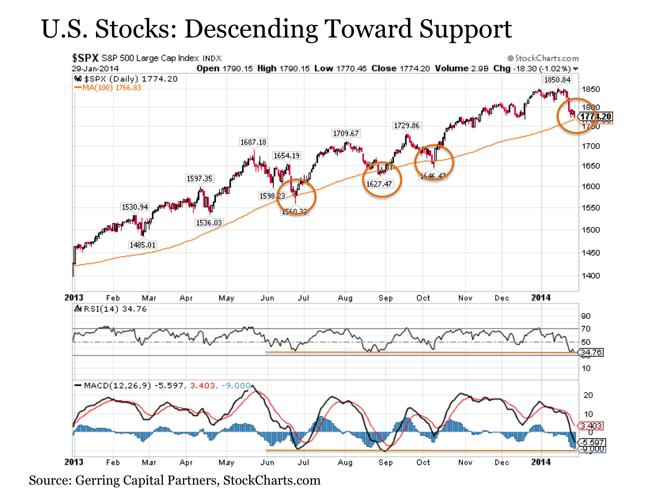 But what about the meltdown across emerging markets? At first glance, the situation unfolding today in emerging markets appears strikingly similar to the episode that started to take place last summer. Back on June 18, 2013, the stock market entered into a similar tailspin following Bernanke's tapering announcement at the Fed's FOMC press conference. The following was the price performance of U.S. stocks along with some key global market comparisons over the next five trading days to June 24, 2013 when markets bottomed versus what we have seen unfold over the last five trading days from January 22 to January 29, 2014.
Market: June 2013 Correction vs Today
U.S. stocks : -4.02% vs -3.83%
Emerging Market Stocks (NYSEARCA:EEM): -7.61% vs -6.16%
China (NYSEARCA:FXI): -7.37% vs -5.89%
Turkey (NYSEARCA:TUR): -12.49% vs -8.47%
South Africa (NYSEARCA:EZA): -5.92% vs -9.21%
India (NYSEARCA:EPI): -7.84% vs -7.55%
Brazil (NYSEARCA:EWZ): -9.10% vs -7.20%
Focusing exclusively on stocks, it appears a repeat performance is unfolding. But unlike last time when the Fed rushed out on the speaking circuit to calm market fears, today's Fed stuck to its guns and tapered another $10 billion off of its QE3 stimulus program as promised. This was a wise and commendable decision by the Fed that may have been driven in part by the following: the signs of stress outside the stock market are virtually nil in comparison to the episode from last summer as the following listing demonstrates.
Market: June 2013 Correction vs Today
U.S. stocks : -4.02% vs -3.83%
Emerging Market Debt (NYSEARCA:EMB): -8.36% vs -0.78%
Emerging Market Debt (NYSEARCA:PCY): -9.10% vs -1.03%
Emerging Market Currencies (NYSEARCA:CEW): -2.74% vs -1.07%
High Yield Bonds (NYSEARCA:HYG): -4.05% vs -0.68%
Preferred Stocks (NYSEARCA:PFF): -3.71% vs -0.45%
Utilities Stocks (NYSEARCA:XLU): -3.24% vs -0.86%
U.S. Treasuries (NYSEARCA:TLT): -3.86% vs +2.44%
U.S. TIPS (NYSEARCA:TIP): -3.58% vs +0.95%
Gold (NYSEARCA:GLD): -7.36% vs +2.75%
Silver (NYSEARCA:SLV): -10.09% vs -0.05%
In short, when the market was correcting sharply lower last summer, everything in capital markets was falling universally across a broad range of asset classes, many of which are uncorrelated if not negatively correlated with stocks. This suggested at the time that considerable liquidity stress had suddenly developed across capital markets.
But this is not at all the case today. Instead, most other major classes are experiencing only modest losses at worst. This includes emerging market debt that resides at the heart of the current situation as well as utilities stocks that rest within the major U.S. stock averages that are being hit so hard over the last few days. And some of these categories are experiencing outright gains in the current environment including U.S. Treasuries and U.S. TIPS. Even the long browbeaten precious metals complex has shown some verve during the recent stock market correction even in the face of the now all too common periodic, sudden and often inexplicable sharp sell-offs continuing to take place over this stretch.
All of this indicates that the markets are continuing to function normally. Instead of a crisis, the recent sell off may simply be the result of stock investors either taking some money off the table or actually reallocating to something other than stocks and using the current circumstances in emerging markets as a reason to do so.
None of this is meant to suggest that the current stock pullback may not eventually unfold into a full-blown correction and a new bear market. After all, such an outcome is already long overdue given the fact that stocks have advanced virtually uninterrupted over the last two calendar years on virtually no revenue and earnings growth and instead generated nearly all of their gains on multiple expansion thanks to the persistent generosity of the Fed's ongoing stimulus programs.
But regardless of whether we are overdue for such an outcome or not, we are not even close to being there yet with the current correction. We would need to see a sustained breach of both the 100-day moving average as well as the 200-day moving average before the current uptrend at stocks would be truly at risk. In the meantime, the recent pullback remains a correction within the longer-term uptrend. Of course, that is still at least for the moment and is subject to change depending on how events unfold in the coming days.
Disclosure: I am long XLU, PFF. I wrote this article myself, and it expresses my own opinions. I am not receiving compensation for it (other than from Seeking Alpha). I have no business relationship with any company whose stock is mentioned in this article.
Additional disclosure: I am long the stock market via the SPLV as well as selected individual stocks. I also continue to hold a meaningful allocation to cash.
Disclaimer: This article is for information purposes only. There are risks involved with investing including loss of principal. Gerring Capital Partners makes no explicit or implicit guarantee with respect to performance or the outcome of any investment or projections made. There is no guarantee that the goals of the strategies discussed by Gerring Capital Partners will be met.