All things considered, Phillips 66 (NYSE:PSX) finished 2013 with a solid quarter. While profits were down compared to the prior year, they were up big sequentially. In addition, Phillips 66 is seeing growth in its key chemicals and midstream segments, which points towards success in its diversification efforts.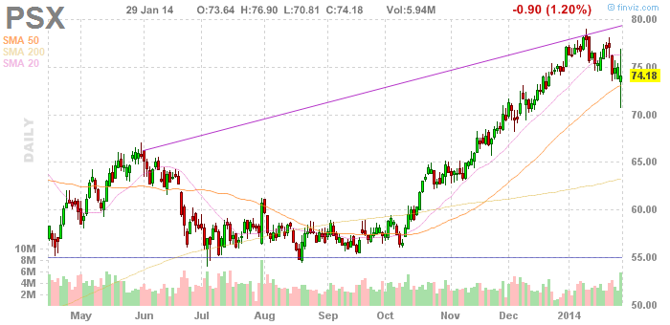 Q4 2013 Overview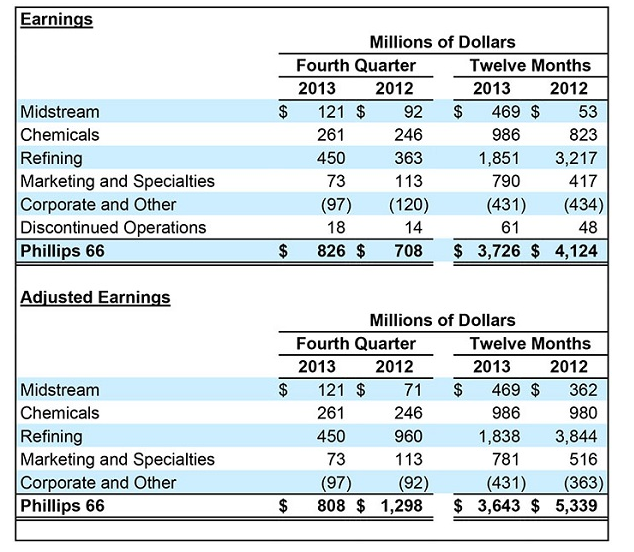 For the quarter, Phillips 66 posted adjusted earnings of $808M, down 38% from $1.3B last year. On a per share basis, this represents EPS of $1.34. However, these results easily beat average analyst estimates which were calling for EPS of about $1.08.
Phillips 66 was also able to return loads of capital to its shareholders, paying dividends of $232M and buying back 9.9M shares for $644M (about $65 per share).
In short, Phillips 66 beat estimates by a massive $0.26, or 24%. As I noted in a recent article, this earnings surprise was easy to expect given that refining peer Valero (NYSE:VLO) had just recently announced an interim update which guided towards strong refinery margins in the US.
Below is a look at Phillips 66's results by segment.
Refining
Phillips 66's refining segment posted adjusted earnings of $450M, down nearly 50% from last year's $960M. However, this comparison may be a bit flawed given that Q4 2012 was a historically high period for refining margins due to high crude oil differentials.
As shown below, Phillips 66's refining earnings vary wildly given the location.

For the Gulf Coast, earnings came in at $209M, which is actually 20% higher compared to last year. This segment benefited significantly from higher crude oil differentials due to lower WTI prices in Q4. As I noted in a previous article, Gulf Coast refinery earnings were the primary culprit for Phillips 66's first ever quarterly loss posted in Q3 2013.
The Central Corridor refineries also posted solid profits of $379M in Q4. While down compared to last year, profits more than tripled compared to Q3 2013. Again, wider crude differentials are the main reason for this, with some of these refineries even buying crude at small discounts to WTI.
Also note the areas boxed in red. These are Phillips 66's Atlantic Coast and overseas refineries. These segments posted a large combined loss of about $190M this quarter compared to a profit of $160M last year and $30M last quarter. The company noted that both planned turnarounds and high Brent oil prices were the cause of the losses, which lowered overall crack spreads.
Just to show you the improvement seen in margins, below is a chart of Phillips 66's refining margins per BBL. Note that other than in the Atlantic Coast, all of Phillips 66 US-based refineries saw their margins more than double in Q4 compared to Q3.

Midstream
For the quarter, Phillips 66's midstream segment posted outstanding 70% adjusted growth to $121M when compared to last year's $71M. The majority of this growth was due to higher margins related to increase transportation volumes and fees. However, improved NGL prices also benefited the midstream earnings, nearly doubling. Do note that earnings from Phillips 66's stake in DCP Midstream (DPM) were basically flat due to weather-related charges, offset by higher prices.
I expect Phillips 66 eventually be able to dropdown some of these midstream assets into the tax-friendly structured MLP Phillips 66 Partners (NYSE:PSXP) which should be a boost for both companies. Do note that Phillips 66 is the GP of PSXP as well controls a large chunk of the LP interest of the partnership.

Chemicals
Phillips 66's chemicals segment posted modest 6% earnings growth to $261M in Q4. The segment benefited from increased margins for polyethylene as well as higher equity earnings from CPChem, a joint venture between Phillips 66 and Chevron (NYSE:CVX), offset by higher costs.

However, the chemicals segment is arguably where Phillips 66 is going to see the most growth this year. CPChem is going to see massive capital investments, to the tune of $6.5B to $7.5B over the next few years. This is estimated to increase CPChem's EBITDA by $1.3B to $1.6B by 2017.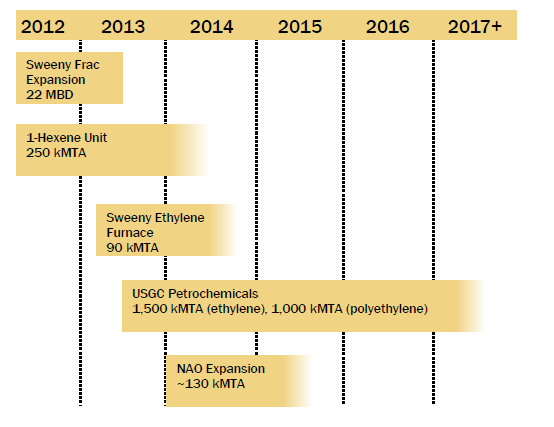 Conclusion
Overall, Phillips 66 appears to have posted quite solid results. Yes earnings are down from last year. However, the company was still able to crush estimates.
As I noted a few months ago, it is easy to be bullish Phillips 66. The stock offers both considerable growth potential as well as solid shareholder returns. In addition, the stock is quite cheap, trading at a 6.55x enterprise multiple.
Disclaimer: The opinions in this article are for informational purposes only and should not be construed as a recommendation to buy or sell the stocks mentioned. Please do your own due diligence before making any investment decision.
Disclosure: I am long PSX. I wrote this article myself, and it expresses my own opinions. I am not receiving compensation for it (other than from Seeking Alpha). I have no business relationship with any company whose stock is mentioned in this article.