eBay Inc. (NASDAQ:EBAY) is an e-commerce and payment company that has seen tremendous growth through two of its services--eBay and PayPal. Through these services, the company has managed to grow revenues by 14% in FY2013 along with a significant increase in transaction volume. This coupled with strong mobile adoption of the two services, and I believe that the market has undervalued eBay by as much as 40%.
High Growth in Both E-Commerce and Payments
eBay is the e-commerce arm of eBay Inc., and provides around 60% of eBay's revenue, while PayPal provides the other 40%. Therefore, if one were to forecast continual growth of eBay, one would have to provide significant evidence to support both the long-term viability and growth of the e-commerce market and the online payments market. Therefore, I will attempt to prove just that in the following paragraphs.
Though, present performance is not indicative of future performance, one cannot simply ignore the tremendous growth that both eBay and PayPal have seen in recent fiscal years. In fact, in FY2013 alone, revenue for eBay grew by 14% (from $4.2 billion in annual sales), and revenue for PayPal grew an even more staggering 19% (from $6.6 billion in annual revenues). Furthermore, looking at total payment volume (TPV) of PayPal and eBay, we get an even clearer picture of the growth achieved by these two services. TPV for eBay grew by 14% for FY2013 on $76.5 billion in revenues, while TPV for PayPal grew by 25% on $180 billion in transaction volume. eBay Inc. has not only been able to grow revenues, it has actually accelerated its revenue growth in the past few quarters. Thus, there is no sign of either e-commerce or online payments slowing down anytime soon. In fact, even eBay forecasts significant double-digit growth going into the next 2 fiscal years. However, it is not just eBay that forecasts tremendous growth in the coming years, many projections call for double-digit CAGR for the global e-commerce market. In fact, when put into perspective, eBay's growth is only modestly above projected growth rates. Consequently, due to PayPal's tight integration with eBay, you will see tremendous growth in PayPal's revenue as well, due to increased spending on eBay. This translates into significant growth for both of eBay's services in the coming years. Therefore, the estimates provided by eBay are in no way bullish or overly optimistic estimates that misrepresent the company's potential earnings.
Pessimists might say that projections are just projections, and there is no evidence to support those estimates. But they would be wrong in their reasoning. Aside from eBay's past results that clearly support this premise, there is an undeniable trend towards online shopping and e-commerce in general. A growing amount of people are starting to leave traditional brick-and-mortar shops to go towards the convenience that online shopping provides. This trend is reflected in the rapidly growing e-commerce market (which had around $1 trillion in revenues last year) and the waning sales of the traditional retail market. Even Deloitte--in its report on retail for 2013--predicts the future of retail will be in e-commerce. In its report, it states that,
"The retail paradigm has shifted from a single physical connection point with customers to a multi-pronged approach that crosses both physical and digital channels. The traditional bricks-and-mortar retail store is no longer the dominant medium for purchasing goods."
eBay will be the beneficiary of the "paradigm shift" in retail, which will help drive the company's double-digit revenue growth in the coming years.
Strong Mobile Adoption
Mobile users represented 40% of eBay's 36 million new users in the last fiscal year. Furthermore, eBay's mobile commerce volume was up 88%, which represents tremendous growth in mobile commerce volume YOY.
Why is mobile adoption of eBay's services so important? There are billions of mobile devices in the world today. With an ever-expanding base of mobile devices getting connected to the internet, coupled with waning desktop users, it is paramount that internet companies--like eBay--get a share in this new "growth" market. Without having a strong hold on mobile, eBay will potentially miss out on the billions of dollars in sales that mobile consumers will spend in the coming years. The following table, courtesy of eMarketer.com, paints a picture of the extent of mobile commerce sales--which includes past and expected mobile retail sales.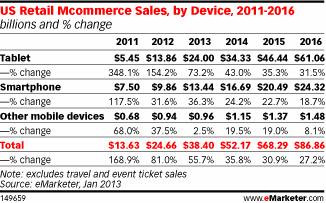 Source: www.eMarketer.com
We see in the preceding table that mobile commerce will be instrumental in the growth of e-commerce. As a result, eBay's strong position in mobile will help the company further expand its revenues.
Valuation
I always try to leave bias out of valuations, and so that is why I clearly laid out the premise before attempting to do a valuation on the company. This way, you can clearly see where I come from and why I chose the numbers I did.
Please note that in the following valuation, I use a DCF model (i.e a discounted cash flow model), with a 15% discount rate. For the terminal value, I simply use the perpetuity model, assuming a 2% CAGR in perpetuity (which is around the current inflation rate). I also assume in the valuation model that margins, SG&A and capex will be relatively stable, simply due to the strong e-commerce and online payment presence that eBay has.
For this valuation model, I project eBay to grow 10% for a time period of 10 years--based on eBay's current FCF of $3.6 billion--which is not all that unreasonable considering the points listed above, and the fact that the global e-commerce market is expected to grow faster than 10%. Nevertheless, I chose to use this lower CAGR as I wanted to be on the safe side.
The following is the table that lays out the cash flow numbers used in my DCF valuation:
| | |
| --- | --- |
| Year N | Present Value of Cash Flows at Year N |
| 1 | $3.43 billion |
| 2 | $3.29 billion |
| 3 | $3.15 billion |
| 4 | $3.01 billion |
| 5 | $2.88 billion |
| 6 | $2.75 billion |
| 7 | $2.63 billion |
| 8 | $2.52 billion |
| 9 | $2.41 billion |
| 10 | $2.038 billion |
| NPV of Future Cash Flows | $28.42 billion |
| Terminal Value Based on Year 10 Cash Flow of $9.3 billion | $72 billion |
Adding the numbers together, we see that eBay is worth around $100 billion. Divide $100 billion into 1.29 billion shares, and we get a per share value of $77 (which is 42% above eBay's current market price). Further, the per share value of $77 does not factor in any buybacks; if we were to factor in eBay's $5 billion buyback plan, the per share value would be around $83.
Please note that my valuation of eBay assumes that it underperforms its peers--i.e the e-commerce sector in general--even though the reverse is likely to be true. Consequently, one could say that my estimates are still conservative; however, I chose to be on the safe side, and not over-estimate the earnings potential of the company.
Conclusion
eBay is a company that is trading significantly under its intrinsic value of $77 per share. The market has mispriced the company, and anybody smart enough to take advantage of this situation will be rewarded in the long run.
Disclosure: I am long EBAY. I wrote this article myself, and it expresses my own opinions. I am not receiving compensation for it (other than from Seeking Alpha). I have no business relationship with any company whose stock is mentioned in this article.