I wasn't planning on reporting on cigarette giant Philip Morris (NYSE:PM) or any of its industry peers until after earnings season for these names. However, the decline in Philip Morris shares has continued recently, and the stock fell below $80 on Wednesday for the first time in nearly two years, as you can see in the chart below.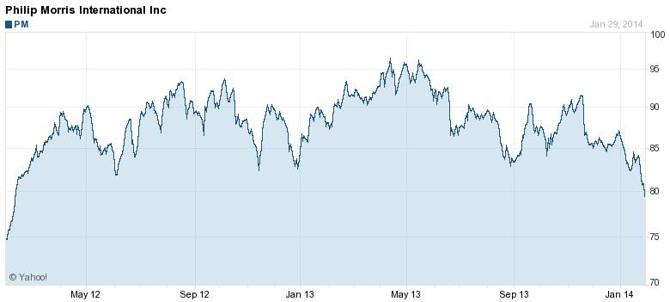 (Source: Yahoo! Finance)
As a result of the recent fall in Philip Morris shares, I've decided an article was necessary on this investor favorite. Today, I'll look at where all of the expectations stand, as we are about to start earnings season for this cigarette group. Will the breaking of $80 per share help Philip Morris to find a bottom? Let's see where the numbers stand.
Current expectations:
When comparing Philip Morris to others in the space, I look at three other names: Lorillard (NYSE:LO), Altria (NYSE:MO), and Reynolds American (NYSE:RAI). The following table is one I've used in several articles for this industry. It shows the currently expected growth in terms of both earnings per share and revenues. These are the analyst estimates for 2013 and 2014, as well as a two-year total. I've also provided each company's dividend yield as another way to compare these names. The yellow highlight indicates the leader in that specific category. This is the first full update I've done on the space since December 8th, which was a few weeks after Philip Morris announced that 2014 would be an investment year and that currency neutral earnings per share growth would be lower than the long-term corporate plan.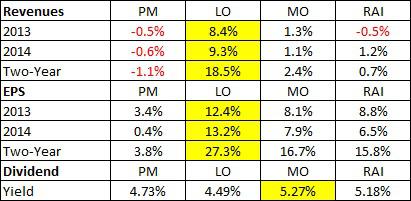 Once the leader in terms of growth expectations, Philip Morris now stands at the bottom of the pile. Analysts have not been friendly to Philip Morris, as estimates continue to go lower. While most investors have realized by now that revenues in 2013 will be lower than 2012 levels, I'm not sure many thought 2014 would be even lower. That's where analysts see things currently. Also, with Philip Morris aiming for 6% to 8% currency neutral EPS growth in 2014, EPS numbers have been taken down tremendously. Since currencies have been a huge headwind in recent years for Philip Morris, analysts now believe 2014 overall EPS will be basically flat. The one positive item is that with Philip Morris shares declining so much, the buyback has become more powerful. While the $1.5 billion a quarter rate got the company about 16.5 million shares at $91, at $80 a share you are talking about 18.75 million shares per quarter. An extra 6-10 million shares bought back a year will probably help EPS by a couple of pennies at least. Also, Philip Morris announced a new business structure in Egypt. While this will result in a dime charge to EPS for 2013, it should help profitability going forward.
Overall, if you are looking for growth in 2014, Lorillard remains the best place for your money. Philip Morris is below the Altria/Reynolds comparable group for revenue growth, something that many could not have imagined a year ago. The question here is have Philip Morris expectations come down enough? Shipment volumes have been weak, and stock markets are worried right now about emerging markets. Currencies have also been a worry in recent years, which has fueled the next leg down for Philip Morris shares.
Current valuations:
You could have the greatest company on earth, with great growth, dividends, buybacks, etc., but that doesn't mean it will be the best investment. Sometimes, it all comes down to valuations. If that "greatest company" is just too expensive, it might not be worth it. As those who follow me know, Philip Morris' valuation against the rest of these names is one item I've tracked extensively in the past. The following table shows valuation metrics for each company in this article, as of my last update and now.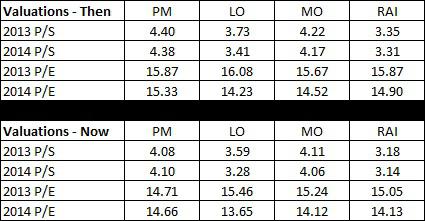 Even though estimates have come down since my last formal update, Philip Morris shares are down by more than $6. As a result, the valuation has come down quite a bit, and that makes the name a bit more attractive in my opinion. The other names have also come down a bit in price, but not as much as Philip Morris.
Anyone that has read my continuous coverage of Philip Morris knows that PM shares trade at a premium. Investors have been willing to pay for the solid amount (previously expected) of growth and the sizable buyback. I've continued to track that premium, on both a price-to-sales and price-to-earnings basis, with the results found below (compared to my last update).

Philip Morris no longer commands the premium it once did, and that is completely justified. When you have a growth leader, it should trade at a premium. When that growth is gone, the valuation must come down. Philip Morris actually trades at an increasing discount to 2013 (essentially trailing) earnings now, as the growth story has disappeared. Before the company warned for 2014, analysts were looking for $5.89 in earnings per share during 2014. Current estimates call for just $5.42. That's why the stock has fallen from almost $92 before the November warning. But that doesn't mean investors should bail now. If Philip Morris can get back on track, now is the time for investors to build a position. The dividend yield has also rocketed higher in recent months.
Overall analyst opinions:
I always like to look at what the professional Wall Street analysts think when it comes to the names in this space. The following table shows the average analyst rating, where a 1.0 is a strong buy and a 3.0 is a hold. The table also shows the average, or mean, price target currently, and the upside to that target from Wednesday's close.

Philip Morris and Altria remain the top two names in terms of overall analyst rating. Reynolds is close to a hold, and Lorillard is a slight buy. As was the case in most of my past updates, Philip Morris has the most potential upside to the average analyst price target. Yes, price targets have been coming down, with the average down about $1.60 since my last full update. However, Philip Morris shares are down even further.
Why I still like Philip Morris for the long-term:
Over the long-term, I think 2014 is going to set things up well for Philip Morris. Yes, 2013 was a disappointing year, and I think it will be a slow start to 2014 for the company (not necessarily the stock). First, the company will be testing new next-generation products late in 2014 and rolling them out more in 2015, a year or two earlier than previously expected. Philip Morris should return to revenue growth, and the company believes it will get back to double digit currency neutral EPS growth in 2015.
You also have to like two other items this company offers, the dividend and the buyback. In the following table, I've shown the power of these two over the past couple of years. The table shows the end of Q3 share count for each year, as well as the new dividend amount, both quarterly and yearly, since the dividend is usually raised in September.

From Q3 of 2009 to Q3 of 2013, the share count dropped by more than 300 million. That process will continue, as Philip Morris was expected to buy back about $1.5 billion of stock in Q4 of 2013, followed by another $6 billion in 2014. Whatever remains on the current 3-year, $18 billion program at the end of 2014 will be finished off probably in the first half of 2015. At that point, I do think the company will slow down the buyback rate, perhaps to $4 billion a year. Even then, that's still a $1 billion per quarter buyback. The share count is going lower, and with the stock down like it is now, the buyback will be even more powerful.
On the flip side, less shares outstanding means more dividend increases. The table above shows how the dividend has soared in recent years. I'm guessing that you'll see at least a $1.00/quarter when the dividend is raised in September 2014, perhaps even a few pennies over that. It would not surprise me in the next three to five years if this company is paying more than $5.00 a year in dividends.
It would help if the company's cash flows can improve going forward, and part of that will be contingent on currency improvement. At the moment, Philip Morris is returning more capital to shareholders than it is bringing in through free cash flow. That means that the company has to take out debt for the dividend and buyback. Philip Morris might actually want to issue some more debt now as rates have gone lower. The debt pile has certainly increased in recent years, weakening the balance sheet, but not to a concerning level just yet. I think the capital return to free cash flow gap will certainly narrow in 2015 based on my expectation for a reduced buyback rate. At that point, maybe the company will be able to have more free cash flow than capital returns, allowing some debt to be paid back, while dividend raises continue at a brisk pace.
Final thoughts:
Philip Morris lost the $80 a share mark on Wednesday for the first time in nearly two years. 2013 was a disappointing year, and investors are worried that 2014's place as an investment year will lead to bad results. Analysts have already reduced revenue and earnings per share estimates tremendously. On the flip side, expectations won't be as high, allowing the company to hopefully beat when it reports. Additionally, the dividend yield is now up to 4.73% on an annual basis after cracking 4.50% just a few weeks ago. In fact, the dividend yield hit 4.80% at Wednesday's trading low. I wanted to do this update before earnings season kicks off for these names, with Altria reporting on Thursday. My next formal update on this space will be after all of the names report. When it comes to Philip Morris, investors need to decide if estimates have come down enough, at which point this name will be ready for a rebound. I still think Philip Morris is a great value name to be in, thanks to the tremendous dividend and buyback, two items that will continue for the indefinite future.
Disclosure: I have no positions in any stocks mentioned, and no plans to initiate any positions within the next 72 hours. I wrote this article myself, and it expresses my own opinions. I am not receiving compensation for it (other than from Seeking Alpha). I have no business relationship with any company whose stock is mentioned in this article.
Disclaimer: Investors are always reminded that before making any investment, you should do your own proper due diligence on any name directly or indirectly mentioned in this article. Investors should also consider seeking advice from a broker or financial adviser before making any investment decisions. Any material in this article should be considered general information, and not relied on as a formal investment recommendation.