3M (NYSE:MMM) has recently increased considerably its dividend and share buyback program, showing a strong commitment to provide attractive returns for its shareholders. However, despite its more aggressive shareholder remuneration policy, it still has good dividend growth potential as its previous policy was much too conservative. 3M's business fundamentals easily support another 30% dividend hike, a move that would send a stronger signal of undervaluation than its current share buyback program. 3M has a market capitalization of about $87 billion and trades on the New York Stock Exchange.
Company Overview
The 3M Company, formerly known as the Minnesota Mining and Manufacturing Company, is an American multinational conglomerate corporation based on St. Paul, Minnesota. The company was founded in 1902 and during the 1950s the company expanded worldwide. 3M currently employs about 88,000 people worldwide and produces more than 55,000 products, including adhesives, abrasives, laminates, passive fire protection, dental products, electronic materials, medical products, car-care products, electronic circuits, and optical films. 3M has operations in more than 70 countries and its products are available for purchase through distributors and retailers in nearly 200 countries throughout the world.
3M is a diversified technology company with a global presence. While 3M sells thousands of products for different end-markets, its focus on the following businesses: Industrial and Transportation; Health Care; Consumer and Office; Safety, Security and Protection Services; Display and Graphics; and Electro and Communications. 3M is among the leading manufacturers of products for many of the markets it serves. Industrial and Transportation is the company's largest business, accounting for 34% of its sales, followed by Health Care with a weight of 17%.
The company's business model is to foster organic growth by innovation. The company gives great emphasis on discovering new products, creating whole new industries such as coated abrasives, pressure sensitive tapes, nonwoven respirators and fluoromaterials. Therefore, 3M invests annually high amounts in research & development [R&D], which have accounted for more than 5% of its sales over the past few years. In 2012, the company's R&D investments amounted to more than $1.6 billion, an increase of 4.8% from the previous year. 3M's sales from products introduced within the last five years is above 30%, compared to 21% in 2005, showing that its investment in R&D is paying off. As the company continues to spend a significant amount in R&D every year, the weight of new products on its sales should increase over the next few years.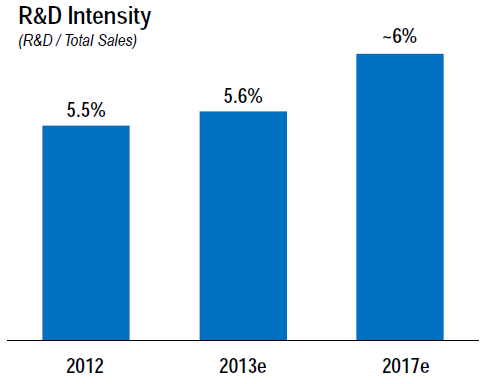 3M is a global company, given that its sales are split worldwide, with about 65% of its sales coming from international markets up from 53% in 2000. Nevertheless, the U.S. is the company's largest single market accounting for about 35% of its sales. Emerging markets represent an increasing portion of 3M's sales and the company enjoys stronger profitability in these regions, which bodes well for its long-term revenue and earnings growth prospects.
Financial Performance & Dividends
Regarding 3M's financial performance, it has shown a relatively good performance over the past few years, despite its correlation with the global economic activity. Over the past five years, the company has always been able to achieve an operating profit margin above 20%, which is a very good track record and shows the business resilience to economic cycles. Although 3M is a high-quality industrial company, slowing industrial production across the world has affected its recent results.
In 2012, sales were nearly $30 billion, and increase of 1%. In organic local currency terms, sales increased 2.6%, with particular strength in Latin America/Canada which was up 11%, and the U.S. which was up 4% for the year. Its weakest performance was reported in Europe/Africa/Middle East which was down 1% from the previous year. Its operating income was near $6.5 billion, representing an operating margin of 21.7%. Its net profit was up by 3.8% to $4.4 billion, or $6.32 per share. During the first nine months of 2013, 3M's sales increased by 3.5% to $23.3 billion, and its operating income was stable above $5 billion.
At its analyst briefing in December, 3M reiterated its annual operating goals for the period through 2017. The company expects to maintain its industry-leading profitability, achieving operating margins above 20% over the long-term thanks to continued portfolio optimization, a new rollout of enterprise resource planning software, and accretive bolt-on acquisitions. Its target are annual sales growth of 4%-6% and earnings per share growth of 9%-11% per year, and a free cash flow conversion rate around 100%. For 2014, 3M expects 3%-6% organic revenue growth and EPS in the range of $7.30 to $7.55. According to analysts' estimates, 3M's profitability should continue to increase and its operating income margin should be about 22.5% in 2015, its highest level since 2010.
Regarding dividends, 3M has an impressive history, given that it has paid 388 consecutive quarterly cash dividend and increased the annual dividend for 55 consecutive years. Its last annual dividend was $2.54 per share, an increase of 7.6% from the previous year. Recently, the company increased the amount it plans to return to shareholders over the next several years. Its quarterly dividend was boosted by 35% to $0.855 per share, or an annual dividend of $3.42 per share. At its current share price, 3M offers a dividend yield of about 2.6%. This yield is not among the highest in the stock market, but it is safe and its growth potential is very good making it appealing for both risk-averse long-term investors and dividend growth investors.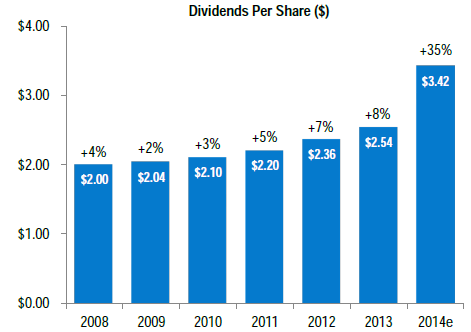 The company has also lifted its anticipated share repurchase activity, to a range of $4.5-$5 billion. It expects to spend between $17 billion and $22 billion in the period 2013 to 2017. This share buyback program is supported by the company's good cash flow generation and its very strong balance sheet. Its annual free cash flow has been relatively stable about $4 billion over the past three years, which is more than enough to finance its dividend payments but not when considering also the share repurchases. The company plans to increase its balance sheet leverage to support its share buyback program, which isn't however an issue given that 3M's net debt is very low. Therefore, 3M can cool down its share buyback program and return more cash for shareholders through dividends, as the company spends almost the double in share repurchases than dividends.
Taking into account the company's expected EPS for 2014, with a midpoint of $7.42 per share, 3M's dividend payout ratio is only 45%. This level is slightly higher than in the past few years, but is still conservative given the company's relatively stable business and good profitability. If the company decides to be more aggressive, it can raise its payout to about 60% of its earnings without putting in jeopardy its dividend sustainability. With a 60% dividend payout ratio, 3M's dividend would be about $4.50 per share or a 3.5% yield. Given that 3M is trading at more than 19x its forward earnings and 11.4x EV/EBITDA, the stock is not particularly cheap and the company's excess cash should be diverted towards a higher dividend. Moreover, share buybacks are usually seen as more discretionary and may be suspended if a crisis erupts, while dividends are stickier and represent a long-term commitment of cash return to shareholders. Thus, a higher dividend would send a stronger signal that management sees 3M undervalued by the market and could provide more support for its share price than its current share repurchases.
Disclosure: I have no positions in any stocks mentioned, but may initiate a long position in MMM over the next 72 hours. I wrote this article myself, and it expresses my own opinions. I am not receiving compensation for it (other than from Seeking Alpha). I have no business relationship with any company whose stock is mentioned in this article.