Fixed income investing often takes a back seat during the portfolio construction process. Bond investing may not be nearly as sexy as stock picking, but this asset class is no less vital to the construction of a well-rounded portfolio. For several years, investors were slow to embrace ETFs as a way to gain fixed income exposure. But many concerns about the efficiency of fixed income within the exchange-traded structure have been erased, and a full-blown bond ETF boom is underway. Fixed income ETFs saw cash inflows of more than $42 billion in 2009, and that trend has continued so far in 2010.
Investors now have more options than ever before for gaining fixed income exposure. Vanguard has launched targeted corporate bond ETFs while iShares developed target end date muni bond funds. While many of these new products offering more granular exposure have been warmly received, the majority of bond ETF assets remain in total bond market ETFs, a category dominated by two ultra-popular funds.
The iShares Barclays Aggregate Bond Fund (NYSEARCA:AGG) and Vanguard Total Bond Market ETF (NASDAQ:BND) are both linked to the Barclays Capital U.S. Aggregate Bond Index, a benchmark that measures the performance of the U.S. investment grade bond market, including Treasuries, corporate bonds, mortgage pass-through securities, and asset-backed securities. But that doesn't mean these ETFs are identical. In fact, they're very different in more ways than one. Below, we take a head-to-head look at these ETFs in several critical areas:
Strategy and Structure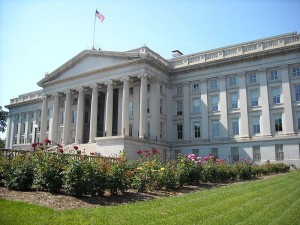 It's important to understand how an ETF goes about its stated objective. According to its prospectus, AGG utilizes "an indexing strategy that involves investing in a representative sample of securities that collectively has an investment profile similar to the Underlying Index." So instead of replicating the entire underlying holdings of the related index completely, a smaller portfolio is constructed with similar yield, duration, and credit quality of the larger pool.
Representative sampling is pretty common in the fixed income ETF space, in part because certain components of bond indexes trade infrequently, and may present liquidity issues for a fund pursuing a full replication strategy. Moreover, the impact of changes in interest rates on bond prices is fairly predictable, so constructing a smaller portfolio that matches the risk and return profile of a larger pool of bonds is achievable. BND also "applies a sampling technique to closely match key benchmark characteristics such as effective duration, sector weight, and credit quality."
It's worth noting that the Vanguard ETF is actually a separate share class of the Total Bond Market Index Fund, meaning that there is a much larger pool of assets underlying the fund. BND's total assets are only about $7 billion, but the total fund net assets exceed $75 billion.
Holdings
The index underlying AGG and BND includes more than 8,000 bond issues, many of which do not trade regularly. As discussed above, both AGG and BND utilize representative sampling techniques to provide exposure to the index, so neither ETF comes close to matching this number of holdings. BND has about 4,400 underlying bonds, or just over 50% of the number of securities in the underlying index, while AGG invests in about 300 bonds, or about 4% of the Barclays Capital U.S. Aggregate Bond Index.
Sector Breakdown
Sector
AGG
BND
Treasury/Agency
34.9%
38.0%
Government MBS
37.9%
33.2%
Industrial
10.3%
10.7%
Other
16.9%
18.1%
Source: Issuer fact sheets as of 12.31.09
Despite this big discrepancy in the number of holdings, the composition of these ETFs is pretty similar. Both make significant allocations to Treasuries, securities issued by agencies of the U.S. government, and government mortgage-backed securities. Corporate bonds make up about 20% of each ETF, with commercial MBS and other non-corporate securities accounting for much smaller slivers.
From a maturity perspective, both ETFs are tilted towards debt maturing in ten years or less, although AGG is a little heavier on the longer dated (i.e., 25+ years to maturity) debt. Both ETFs are dominated by "AAA" rated debt, with each maintaining less than 10% of assets in bonds rated "BBB+" or lower.
Performance
Period
AGG
BND
1 Year
6.0%
6.4%
YTD
1.6%
1.4%
As of 3/31/2010
Not surprisingly, the performance of AGG and BND is pretty similar. As of March 31, BND had posted a slightly larger 1-year gain, although AGG was ahead in terms of year-to-date performance. The correlation between these ETFs is nearly perfect, and returns should generally be nearly identical.
Expenses
This is a relatively simple comparison to make between these total bond market funds; AGG charges an expense ratio of 0.24% while BND charges just 0.14%.
Liquidity
Both AGG and BND are among the largest and most liquid fixed income ETFs available to U.S. investors. BND trades about 600,000 shares a day, slightly less than AGG's average daily volume of about 700,000 shares.
The Verdict
These ETFs are pretty similar in almost every respect. For investors who value depth of holdings and are looking to minimize expenses, BND has a slight edge. But as shown above, the more thorough replication strategy of BND doesn't necessarily translate into significantly better returns or lower risks. For investors looking to gain quick and efficient exposure to the investment grade bond market, either of these ETFs makes a good core component of a fixed income portfolio.
Disclosure: No positions at time of writing.
Disclaimer: ETF Database is not an investment advisor, and any content published by ETF Database does not constitute individual investment advice. The opinions offered herein are not personalized recommendations to buy, sell or hold securities. From time to time, issuers of exchange-traded products mentioned herein may place paid advertisements with ETF Database. All content on ETF Database is produced independently of any advertising relationships. Read the full disclaimer here.