Editors' Note: This article covers a stock trading at less than $1 per share and/or with less than a $100 million market cap. Please be aware of the risks associated with these stocks.
Investors with an interest in marijuana stocks are likely looking ahead to California legalization. Many correctly perceive this to be a massive catalyst for the cannabis sector. After all, California is the 8th largest economy in the world and already has a multi-billion dollar marijuana industry. An understanding of the existing marijuana industry in California is required in order to understand how consumer demand for grow systems will react to legalization. To suggest legalization will spark a sustainable increase in demand for grow systems is to suggest legalization will drastically alter the consumer's sentiment towards the thought of marijuana cultivation.
There is little evidence to support this notion. In fact, the evidence suggests there will be no change in demand. Equipment manufactures such as Terra Tech Inc. (OTCQX:TRTC) and Growlife Inc. (OTCQB:PHOT) will benefit more from the expansion of the medical marijuana industry into other states. California marijuana legalization will not sustainably increase consumer demand for grow systems; the consumers' sentiments towards the thought cultivation will remain constant and unchanged by legalization.
Legalization in Colorado and Washington Didn't Increase Demand
Terra Tech Cash Flow Statement
Although it would appear that EPS had been improving quarter over quarter for the past 12 months, a glimpse at the cash flow statement provides clarification. EPS has improved but cannot be attributed to sales. Cash from operating activities has been significantly declining for the past 12 months while cash from financing activities has consistently increased over the same time period.
Growlife Inc. Cash Flow Statement
The Growlife Inc. cash flow statement leads to the same conclusion. In this case, EPS has consistently decreased, while cash from operating activities and net income has also significantly decreased quarter over quarter after Colorado and Washington marijuana legalization.

Marijuana is Already Legal in California...For a Price
Medical marijuana laws in California are more indulgent than medical marijuana laws in other states. In accordance with the Compassionate Use Act, marijuana is used to treat "any condition for which it provides relief." This means marijuana can be prescribed to treat common ailments including: chronic pain, migraine headaches, PTSD, nausea, anxiety and depression. Those who believe the contrary have been successfully misled by pro-marijuana activists and lobbyists who portray a majority of the state's medical marijuana users as chronically ill patients, who were being prosecuted for their medicinal need of a federally banned substance.
Any adult Californian with any of the aforementioned ailments can pay between 50 to 100 dollars per year for a prescription granting safe access to medical marijuana dispensaries and immunity to prosecution by local and state law enforcement agencies. The only change resulting from legalization is that consumers will no longer be forced to purchase prescriptions to obtain access to cannabis dispensaries and as a result the consumers will no longer be referred to as "patients."
We created Prop. 215 so patients would not have to deal with black market profiteers. But today its all about the money. Most of the dispensaries operating in California are little more than dope dealers with store fronts.

When we wrote 215, we were selling it to the public as something for seriously ill people... It's turned into a joke. I think a lot of people have medicalized their recreational use.

-Reverend Scott T. Imler -Co-author of Prop. 215
Marijuana Will Still Be A Federally Controlled Substance
Since marijuana is still a federally controlled substance the possibility of arrest still exists. In April of 2013, the DEA issued their most recent update to the Department of Justice's position on the substance. In that report, the DEA re-affirmed the federal government's opposition to recreational marijuana use regardless of state law. This re-affirmation supports the notion that the DEA will still continue to investigate and arrest large scale marijuana producers and distributors in Colorado, Washington and California. It currently isn't cost effective for the DEA to investigate small scale marijuana growers, but the threat of federal indictment in still present and is unchanged by marijuana legalization.

Source: "The DEA Position on Marijuana" P.3
Element of Danger Combined With The Hassle Of Growing Still Exists
An unfortunate consequence in growing a high value, highly liquid, "cash crop" is the possibility of violent conflict over the plants. Despite being heavily fortified and equipped with state of the art surveillance systems, marijuana dispensaries are often the target of armed robbery. Although no publicly available, credible, statistics exist in reference to marijuana dispensary robbery or small scale grow operations being robbed, simple Google searches reveal hundreds of horror stories reported by reputable mainstream sources, which Californians are all to familiar with.
Small scale grow operations provide violent criminals with an easy score. Consequently, in a state where marijuana is practically legal there is still a high degree of secrecy involved in marijuana growing. Since the plants excrete a distinct odor throughout their life cycle, specifically while in the flowering phase, many growers are forced to avoid inviting any guests into their home, ordering food through a delivery service and allowing repairmen to enter their dwelling. Although the substance itself is harmless, cultivation of marijuana could potentially be a dangerous activity and is perceived to be a hassle for many Californians living in urban and sub-urban areas. Legalization is likely not going to change this either.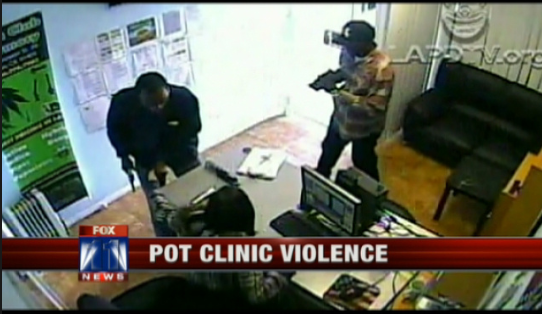 Source: Fox News
Even if Demand Does Increase It's Impossible to be Sustainable Over the Long Term
Although all the evidence suggests demand will "stand still", what if consumers act in some inexplicable manner and demand does increase? An increase in demand for grow equipment would quickly translate into an increase in the supply of marijuana. An increase in supply of marijuana would result in the price of marijuana decreasing (remember, marijuana is perishable). If the price decreases it's not cost effective to grow marijuana indoors, under lights, because the cost to operate the equipment would exceed what the consumer could purchase the marijuana for at a dispensary.
The current costs to purchase weed at a dispensary vary from 20 to 60 dollars per one-eighth of an ounce, depending on quality. Aside from it not being cost effective, in the mind of any logical consumer, it wouldn't be worth the risk of federal indictment, serious injury or death, possibility of property damage and the hassle of all the secrecy involved in such an act. In the event of over supply, it's logical to suggest there will be an excess of grow equipment on the second hand market, which would result in demand for new grow equipment decreasing.
Conclusion:
California legalization of marijuana is likely inevitable and will likely catalyze the cannabis sector. However, investors should not expect to see an increase in demand for indoor grow systems and other related equipment because existing factors inhibiting marijuana cultivation in California will remain constant after legalization. Companies producing grow systems should benefit more from the expansion of medical marijuana into states such as New York and Michigan than from the expansion of legal marijuana into California. The cannabis sector offers investors many apparently lucrative investment opportunities but some are apparently more lucrative than others. Cast grow equipment manufactures aside and pick a company poised to benefit from both California legalization and the expansion of medical marijuana.
Disclosure: I have no positions in any stocks mentioned, and no plans to initiate any positions within the next 72 hours. I wrote this article myself, and it expresses my own opinions. I am not receiving compensation for it (other than from Seeking Alpha). I have no business relationship with any company whose stock is mentioned in this article.