Recently, Sprint (NYSE:S) announced its latest device, the HTC EVO, crammed with impressive features such as two built in cameras, HD video capabilities, a 4.3-inch touch screen display, and even a little extendable leg to prop the HTC EVO up for easy video viewing. However, the most trend-setting feature of them all may be its 4G network technology. 4G, or 4th generation, marks the next big step in mobile phone technologies, as well as making broadband available everywhere.
4G has been long due to roll out in US markets, but has been slow in actual implementation. At the moment, Sprint is the only wireless carrier providing 4G services—in the form of WiMax—and it's only available in a select number of US cities for use with laptop and home computer internet access.
While we have all seen a lot of commercials and advertising around 3G and 4G, we at Compete wanted to see what consumers really understood about this frequently talked about technology. So, as part of Compete's quarterly Smartphone Intelligence report, Compete asked Smartphone owners about their knowledge of 3G and 4G network availability, resulting in some interesting findings: (Click to enlarge)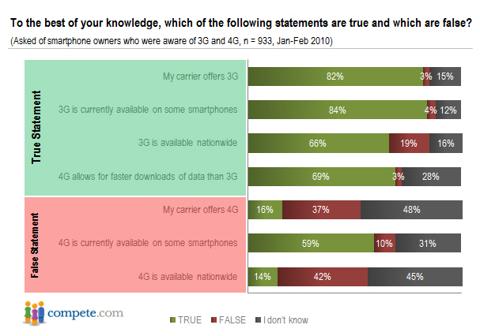 Most Smartphone owners incorrectly believe that 4G technologies are available on certain phones
Smartphone owners are more likely to be correct when asked about 3G functionality and availability
Almost half of Smartphone owners do not know if 4G is being offered
The majority of Smartphone owners think that 4G is available on some smart phones and faster than 3G. Since 4G is not available, this could indicate that people are not basing Smartphone purchase decisions on data service speeds. Even with shoppers making purchasing decisions primarily based on devices, it's clear that network bandwidth is still important. We see this with the recent connectivity and speed issues plaguing AT&T's (NYSE:T) iPhone user base. As a result, more bandwidth and more reliable bandwidth are needed. 4G is just that; with up to 10 times the speed of current technologies, bandwidth could improve enough to be able to stream HD videos to your phone!
As industry professionals, we understand the importance of carriers developing 4G networks to improve bandwidth, but are consumers actually interested in 4G networks? One indication that they are is in the increases we've seen in searches for the iPhone 4G: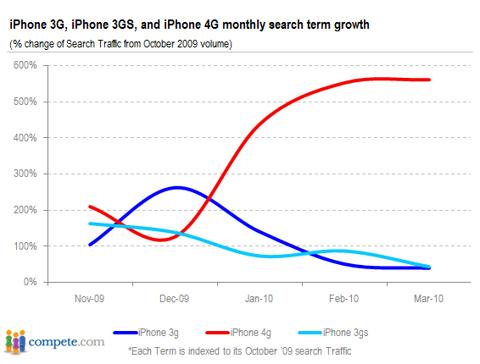 The iPhone 4G does not exist yet, but it's clear that consumers are looking for one... a possible result of the AT&T network issues.
And as for the HTC EVO? Is it set to be the next purported iPhone killer? Maybe. Consumers are certainly showing interest by visiting the EVO product page. . Impressively, in the first three days after the HTC EVO was announced, its product page saw about 82% of the volume of traffic that the iPhone 3Gs saw in its first three days. The EVO may or may not be a game changing cell phone, but we do know it will allow Sprint to be a significantly more competitive player in the high-bandwidth-Smartphone marketplace.