By Lauren Migliore
We think executives at contract research organizations were happy to put 2009 safely behind them. The industry witnessed a perfect storm last year as harsh economic conditions, frozen credit markets, persistent uncertainty with health reform, and megamergers among the industry's largest drugmakers conspired to create one of the worst operating environments in CRO history. This macroeconomic uncertainty has led drugmakers to postpone or cancel planned clinical trials, resulting in a worldwide slowdown in drug development spending and significant capacity underutilization. Excess capacity has given drug companies significant bargaining power, allowing clients to shorten lead time and exert pricing pressure that has subsequently affected gross margins. Accordingly, CROs have attempted to stem top-line declines with cost-cutting and restructuring initiatives, although the impact of these efforts is limited by the high fixed cost nature of the business.
In the fourth quarter, most firms continued to see year-over-year declines in revenue growth and operating profitability. Pharmaceutical Product Development (PPDI) was hit especially hard this past quarter as three large contract cancellations ate away at 60% of the firm's new business authorization. A notable exception this quarter was Parexel (PRXL), which saw both revenue and margin improvement thanks to strong business wins and persistent cost control. Encouragingly, many firms also saw a rebound in their book/bill ratios--including many ratios rising above 1.0, indicating that growth may soon return to the CRO industry. (Click to enlarge)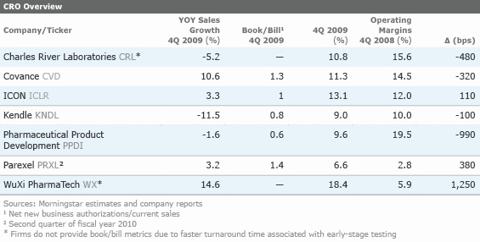 Fourth-Quarter Revenue and Profitability Overview by Company
Early-Stage Players:
Covance (NYSE:CVD): Covance turned in another quarter of solid financial performance. The firm's early development segment saw a resurgence in growth for toxicology, which helped offset weak performance in clinical pharmacology. Covance's late-stage segment demonstrated another period of stellar performance. However, the firm's operating margin declined sequentially from the firm's record third-quarter level primarily due to the hiring of new staff and a shift in the mix of central laboratory kits. Encouragingly, Covance achieved record net orders for the quarter, and the firm's book/bill ratio remained above 1.0 (at 1.33 for the quarter), a promising sign for future growth opportunities.
Charles River Laboratories (CRL): The slowdown in drug-development spending once again significantly affected Charles River Laboratories' earnings. Net sales fell from the year-ago fourth quarter as higher sales in research models and services were offset by the firm's preclinical testing segment. Despite this decline, Charles River's fourth-quarter results held up relatively well to market conditions, especially given the firm's focus on early-stage testing, as cost-control measures have prevented top-line declines from falling straight to the bottom line.
WuXi PharmaTech (WX): Despite diminished worldwide demand, WuXi PharmaTech's earnings came in very strong. The firm's fourth-quarter revenue increased year over year due to strong growth in laboratory services, partially offset by a decline in manufacturing revenue. Top-line growth helped WuXi expand its gross margin this quarter, and lower selling, general, and administrative costs allowed operating income to rise well above that of fourth quarter 2008.
Late-Stage Players:
Pharmaceutical Product Development: PPD's fourth-quarter results marked another period of top- and bottom-line deterioration. While this negative revenue growth came in lower than the full-year decline, diluted earnings per share still fell from significantly from the same period last year as PPD struggled to cover costs with a shrinking revenue base. Alarmingly, the firm witnessed $284.9 million in contract cancellations this quarter, more than 60% of new authorizations. We would seriously consider lowering our fair value estimate if we see evidence that the firm will continue to hemorrhage business going forward.
ICON (NASDAQ:ICLR): ICON's fourth-quarter results held up relatively well to the industry's soft demand. Net revenue increased from the comparable period in 2008, helping operating income expand as the firm was able to trim selling and administrative costs. Encouragingly, ICON's book/bill ratio rose to 1.0, reversing the sequential declines seen in this ratio earlier in the year. Despite these promising events, ICON's stock price fell following its earnings release as investors registered their disappointment with the firm's projections for 2010.
Parexel (NASDAQ:PRXL): Parexel reported excellent results in its second fiscal quarter of 2010. Service revenue increased slightly from the year-ago period on growth in the firm's clinical research and consulting and medical communications segments. Similarly, the firm's operating margin rose on a year-over-year basis, and we expect continued margin expansion in future quarters as restructuring initiatives take hold. Significantly, the firm grew its backlog and posted a net book/bill ratio of 1.4 for the quarter, up from 0.9 in the first fiscal quarter.
Kendle (NASDAQ:KNDL): Net revenue for the quarter fell and cancellations spiked as the firm lost business due to drug failure and pipeline reprioritization from its largest biopharmaceuticals clients. Kendle's net book/bill ratio remained at 0.8, indicating that growth prospects will remain rare in the near term. Although revenue took a significant hit in the fourth quarter, the firm's operating margin showed some resistance, falling only 100 basis points on an adjusted basis from the prior-year period as Kendle kept direct costs in check.
Despite Continued Uncertainty, CROs Are Set to Rebound
In their 2010 guidance, CROs projected that demand would soon return to the industry, although most companies were hesitant to offer overly optimistic forecasts while so much uncertainty remained in the system. Most firms project stagnant near-term revenue growth as slow bookings in prior quarters make their way into future financial statements. However, market demand should soon pick up, in our opinion, spurred by the completion of several large pharma mergers, increased partnering activities and outsourcing penetration, resumed funding to smaller biotech clients, and improved commitment from drugmakers to move compounds through trials. We remain cautiously optimistic about 2010 and the long-run opportunities for these firms, especially as macroeconomic conditions stabilize and Big Pharma firms look to replenish their pipelines. We see a rebound on the horizon and project CROs, which offer superior efficiency to in-house development, will take a larger share of drug development spending over time.
Disclosure: Morningstar licenses its indexes to certain ETF and ETN providers, including Barclays Global Investors (BGI), First Trust, and ELEMENTS, for use in exchange-traded funds and notes. These ETFs and ETNs are not sponsored, issued, or sold by Morningstar. Morningstar does not make any representation regarding the advisability of investing in ETFs or ETNs that are based on Morningstar indexes.