There's so much to cover this weekend, I hardly know where to start.
The markets gained higher ground this week, on light volume and against a backdrop of really quite amazing news.
Next week will be even more exciting, with a number of economic reports, and the beginning of earnings season on Monday after the close, with Alcoa (NYSE:AA) checking in first as is the usual tradition.
We remain in "Red Flag" mode which takes some courage amidst current market action, but as always, discipline and following one's indicators are the keys to long term success.
Many indicators point towards the possibility of an imminent correction, along with a number of fundamental factors with potentially ominous implications.
Friday, the Dow breached the psychologically important 11,000 level, but closed just shy of it, while the S&P also came close to, but missed the 1200 level.
As always, the chart tells the story (click to enlarge image):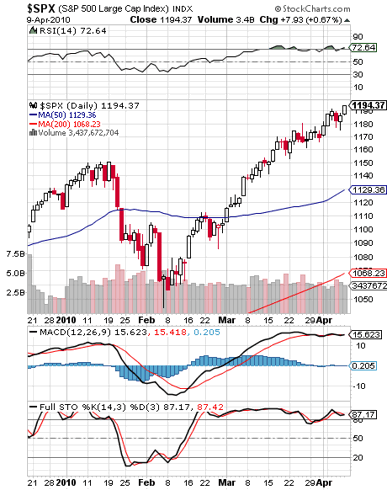 In the chart of the S&P 500, you can see the RSI in the top panel in overbought territory and that is confirmed by the Full Stochastic in the bottom panel. MACD hovers between positive and negative territory right around the "0" line.
So looking back to early January, one can see similar patterns in all of the indicators, which led to the 8% pullback starting in late January and extending into February.
Bullish sentiment also remains above average and at levels just below "extreme" according to the American Association of Individual Investors and Investor's Intelligence, which report the same configuration among financial advisors. Buyers of call options far outnumber buyers of put options, while the VIX remains in the teens. All together, these elements point to a complacent, overbought market.
So, we will stick with our positions for now and adjust as necessary. We hedged our short positions by not taking full positions in either portfolio in order to reduce risk until a full commitment seemed prudent, and if we change to a "buy" signal, we will adjust accordingly.
The View From 35,000 Feet
This week I read some truly remarkable and conflicting facts that make things all the more interesting and confusing.
On the up side, the March Institute of Supply Management report was positive, as was the February Pending Home Sales and Wholesale Sales, while Consumer Credit unexpectedly contracted by a whopping -$11.5 Billion.
Also this week, it barely made the news that weekly unemployment claims unexpectedly rose by 18,000, and the four week moving average was up from the previous week as well.
Underemployment remains near 20%. We have approximately 5 million non current home mortgages in the US and a record 40 million people on food stamps, a number which has steadily been rising over the last year.
In the housing sector, mortgages reached an eight month high this week and even Chairman Bernanke said in a speech that we're "far from being out of the woods," which is a chilling comment from one of the chief cheerleaders and architects of the recovery.
Looking at the all important housing and employment markets, the FOMC meeting minutes released this week were even more chilling.
Regarding general conditions, the FOMC said:
Household spending going forward was likely to remain constrained by weak labor market conditions, lower housing wealth, tight credit, and modest income growth.
The employment outlook was not particularly bright, in their opinion, as the minutes said:
Participants were concerned about the scarcity of job openings, the elevated level of unemployment, and the extent of longer-term unemployment .... Moreover the downward trend in initial unemployment claims appeared to have leveled off in recent weeks ...
Regarding the all important housing market, the minutes said:
Participants were also concerned that activity in the housing sector appeared to be leveling off in most regions despite various forms of government support, and they noted that commercial and industrial real estate markets continued to weaken. Indeed, housing sales and starts had flattened out at depressed levels, suggesting that previous improvements in these indicators may have largely reflected transitory effects from the first-time homebuyer tax credit rather than a fundamental strengthening of housing activity.
It's just hard to see any good news in this report, but somehow the markets have managed to ignore what clearly are scary facts.
Looking abroad, the Greek Tragedy continued to unfold with Greece bonds crashing last week and requiring a 442 basis point premium to German bonds to be sold which Prime Minister George Papandreou labeled as unsustainable. Clearly Greece needs help from the European Union and probably the IMF and a plan could be announced as early as this weekend to stave off Greece's default.
Greece needs more than eleven billion eurodollars to cover debt between now and the end of May and last week, ratings agency Fitch cut both the nation's and its banks' credit ratings with a negative outlook.
The problem here, of course, is that it isn't just Greece that is in trouble but the other so called "PIGS" or Club Med states. Global contagion and sovereign defaults remain a real concern in the months ahead.
Looking to Asia, China had a failed bond auction last week which went largely unnoticed in the US financial press. They offered 91 day and 273 day paper and neither offering was fully subscribed as they tighten their money supply in an attempt to slow potential inflation.
Finally, earnings season starts Monday with Alcoa (AA), and late last week the company was hit with analyst downgrades, perhaps to make their results "exceed expectations" in spite of deteriorating earnings.
What It All Means
Adding it all up, we see an overbought, complacent market on a technical basis and a relatively high risk environment on a fundamental basis both at home and abroad.
The Week Ahead:
The week brings the start of earnings season along with some important economic reports including:
Monday:

March Treasury Budget

Tuesday:

March Consumer Price Index, March Retail Sales, February Business Inventories, April Fed Beige Book

Thursday:

Initial Unemployment Claims, Continuing Unemployment Claims, March Industrial Production, April Philly Fed

Friday:

March

Building

Permits, March Housing Starts, April Consumer Sentiment
Earnings Reports:
Sector Spotlight:
Leaders:

Microcaps, Semiconductors

Laggards:

Gasoline, Thailand, Eurodollar