We are seeing many commodity names come under pressure today, but nowhere is that more apparent than in the potash sector. We have discussed the sector as a speculative play on the rival potash cartel reassembling, but have been pretty clear that anything short of that would lead to continued weakness in potash pricing.
There are some energy names lower today as well, with one of them once again entering the level where we believe long-term investors could safely establish positions.
Natural gas prices remain volatile as the contract is down roughly 5% today after rising 10% yesterday in what many traders suspected was short covering. The United States Natural Gas Fund (NYSEARCA:UNG), the ETF that investors can use to trade natural gas futures, is down today, which is a trend we now suspect will continue until we get closer to $5/MMbtu.
Chart of the Day:
It certainly appears that we are set to test $700/ounce again as it relates to palladium. Just when it appeared that traders were set to let the bulls carry the metal through $750/ounce for a prolonged run we saw a major breakdown. This might be worth a speculative trade should we test $700/ounce again without the emerging market chatter picking up. If more bad news is what causes the move lower, we would avoid the trade.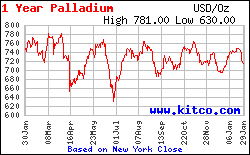 Source: Kitco
Commodity prices this morning are as follows:
Gold: $1,240.90/ounce, down by $21.30/ounce
Silver: $19.13/ounce, down by $0.422/ounce
Oil: $98.36/barrel, up by $1.00/barrel
RBOB Gas: $2.6773/gallon, up by $0.0164/gallon
Natural Gas: $5.238/MMbtu, down by $0.227/MMbtu
Copper: $3.221/pound, down by $0.0195/pound
Platinum: $1,382.50/ounce, down by $25.60/ounce
Potash
Potash Corporation of Saskatchewan (POT) reported revenues that were higher than anticipated but EPS for the quarter that were below the consensus. Worse, and what is really impacting the shares, is that Potash Corporation of Saskatchewan announced that FY 2014 EPS would be lower than expected. All of this indicates to us that what was once a disciplined supply side has become "animalistic" and is flooding the market. We would place blame on the Eastern European producers that used to make up the rival cartel, but the question now is how long this can continue for before hatchets are buried or governments intervene.
Today the $30/share level has held, but we are beginning to question how much longer investors will remain patient with the sector. The $0.02 EPS miss is the least of their problems.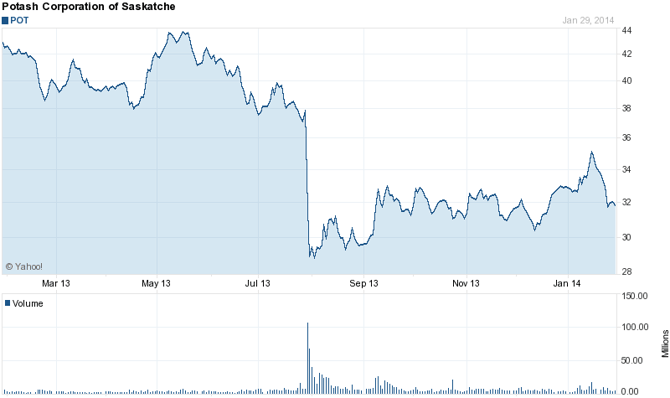 Source: Yahoo Finance
Most readers are aware that Canpotex is the exporting and marketing entity (read cartel) that sells production from Potash Corp. of Saskatchewan, Mosaic (NYSE:MOS) and Agrium (AGU). So the bad news here really speaks for the entire industry and indicates to investors that earnings and margins will continue to be under pressure while the potash market tries to find its footing. We would not be investors in these names at this point, only speculators and/or traders.
Big Oil
One of our calls in the last quarter of 2013 was to go long Exxon Mobil (NYSE:XOM), a call made prior to Warren Buffett announcing his position. After the big run, we went bearish on the name because every Wall Street analyst had piled into the name with a bullish view and trying to piggyback on the coattails of Mr. Buffett. All of the upside we had previously seen in the name had been realized and nothing in the underlying story had changed; thus we were forced to walk away with our profits. That is never a bad event, especially when the call is timely and the name trends back into a reasonable buying range, which Exxon Mobil has.
With the dividend yield once again nearing 3% we feel that it is safe to once again buy into this name. The dividend provides a floor here, and also pays one to be patient.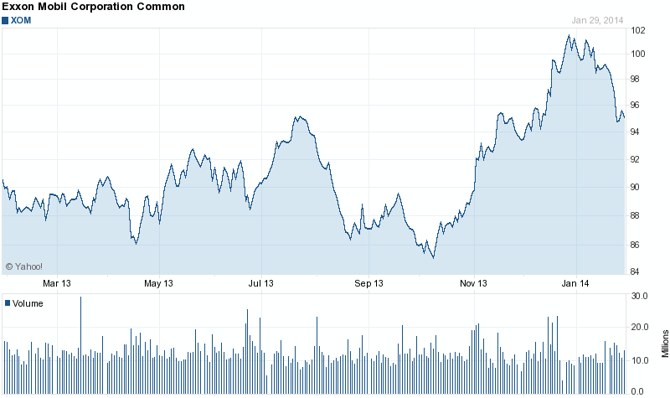 Source: Yahoo Finance
Sure, one can argue that earnings disappointed, but Exxon Mobil missed by $0.01, which is less than 1% and it continues to invest in new wells and growing production. Our view is that it will begin to turn the corner with its shale drilling and see profits move higher if natural gas prices can remain strong for a few more months. We are not silly enough to think that natural gas will hit the bottom line anytime soon, but we do think that if prices remain above $4/MMbtu, we could finally see some appreciation in the contracts that the companies use to hedge.
Disclosure: I have no positions in any stocks mentioned, and no plans to initiate any positions within the next 72 hours. I wrote this article myself, and it expresses my own opinions. I am not receiving compensation for it (other than from Seeking Alpha). I have no business relationship with any company whose stock is mentioned in this article.